One of my big goals with tinyStudio Creative Life magazine is to create a publication for and about our community, I love the connections and relationships we are able to be part of through our online activities and now through the pages of the tinyStudio magazine.
With this in mind, I offer advertising primarily to those who contribute articles to each issue (as free ad space) so readers can find them easily and learn more about what they do, and I have a very small number of 'Directory' spaces. Advertising is not an income stream for the magazine, which runs almost entirely through subscriptions. What I HAVE done however is dedicated space to Sponsorships. We love our relationship with Majacraft as ongoing sponsors of tinyStudio (since the start!)and we have some extra cool news for you now!
We are now very pleased to be able to announce that we have a second sponsor: the amazing Dave and Rebecca Giles and their Daedalus Spinning Wheels company!
Let me tell you what the Sponsorship is all about
It is all about building relationships. The sponsorships are a partnership between tinyStudio and the companies who Sponsor the magazine, and the goal is to provide subscribers a wonderful opportunity to get to know our sponsors and what they do! We have enjoyed some live streams with Andy and Glynis at Majacraft, including a really fun tour of the workshop! And Andy has also shared some fascinating articles with us about the processes they use and the principles they work on with their designing and product development. We are looking forward to more of the same in the coming year, and are really looking forward to the opportunity to share these kinds of things with Daedalus too, in fact, we are already planning something big that we know our subscribers are really going to enjoy!
It is very important to me that with tinyStudio we do not just go with the first company to sponsor us, but to make sure we have exactly the right sponsors to match tinyStudio, for example, we know that both Majacraft and Daedalus put the same kind of care and thought attention to detail, and love for their products into what they make as we put into creating tinyStudio. They strive to make spinning wheels that are not only highly functional and efficient but also aesthetically beautiful, this is one of the things that we really appreciate! Not only this but I also want to make sure that the sponsors we share with you complement each other rather than overlap, so subscribers can find a range of products from our sponsors that we not only believe in ourselves but also give a wide choice to anyone looking to expand their studio items. Majacraft and Daedalus both produce incredible quality spinning wheels, and they are both very different in what they make and offer!
So let me tell you about Daedalus Spinning Wheels!
I am sure you have noticed that both Evanita and myself are smitten with the Daedalus e-spinners. Daedalus was getting off the ground with their 'Blackbird' at about the same time as I got our very first tinyStudio issue out, and right from the start we were really impressed with the high degree of clever engineering and design that has gone into these e-spinners. I love the modern look: sleek, minimal, functional, but with a high degree of elegance and polish. These wheels are 3D printed from the type of plastic filament that is made to last without warping or crumbling, they combine sturdiness with lightness, and the material allows for graceful curves as well as fun colours.
Dave has used top-quality parts, from the bearings that work smoothly and effortlessly to the almost silent motor that powers it all – which I have to say in all their wheels, is so overpowered there is no risk of them burning out even following hours of spin sessions! And how about having an espinner can allow you to easily swap from Scotch to Irish tension!
For a really in-depth look at the biggest of the Daedalus flock, the Magpie, there is a full review in Issue 8 (find the issue in our shop here) in which Evanita, James Perry, and myself did a three spinner review of everything this amazing wheel can do! Coming in Issue 11 is a similar review of the new Daedalus Sparrow, the smallest out of the nest and a delightful addition to the range!
As you can see, our relationship with Daedalus has been a long and close one, and we are really looking forward to sharing these lovely people and their story with you as part of our tinyStudio community!
Here is what a tinyStudio Sponsorship Brings to You
I feel it is important here to repeat that a Sponsorship of tinyStudio is very different from a 'hand us your advertising money and we will drop your ad in the magazine and then it's over' kind of model. A tinyStudio sponsorship is also not a 'hard sell' to our community of just any product that someone wants to pay us to promote. What a tinyStudio Sponsorship IS, is us (myself, Evanita, and Debbie) sharing with you a company that we stand behind, with products we genuinely love and also love to use ourselves. With this comes interviews, articles, Facebook and Instagram shares of their latest news, and also tinyStudio TV episodes – we want you to get to know our sponsors well too!
We also share things about what you can do with the products our Sponsors make, such as my Hackle Pattern workshop (free on the website!) using the Majacraft Hackle and Diz, and we will soon be sharing a lot more with you about using an espinner, how to spin art yarns on an electric wheel (remember the Fairy Lights?!) how to set a Daedalus wheel up to spin lace, cotton, and chunky, and of course, we will be sharing some behind the scenes with Becca and Dave!
I am extremely grateful to Daedalus Spinning Wheels for their support of tinyStudio Creative Life magazine at this crucial time for us in adding a print subscription to our magazine format offerings, and I would like to invite you to join us in welcoming them to our Fiberygoodness tinyStudio community, it is going to be a wonderful journey with them alongside 🙂
Watch this space for our upcoming blogpost with Special Guests Rebecca and Dave Giles! And don't forget to head over and subscribe to the magazine, in either print or digital! www.fiberygoodness.com
-Suzy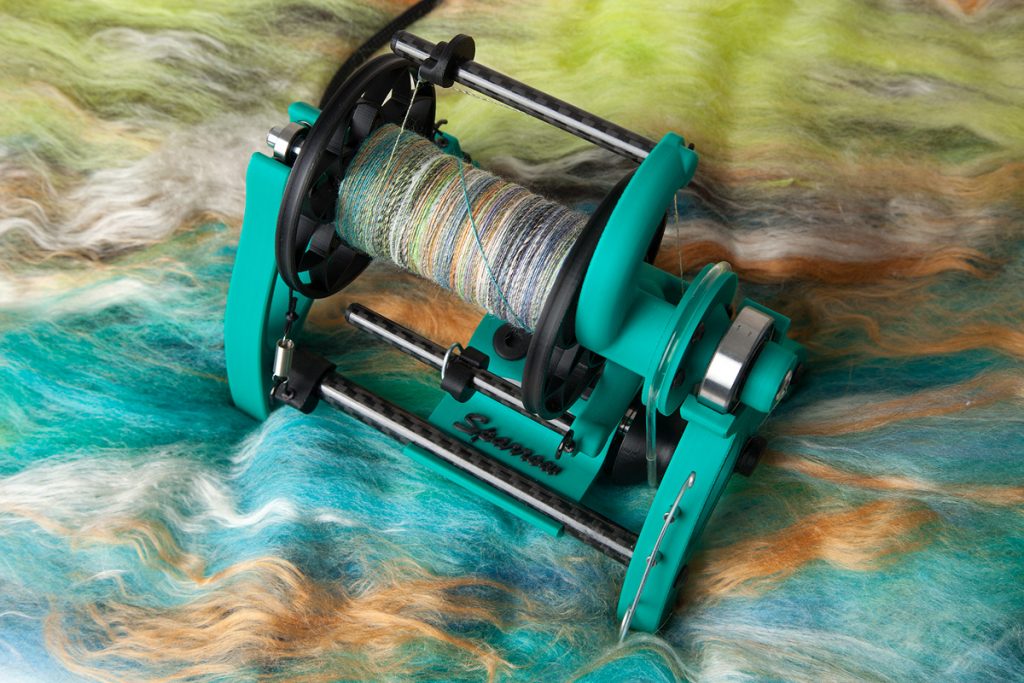 (Above: Gorgeous Daedalus Sparrow – photo and spinning by Evanita Montalvo)