Suzy Brown
Editor/Educator/Director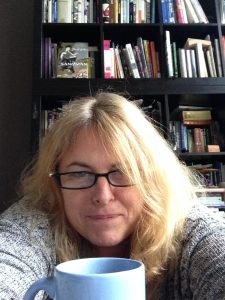 Founder of Fiberygoodness.com and Author and Co-Author of Fiberygoodness courses, from Journey to the Golden Fleece to Dynamic Colour; Carding, and Combs and Hackles, I have been immersed in fiber and education for many years. I also have a great love of words, images, and sharing of ideas. the tinyStudio Creative Life Magazine is an exciting step towards doing more of all those things!
Since we began with Fiberygoodness I have really honed in and developed a solid approach to the art of spinning and yarn making. My ideas about design are influenced by a belief that good design is a system of problem solving and innovation, and most importantly risk taking!  I feel a deep connection to the process of yarn making, and have found that a mindful fiber art practice and an 'in the moment' approach to my work has really helped me gain a mastery of techniques and the confidence to share this with others.
Alongside owning and running Fiberygoodness and the tinyStudio Magazine, I am also assistant Editor to the Creative Fibre New Zealand Magazine, and I wrote and teach the Creative Fibre NZ 'Designer Yarns Certificate'. Creative Fibre is the national spinners and weavers guild of New Zealand and I am honoured to have these roles within this amazing organisation!
I am also happy in my role working with Majacraft New Zealand on their Social Media and Communications, and sharing in the creative input towards new products and updates to existing tools. Majacraft make beautiful products for spinners and I love being part of the Majacraft family.
I have published several books, including 'The Big Book of Fibery Rainbows: Working with Multicoloured Fiber',  'For the Love of Fiber', and 'tinyStudio Creative Life'. I have also had articles published in 'Entangled Magazine', the dutch fiber magazine 'Vezel', and 'Ply Magazine'.
One of my main goals in all my fibery adventures is community, because spinning and fiber work are, and always have been, community activities. Through sharing and supporting the creativity of others we grow our craft! I am grateful to all those who take part in our Fiberygoodness community activities on our Facebook groups, and the support students give each other in our class groups.
Evanita Montalvo
Photo Editor/Educator/Photographer/Technical Support
I grew up with a love for nature and the arts. I spent a lot of time wandering around the fields looking for whatever little critters I could find especially bugs and frogs. Over time I picked up photography to capture the beauty of nature and ended up studying Photography and Art History in university specializing in nature and wildlife photography.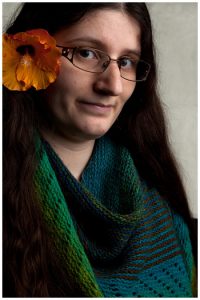 While in college my BFF talked me into joining her knitting group at her college. At the time I didn't have the slightest clue how to knit but she said we could just sit and chat and if I was up to it she'd teach me how to knit. I picked it up quickly and not too long after that she got into spinning. Of course I followed her into that rabbit hole only a year after learning how to knit. Shortly after she sold me her first wheel a Wee Peggy to become my first wheel so she could buy a newer one. I still have that wheel and cherish it as a way to remember the wonderful gift of creativity with fiber she gave me.
Over the past few years I've taken to documenting my progress with my projects through photography using what I learned in university. By combining my love for Photography and Fiber Arts I've been able to capture photos of my projects that I consider art within themselves. I love the way it allows me to capture moments in time such as when I'm spinning on my Turkish Spindles as sometimes I wish I could just let them sit like they are forever, but of course if I let that happen I'd never get anything done!
Aside from my artsy side I also love to help people and troubleshoot problems. I helped maintain the Help Desk for DeviantArt for almost 10 years and being able to help and get to know artists from all over the globe is something that put a smile on my face every day. I'm looking forward to being able to help everyone here.