A huge thank you to everyone who has already subscribed to the new print subscriptions for tinyStudio Creative Life magazine! You have given us such a great start!
And now some big news!
I am super keen to keep our print subscriptions coming in, we have a way to go yet to reach our first print goal, so to both thank everyone who has subscribed already, and to encourage some more subscribers to join us, I am going to be GIVING AWAY my hand painted Mermaid Majacraft Pioneer! This is a high end USD$1500 value spinning wheel, made really unique with this one of a kind artwork!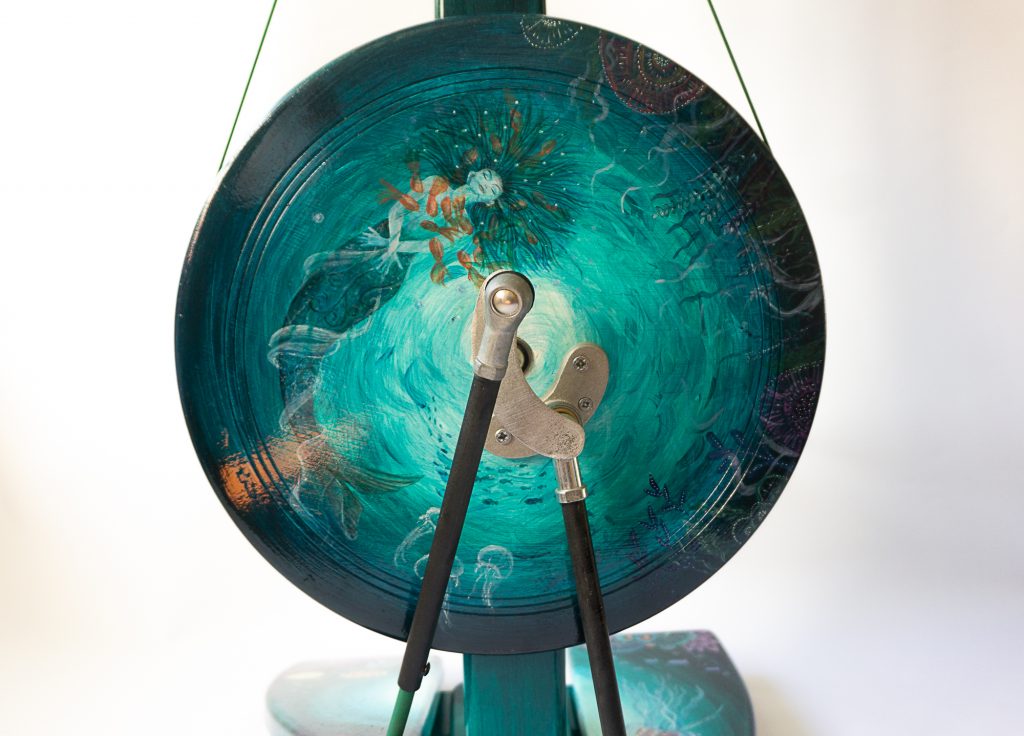 Yes this is a whole, wonderful 100% Majacraft spinning wheel, the Pioneer, that spins like an absolute dream, gently used by myself, and covered in ocean inspired art which I designed to bring the peace of the deepest magical ocean while you're spinning. It comes with the matching Jumbo Bobbin and Fine Flyer to fit, I will add in a couple of extra bobbins in the new Majacraft style too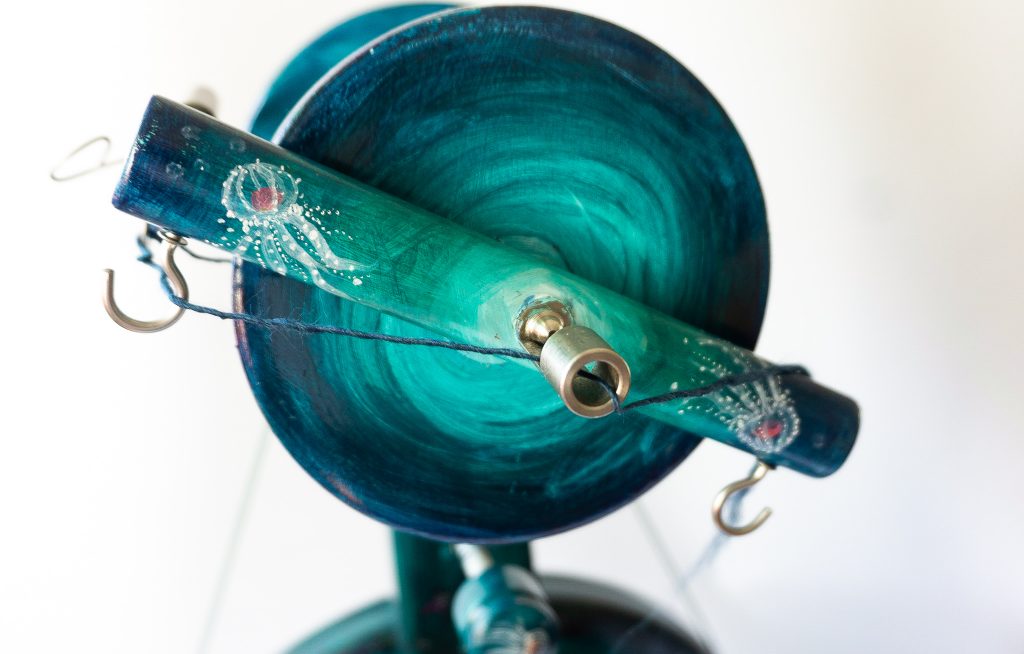 Majacraft (who are amazing sponsors of our magazine) will pack and ship my Mermaid Wheel for me to wherever in the world the winner is, they are experts at shipping these! Shipping cost is included in the Giveaway – so yes you could be the owner of this very unique spinning wheel with free shipping as the cherry on top!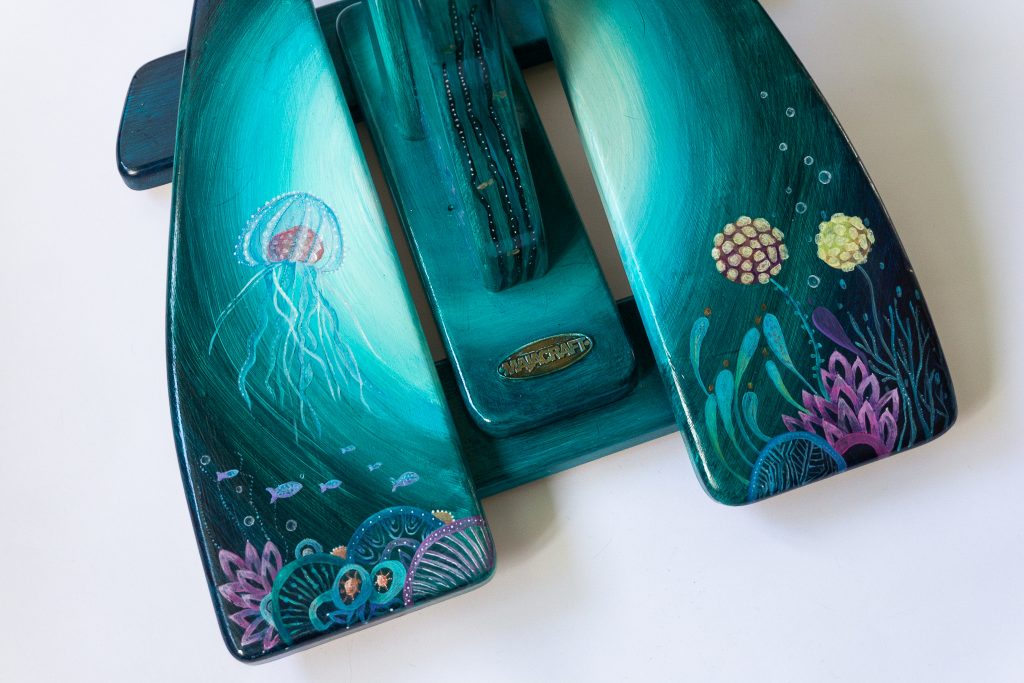 Here is now you enter!
All you need is to be subscribed to the Print version of tinyStudio Creative Life magazine before 20 May 2021 and you will be in the draw! Every one of our Print Subscribers will have their name included in the draw, no matter if you signed up on the first day, or on the 20th of May!
There is only one condition – in order to make the draw, we need to reach 70% of our subscription goal – we need to achieve this goal so we can be sure of our ability to bring you a full year of tinyStudio magazine (4 issues), we need you to help us let people know about tinyStudio! To help us reach our goal you can tell your fibery friends about tinyStudio magazine, share in your groups online and off, share our posts on Facebook and IG, together we can build tinyStudio into a wonderful resource for our entire community!
Here are a few links you can help us with when you are sharing about the magazine!
The main website page is www.fiberygoodness.com
The direct link to the print subscription page is https://simplecirc.com/subscribe/tinystudio-creative-life-magazine
We would also be thrilled for you to share our Instagram profile https://www.instagram.com/fiberygoodness/ (and any of our posts there)
And our Facebook Group https://www.facebook.com/groups/tinyStudioMagazine which you are also welcome invite people along to!
And of course our main Facebook page from which you can share any of the posts we make as well https://www.facebook.com/TinyStudioMagazine
We will be regularly posting graphics with info about the magazine which we would love you to share, so come and visit us on Facebook and Instagram regularly to pick up new images about tinyStudio such as this one, and you are always welcome to repost or share!
In the meantime we are currently busy getting issue 11 ready, I am working hard on the layout to make it as gorgeous as it possibly can be, which is not hard as we have so many incredibly talented contributors! I have a sneak peek for you at the cover we have for this issue, we are thrilled to be featuring one of Francoise Danoy's wonderful photographs! Francoise (Aroha Knits) has been a regular contributor right from the beginnings of tinyStudio magazine, with both gorgeous patterns and insightful articles, we treasure this connection, Nga mihi Frenchie!
You are also welcome to download and share the gorgeous cover image for Issue 11 as well as the photos of the Mermaid wheel to share, I hope it inspires you!

To see how our progress is going you can check the percentage bar viewable on this page https://www.fiberygoodness.com/subscribe/ (scroll down) visit regularly to see how our progress is going, I hope we reach 70% soon as I am looking forward to gifting someone with this spinning wheel! It's a massive prize and I am so thrilled to be able to offer it!
Once again, thank you so much for your support and for being part of our fiberygoodness tinyStudio community!