Why subscribe to tinyStudio Creative Life Magazine?
Firstly, because it is, of course, stunningly beautiful with lots of inspirational eye candy! The focus is on the stories behind the fiber, a lifestyle magazine specifically for spinners, fiber and yarn artists, and the things we love and are inspired by. The magazine with the soul of a spinner!
Secondly, it contains a wonderfully varied range of articles, features, and projects, all created with the single goal of boosting your creativity and helping you keep your spinning mojo on track.
Thirdly, it will be an escape from the stresses and worries of everyday life, it will remind you to sit back, relax, take time for yourself to refresh your joy and fiber passion!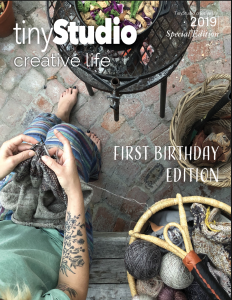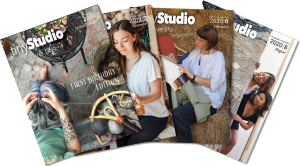 ---
TinyStudio in Print
We have currently suspended our tinyStudio Print subscriptions, but do follow us on Facebook, on our blog, or join our newsletter list to hear about our annual or bi-annual 'bumper' print editions which we will take pre-orders on shortly prior to going to print!
Subscribe to Digital
The digital Magazine will be delivered to your email inbox and offered to you in two different formats, you can choose to download a PDF file that is compatible with any device or system, or the more dynamic EPUB format that opens in your Apple ebook reader.
The Digital subscriptions run on a monthly payment basis, think of it as something like a Patreon subscription. 
You will get:
Immediate access (once your registration is complete) to login and download the current digital issue of tinyStudio Creative Life Magazine plus access to all current and previous tinyStudio TV Episodes
A new tinyStudio digital issue delivered to you every three months
Our subscriber only 'tinyStudio TV' episodes, and invitations to join a our Spin Session together on Zoom .
---
tinyStudio Creative Life Magazine Digital Package Subscription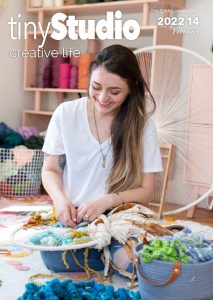 Following checkout, you will receive a Registration email from info@fiberygoodness.com. Once you have completed your registration you will be able to log in and access your content.
Digital back issues are available for individual purchase to subscribers at a discounted price via the Subscribers page.
Please contact us at info@fiberygoodness if you are unable to locate your registration email!
Publication Schedule
Quarterly Magazine – End of February, May, August, and November
All prices on Fiberygoodness.com are listed in US dollars. All references to dates and times are listed according to New Zealand Standard Time(this is a day ahead of North America and Europe).



Price: 4.95 USD per Month




You will need to complete the registration in order to access the tinyStudio Digital Subscribers page and the tinyStudio TV page, so check your inbox for the registration email and follow the steps to create your account. This automated email may sometimes end up in your junk box or promotions section of your email. You may need to use your email provider's search bar to locate this email. If you are unable to locate your registration email please contact us via info@fiberygoodness.com so we can help you with your registration.
If you ever want to unsubscribe (oh no!) from our digital subscription you may do so at any time, following the simple steps described on the Unsubscribe page.