It is with great pleasure that we bring you this update from Franciose Danoy of Aroha Knits, who is working through our Fiberygoodness Spinner Apprenticeship, sponsored by the amazing Daedalus Spinning Wheels! Franciose has been learning about the different ways to spin, to create woolen or worsted yarns with short draws and longdraws. We also worked on plying and the many ways you can twist singles together. Franciose and the Daedalus Starling (Rosie) are a great match and have come a long way in a very short time! We love what Franciose has been creating.

Knitting with Hand-Spun Yarn
When I first started my spinning journey, I didn't intend to use the yarns I created in any knitting projects, as I was learning the basics of spinning and pushing myself to try new techniques and skills. I didn't consider my first 5 skeins to be knitting worthy just yet. It was all about experimentation and making mistakes. While making mistakes is good (and I certainly made plenty), a skein full of mistakes doesn't make for the best knitting experience. They do, however, make really pretty wall hangings.
Once I was comfortable and confident in my spinning skills, however, I started to become more intentional about what I was going to use the yarn for. Over the past year, I have become drawn to designing and knitting bandana cowls – they are much less fiddly than a triangular shawl since you don't have to worry about the ends sliding off your neck and shoulders. So I knew that I wanted to spin up a skein of yarn to knit a bandana cowl.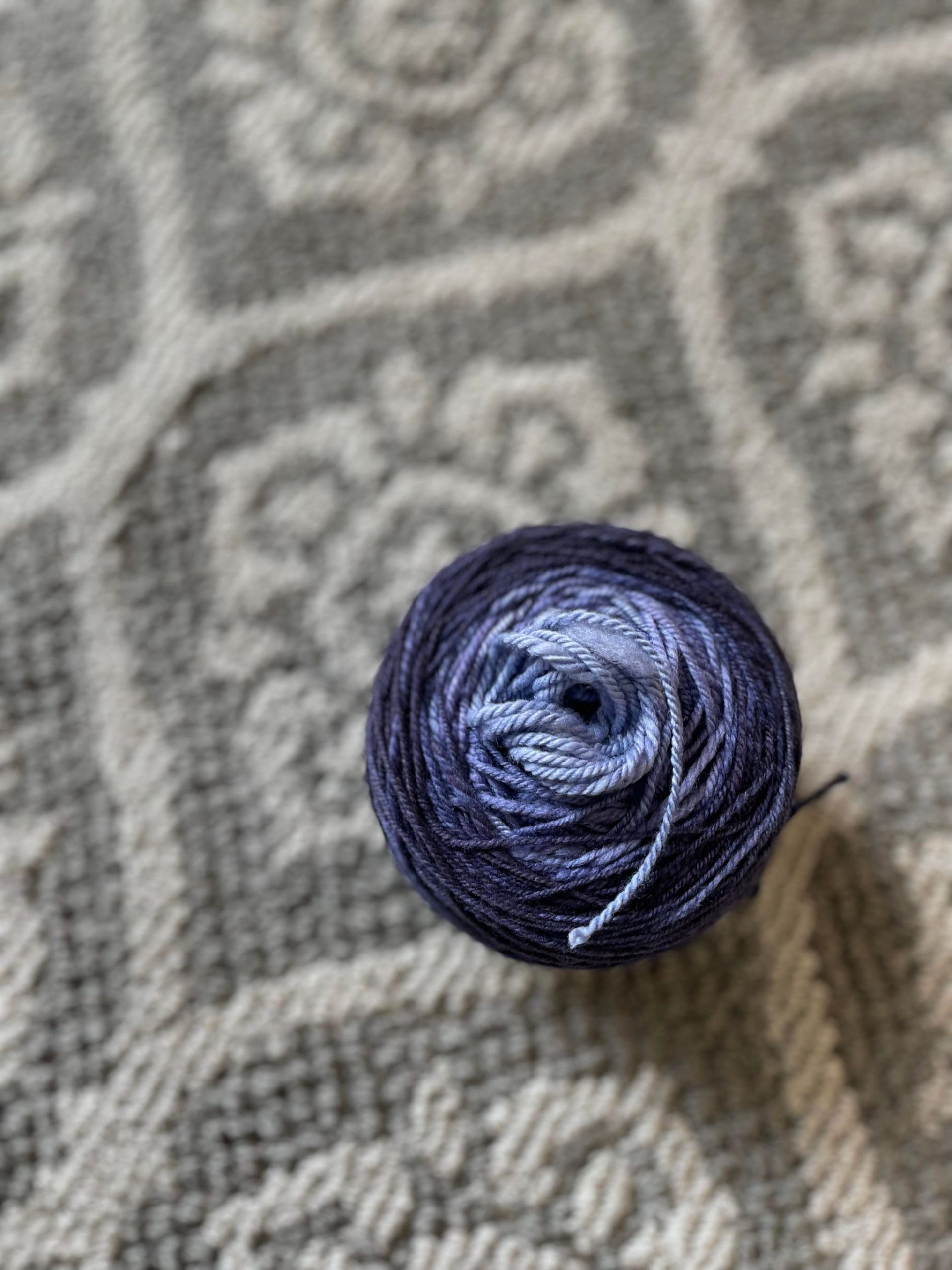 For this project, I used roving from Greenwood Fibers dyed up in a beautiful gradient blue color. However the roving wasn't dyed as a gradient – so I split up the roving into batches based on color gradation, from lightest to darkest. And that's how I started to spin it up, starting with the lightest parts of the roving, gradually moving into the darkest hues. 
I used the chain-ply method (which is now my go-to plying method) as I really like how rounded the yarn is and it is so bouncy and light. I gave it a wash and a block and wound it into a cake. I was so pleased to see that the gradient came out exactly as I had envisioned it!
The knitting experience was really enjoyable. I am used to knitting with fingering weight yarn, but the yarns I spin up fall into the sport/DK weight. I used US 7 circular needles and set out to knit up my bandana cowl! I didn't follow any particular pattern, just a basic recipe for this construction. There were some areas where the yarn was thicker or thinner than the rest, due to some slight inconsistencies in my spinning, but otherwise, it was a blast! The yarn was smooth on the needles and there is a special type of feeling that can't be beaten when working with yarn that you spun up yourself.
Blocking the cowl made the stitches bloom even more and evened them out. The final result is a gorgeous gradient cowl that is so warm and snug, with the extra satisfaction that it is in yarn that I spun up! I think the added intention of creating a gradient made it even more so because it really felt like I was making mindful choices throughout the entire creation process: what color I wanted to use, how I wanted the colors to appear, what I was going to make with this yarn, the spinning and plying techniques I was going to use… The final project is a simple stockinette cowl with a garter stitch border, but it is one of my favorite projects to date!