It's true! One whole year dedicated to publishing this awesome new fiber arts magazine! There are now FOUR issues published and this month marks the beginning, when I opened up subscriptions and started building the very first Issue 🙂  Since then Evanita and I have made loads of big changes to the website, streamlined it and added content. I have made LOTS of tinystudioTV episodes that now reside in the library for all subscribers too!
The activity of finding just the right fiber artists for each issue has brought me into contact with so many magical people using their creativity in utterly inspirational ways, and it has been an honour to be able to share their stories. I have found great pleasure in putting together each issue, designing pages, making little illustrations, and ultimately, creating the magazine that I have always wanted to read myself as a fiber artist too 🙂 Each of these issues is my favourite!
Which brings me to the first of our celebratory activities for these next few weeks!
Firstly I would like to thank ALL those who have subscribed to tinyStudio Creative Life magazine and video podcasts, your support has been absolutely instrumental in the existence and growth of tinyStudio, your continued support will be just as essential and deeply appreciated for the future of tinyStudio Magazine too (and I have big plans!).
I would also like to be able to share tinyStudio to even more people, to give EVERYONE a taste of what we have all been enjoying over the past year as tinyStudio readers! It is then, with great pleasure, I would like to announce:
The tinyStudio Special Edition!
This issue is a compilation of articles and tutorials taken from all four issues, it is just a taster of all the fibery goodness that has been contained in the magazines first year of production, and I had SO much trouble selecting which to share because each and every article is awesome! So what I have selected in the special edition are articles which I feel are representative of what we are all about, instead of a best of the best, because they are ALL best 😀
Even though this issue is a 'taster', it IS still the full magazine size and page number, just like all the tinyStudio issues. I know a lot of digital content can often be somewhat… scantier than we might expect, so I want to share with you just how substantial tinyStudio actually is!  I have created this special edition in the same way I have created all the Issues, filled over 120 pages of the personal stories of fiber artists and their inspirations, and packed it with information, creativity boosts, and projects. I feel it is a wonderful representation of what we aim for with every issue published. I hope it will also inspire you to subscribe and join us all for Year Two of tinyStudio!
Scroll down to get your download links!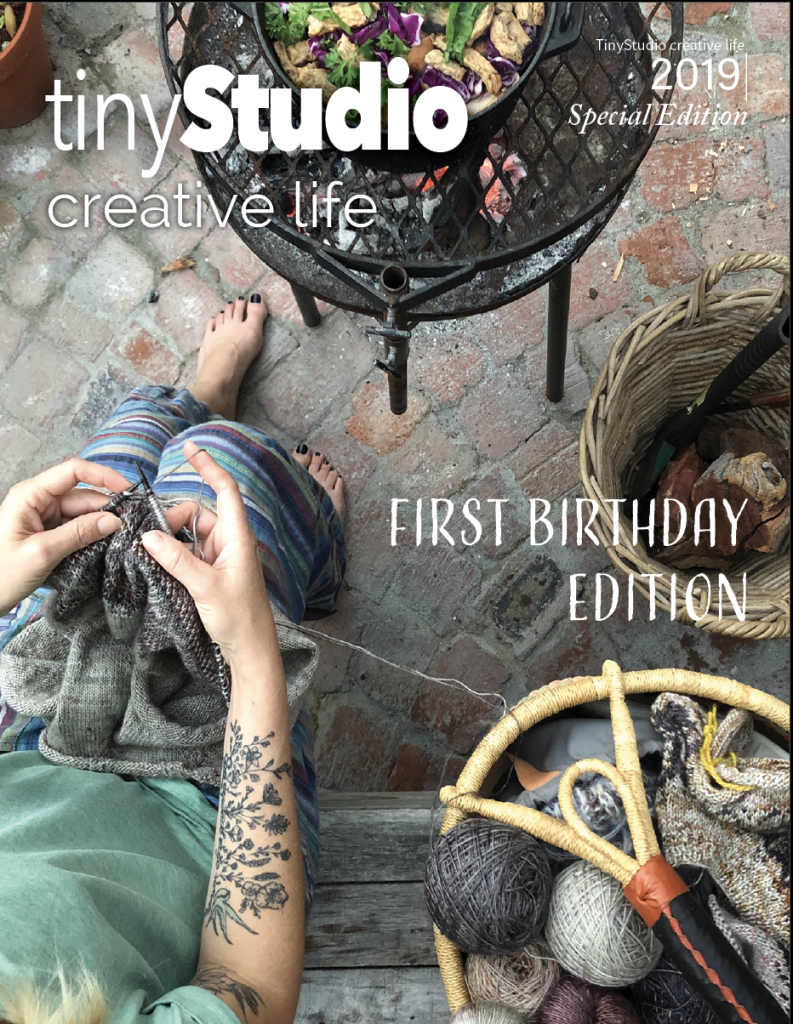 DOWNLOAD THE SPECIAL EDITION .PDF  The .pdf will open on any device (best viewed as 2 page spread)
DOWNLOAD THE SPECIAL EDITION .EPUB  The .epub can be opened and saved to your 'Books' app on any Apple device
This is a completely free Issue, and I would like to encourage you to share it with your friends, your fiber groups, and your social media. If you love this issue and think it will bring inspiration and a creative boost to others, do not hesitate to share this page or even just the download links with others 🙂 Let us grow tinyStudio and make 2020 a big Year Two, because …. together we are mighty!!