We live in a world of instant communications, digital lifestyles, and busy living, keeping us permanently 'on' and frequently feeling rushed and uncreative. Even in our lives as fiber artists we can find ourselves swirling around in a myriad of online courses, books, and YouTube tutorials with step by step instructions for a million different yarns. And then there are all the tools and toys: combs, wheels, e-spinners, drum carders, lazy kates… Do you feel a little overwhelmed at all there is to learn and choose and buy? It can be very exciting and inspirational, however no matter how long you have been a fiber artist or how much you already know, the sheer expansiveness of our fiber world and all that it contains, along with our frequently busy lifestyles and ability to stash enhance often, can sometimes become a block to true creative freedom and you may feel your inspiration slipping away under the weight of all the things.
I think it is time for something totally new! Time for YOU to appreciate your YOUNESS and find your own creative fiber flow, effortlessly and uniquely. tinyStudio is an approach that offers you ways to simplify your fiber life, to be truly in the moment with your craft and turn the key to lock out distractions, leaving you free to explore and create!
You will notice some big changes coming on the Website. Fiberygoodness will continue to offer you inspirational online courses, and these continue to be focussed on the innovative and creative side of fiber art and craft, with both practical 'technique' courses as well as creative boosts to get you spinning outside of the box. However I am so in love with the whole concept of tinyStudio, and so excited about sharing it with you, we now have a whole new website update and a great big new offering!
Firstly we have the FREE tinyStudio booklet, to explain what it is all about and how you can give yourself a creative boost whenever you need it.
It's a FREE eBooklet!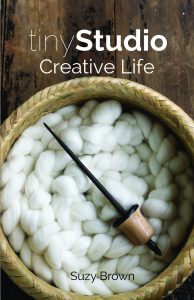 This is 80 pages focussed purely on introducing you to all things tinyStudio, what it is, how to identify YOUR tinyStudio 'Personality' (theres a fun quiz!), and how to create your own tinyStudio to simplify your creative life, which is something beautiful and meaningful. I invite you to read the book and take the quiz,  and I hope that you will find yourself in the material and that the concepts will speak to you as strongly as they do to me.
Get your free booklet here as tinyStudio.pdf or  as an  epub edition (this opens in ibooks, Google Play, or your preferred ebook reader) or on Kindle (currently free for the next 5 days and then US$1.99)   Please DO share this book, give it to your friends, share the download link, spread the word! Lets make our own  slow fiber movement!  You can also purchase it as a hard copy from Amazon if you want to! The book is kickstarting the next part of our new direction (keep reading!)
And the big news – A brand new Fiber Artist and Spinners Magazine!
The booklet is just the beginning, the background to the BIG thing – I am very excited to announce the launch of the
'tinyStudio Creative Life Magazine'!
This quarterly digital publication will be packed with awesome articles, videos, galleries and more, all aimed at boosting creativity. I have contributions from fiber artists around the world, sharing their thoughts and experiences about simplifying their creative life, practicing mindfulness, and sharing their patterns and projects with you! I already have articles ready to go for Issue One that I can't wait to publish, and if any of this triggers ideas and inspires you to write for tinyStudio Creative Life please contact me, I would love to work with you on future issues!
Why digital not print? Well the best thing about going digital is I can embed complete videos right into the pages of the magazine, along with create inspiring image galleries you can scroll through and links you can click! We will drop in a LOT of eye candy for your viewing pleasure, and we will also have plenty of tinyStudio style inspiration to help you keep your fiber life free, joyful, mindful, and inspired! Also, links in ads will be clickable so you can go directly to check out the goodies 🙂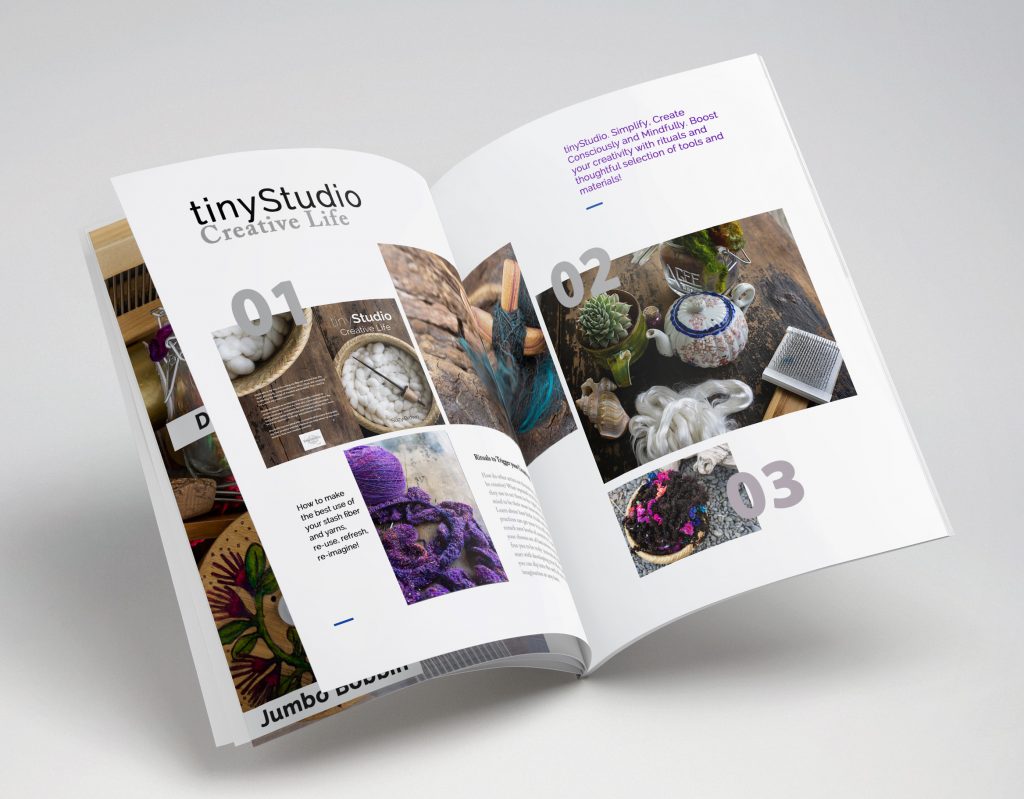 When you subscribe to our magazine we will also give you exclusive Magazine Subscriber access to our regular tinyStudio video-casts! Yep you will see me regularly sharing how-to's, interviewing fiber artists and fiber producers around New Zealand and the world, and offering you ongoing inspiration for your tinyStudio practice, think of it as tinyStudio TV!.
The first issue will be out November 23 2018 (not long to wait now!) so pop on over to the subscribe page and be in on time for the very first issue, your support is deeply appreciated! I have lined up some wonderful articles from some amazing artists, I know it will be inspiring, informative, and will help you find your 'happy place' in your fiber crafting as well as offer a new perspective on finding inspiration and boosting creativity for fiber artists in a beautiful format.