Right on the heels of our newest online course "Dymanic Colour Blending: Carding" which covers a range of ways to card fiber into batts and rolags, here is a post that's going to help you spin up your lovely lofty fibres and continue the colour management learned through the course. If you haven't done the course yet you can still use these ideas!
During the five videos I created for the course, and also given as exercises in the workbook that goes along with it, students were asked to create a series of batts that use colour in quite different ways.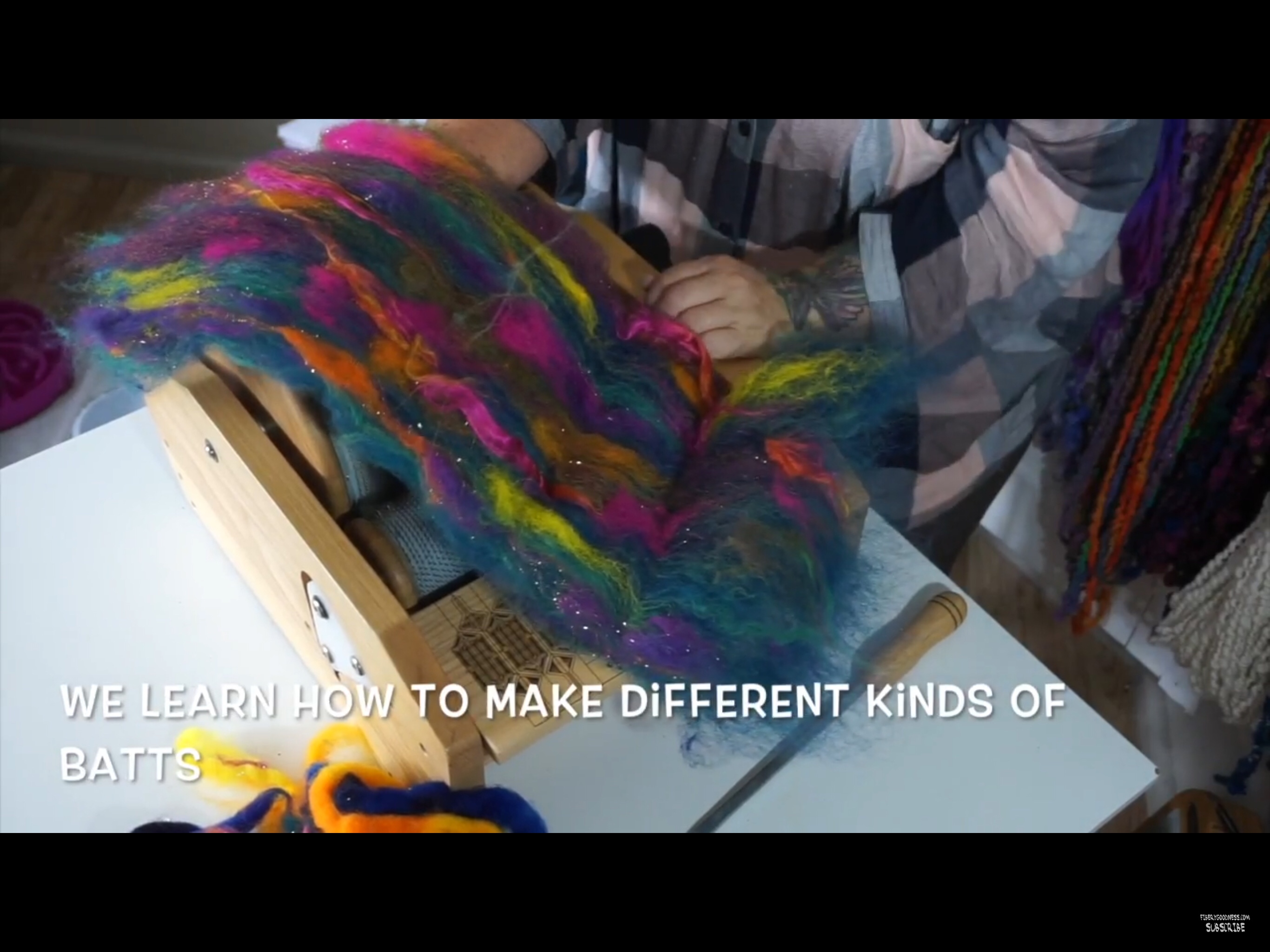 This batt making is really fun! During the course materials I went further than just adding random colour into batts but really working on creating batts with specific colour management techniques that would work up into a yarn that looks cohesive and intentional. Because of course, fiber prep is everything!
So following the release of the course I thought it would be fun to look at ways to spin these batts (we haven't even started on the rolags yet!). I ran a livestream video where i demonstrated some different ways to spin from a batt, how to split it up differently to manage the colour placements into my yarns to create different effects from the same batt. It was a fun session and I spun my batt into a fairly big single and then plyed it into this!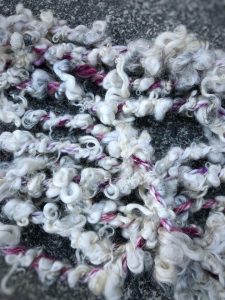 If you want to view the video its on my YouTube Channel HERE
So in this blogpost lets have a closer look at spinning from a batt and the different ways you can split them up!

Firstly, I suggest laying out your batt on a flat surface and figuring out how the colours are placed and how you could make the best use of them, start with a plan!
A gradient batt gives you many options. Usually they are organised with a single colour change that starts with one colour on one side of the batt merging into another colour on the other side of the batt (and could have several other colours in between) This gives you several options straight away, you could go for a yarn with that same sequence of colour change, so stripping your batt in a zigzag pattern and creating a long 'roving' from it will help you keep those colours in order and one after the other. (see illustration at the end of this post!)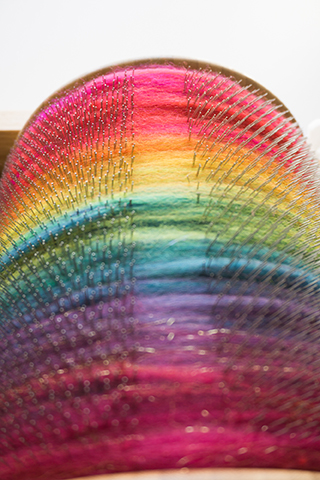 You could also split your batt into several pieces width-wise, this would give you that same gradient when spun from side to side, but in shorter colour changelengths and multiple repeats.
This works also for striped batts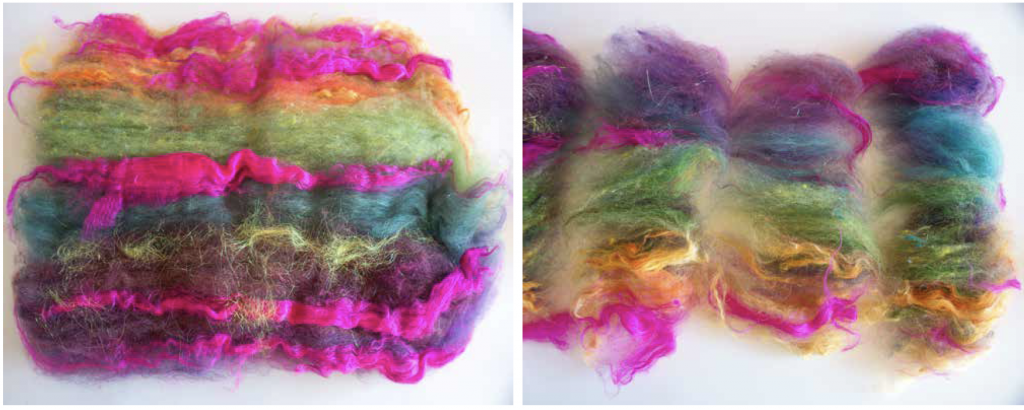 If you wanted to get more daring, you could even try splitting it into strips on an angle (see illustration below), which would mix up the colours more, giving you some sections with only two of the colours one after the other, and some sections with all of the colours. This makes an interesting yarn with a lot more irregular sized lengths of solid colours.
If you have a batt that layered rather than striped then you have some different options. You could strip it off into lengths and then spin it into a barber poled yarn, this can provide a really pretty heathery look when its knitted up. If you spin this thick you get more defined stripes than if you spin it thin, which will look more heathery and blended.
You could also take a layered batt apart and spin one colour after the other, allowing flecks of the colours from above and below it in the batt to fleck into your yarn now and then for a pretty variation. When you split this kind of layered batt up back into individual colours you will invariably get those flecks so why not make them a feature!
You could also just pull off small chunks from a layered batt and spin it from the fold, so you can manage the colour more deliberately as you draft it off your finger.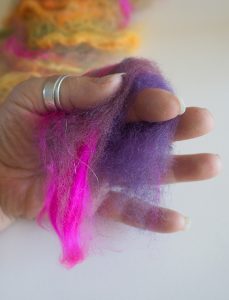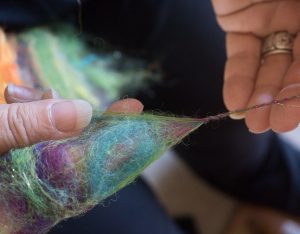 If you have a batt that is quite random in its colour placements, then you can simply choose to spin it from a corner, leave the batt whole and place it in your lap and let your drafting fingers move around the batt as they will, this is a fun way to spin!
You could also pull chunks off this kind of batt too and even pull out specific colours to make regular sections in your yarn, so if there is a lot of gold in a batt you could take that out and make a gold base interspersed with patches of random colours, this gives you a lot of choices for plying effects too, making a feature of the random (or solid) patches in coils or beehives, for example.
I think the most important thing however when spinning from a batt, it not to be intimidated by it. It CAN feel like a lot of fiber, but don't worry, remember that YOU are the boss! Break it up into more manageable pieces and spin away 🙂
Please feel free to print out the illustration that I did to show some ways to split up batts, I didnt originally make it with the idea of print so its an odd shape, but if you click the image you will get the larger version of it to download.