From Arlene:  Sure has been busy around here!  The Big Book of Fibery Rainbows launch has been going really well — thanks so much to all who have purchased theirs.  There are still a couple of collector's copies available — you can order them from the book launch page — just scroll down to the bottom of this page.  For those of you who have ordered yours, you should receive them within the next two weeks-ish.   We have a book giveaway winner…it is Amy M!  Amy, look for an email from me.  Thanks to all who participated in the giveaway.  We appreciate your enthusiasm and support more than you will ever know.  We have a couple of cool deals on equipment:  from now until the end of the year, if you order a Majacraft Fusion Engine Drum Carder, you will receive a free copy of the book with your purchase and if you order either a Hackle or a set of  Combs, you will receive a free copy of our color blending course.  All of those products are available on this page. 
Meanwhile. our Artist in Residence, Bren Boone of Snerb Yarn & Fiber, has been pretty busy herself with the first step towards her Fibery Goodness Fleece to Sweater project.  Without further ado, I will turn this post over to Bren!
STEP ONE:  SORTING AND WASHING.

In this post, I will be discussing how I like wash fleece.  In my opinion, every step of working with fleece to take it to a finished product is an art form in and of itself.  Each fleece needs to be tackled on a case by case basis.  Some will need more care and attention than others.  For this project, I'm using a Cormo fleece that measures 19.5 microns.  That is very soft.  The finer a fleece is, the more chance of felting if you're not careful with handling it.  Fortunately, it's also a fleece that was shorn beautifully to keep the lock structure.  This means that I can simply lay the fleece out on my floor and pluck out locks one little bundle at a time.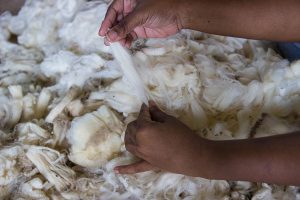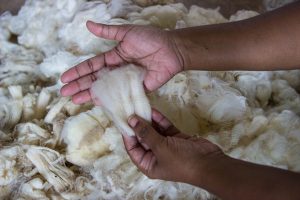 Sorting a fleece can be done many ways.  Many times the "handle" is determined based upon where the fleece was on the animal.  Some areas are softer than others.  Some areas may be shorter or longer than others.  I know of people who will sort by the area it was on the sheep, some will sort my staple length, and some will sort by handle.  It really is a personal choice.  I don't like to over think what I'm doing.  I sort starting at one end and move to the other end.  Plucking staples bit by bit, and placing them in a plastic tub, all going in the same direction.  If I see a staple that's a bit too dirty for my liking at the tips, I flick them open with a flicker brush.  Some areas will be difficult to sort so I save those areas for last and whatever is left over after I've sorted everything, gets put together and washed.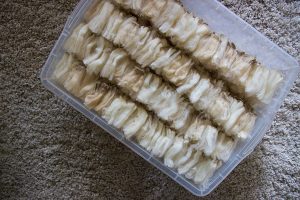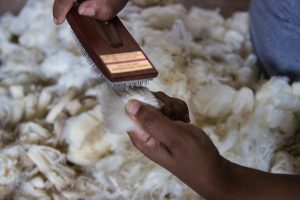 Once I've sorted the fleece, I add handfuls at a time to a mesh lingerie bags.  I place them in rows all going in the same direction and between each row I stitch a simple running stitch with a bit off cotton thread.  This keeps the locks from floating around and losing their structure while they're being washed and rinsed.  The left-overs from sorting that don't have a good lock structure, get put in another mesh bag together.  Just because I didn't get a clean staple of locks, doesn't mean it can't be processed.  It will just need to be done a little differently.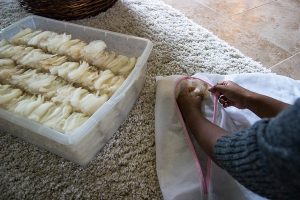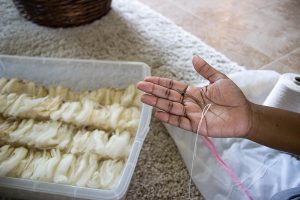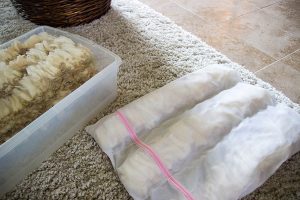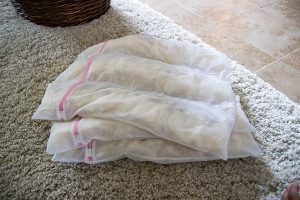 Once I have everything in mesh bags, it's time for a bath.  Cormo is very greasy.  I like using water temps above 180 degrees with Cormo.  Since I'm using a utility sink that's in my garage, I boil a large pot of water on my stove stop and carefully bring it out to my garage sink and pour it in with the hot water that's already been added.  This works like a charm for me but you may not need to do that for your fleece.  Remember,  how you approach washing any fleece has to be taken on a case by case basis.
I like to wash one pound at a time.  I use 1 oz of scour per pound.  That is what I've developed as my personal preference.  You may want to start with this recommendation and then experiment to find your personal preference.  I fill my sink with water first,  then add my scour to prevent bubbles which aren't necessary.  I used a gloved hand and move my hand around in the water to make sure the scour is fully incorporated.  I then add my fleece one bag at a time and make sure it's fully submerged before moving to the next one.  Once I have 1 pound in the sink, I walk away.   I like to let my fleece soak for at least 30 minutes.  I then remove the bags from the water with my gloves on and I DON'T squeeze any water out or let the bags drain.  You want to keep water in a fleece that's crimpy because if you remove too much, when you add it back into the water for another wash soak or rinse, it will just float on top of the water. Once I remove the bags from the water, I just place them in a plastic tub and either make a new wash bath, or a rinse bath.  I try to always keep the water the same temperature throughout the entire process.  For this Cormo fleece, I needed 2 wash baths and 2 rinse bath per one pound batch.  Once they have been washed and rinsed, I place each bag, one by one in a wire strainer to drain as much water as I can out of them without squeezing, and then place them back in the plastic tub to cool all the way down to room temperature.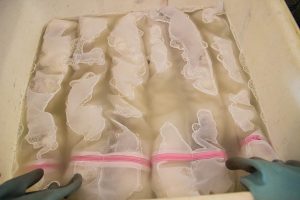 Once the mesh bags are cool, I put them all in a spin dyer to remove all the excess water that I can.  No felting will occur since it does not agitate the fleece and the temperature isn't hot.  If you don't have a spin dryer, you can use a salad spinner, or even roll your bags into towels and walk across them to remove the excess water.  Next,  I lay them out under a fan or warm sunny spot or outside if it's warm enough and let them dry. I like to use a hanging herb drying rack or sometimes I just lay them on the floor.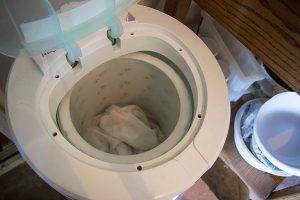 Once they are dry, I remove them from the mesh bags into a basket. I don't stress over keeping them perfect tidy.  Since I took so much care when I sorted them, I'm able to clearly see each lock bundle.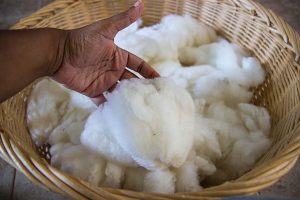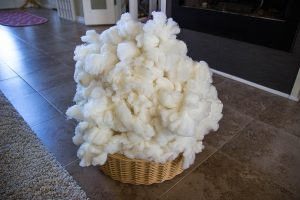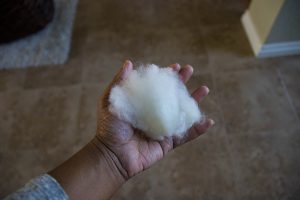 With the mohair, I peformed the same exact washing process as with the wool except I had to do 5 wash soaks and 3 rinse soaks before they came clean.  Mohair is more waxy and greasy and needs very hot water.  I kept my water temp above 180 for the mohair as well.
Arlene's Comments:  Thanks so much, Bren for your practical, no nonsense step by step explanation!  The fleece is absolutely gorgeous and I can't wait to see the next step!!