I have been waiting for the last several weeks to see what Pantone's 2017 Color of the Year would be.  Some of you may have caught the announcement last week that the color is Greenery.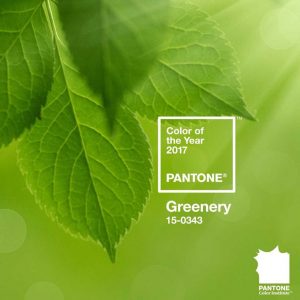 I could not be happier about this choice!!!!  It's fresh, light, happy, and hopeful.  This color is a breath of fresh air to me and coincidentally, a color which I'm naturally aligned.  Usually, when I write these posts, I scour the internet for examples of how the color could be used and translated into fiber art.  This time, however, I did not need to do that as Greenery has been part of my artistic landscape for awhile.  So, without further chit chat, let's take a look at the pretty yarns that I will be using in the coming months.
First up, I have this lovely skein of hand dyed silk from Wild Hare Fiber Studio.  I have some companion yarns to go with this as well.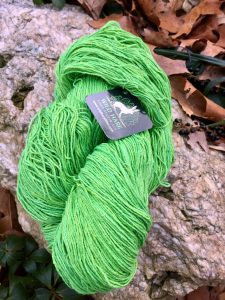 Moving right along, I have this gorgeous skein from Jill Draper Makes Stuff: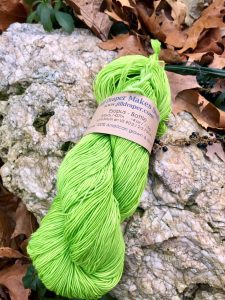 Although I don't buy much commercial yarn anymore, I recently purchased this yarn along with some others with the idea of making a bright, light shawl for early spring — here are some of the other yarns: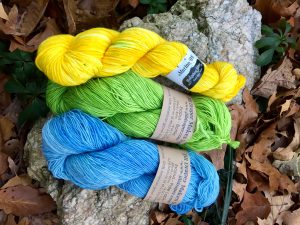 As I was perusing around my studio, this cute little skein caught my eye.  I love this and have been hoarding it.  It is in the weaving pile.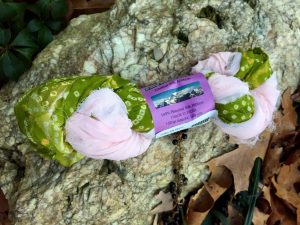 One of the aspects of this color is that it is pretty versatile and one aspect is what I think of as its sillier side.  I have this book sitting out in the studio because of its whimsical nature and look, there's Greenery in there!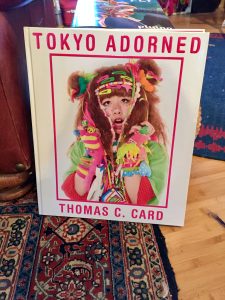 Another upcoming project involves some fabric I bought at an Indian dress store a few months ago.  This piece was large and I have already cut it to make two scarves (one was a holiday present) and this piece will be a scarf for me: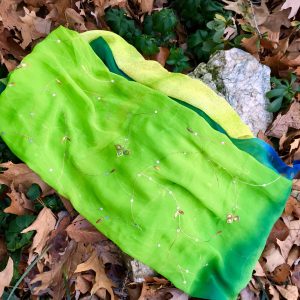 As I was wrapping up gathering my images for this post, I decided to include of finished pieces I have in my collection that showcase Greenery too.
This Saori weaving: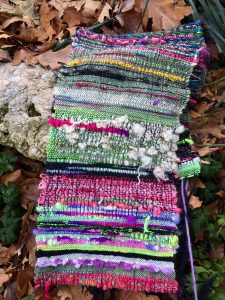 And of course, the first of my Old Forge knitted blanket collection — the green yarn was also a Jill Draper Makes Stuff yarn — here is the blanket folded up like a pie slice: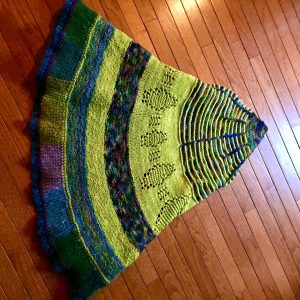 Finally, I spied something I had knitted quite awhile ago:  my own little Elf of Shelf with his little grassy green accessories: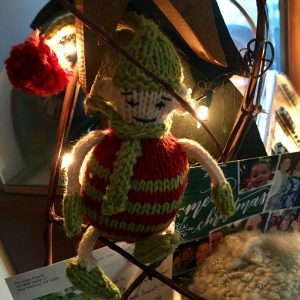 I know I'm going to enjoy consciously working with Greenery next year — I hope you will too!