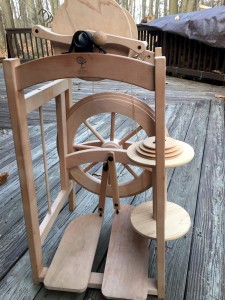 Originally, I was going to write my take on "Buying your First Spinning Wheel", but as a delved further into my thoughts on the topic, I realized that would be short-changing this post.  So, instead, we are going to take a look at some of my adventures in buying and selling spinning wheels which will include some thoughts on buying your first wheel.
The moment I decided to learn how to hand spin yarn and what type of yarn I wanted to master occurred at the same time.  From the get go, my heart's desire was to spin creative, expressive, textured yarn.  I didn't even understand the vast array of choices involved in buying a wheel, but since I knew where I was trying to go, once I found someone spinning the type of yarn I liked, I bought the kind of wheel they had.  Bam!  Set, right?  No, I still had to learn how to spin and I was not a natural spinner but we've talked about that on other occasions.  However, contained within this description of this simple transaction is an important point:  selecting a wheel that will suit you is inseparable from knowing what kind of spinning you want to do.  And, for someone just starting out, that may not be very clear. 
Some spinners find a good match right away, but others do not.  Many times a new-ish spinner has cried on my shoulder with buyer's remorse over a wheel they thought would work for them only to find that it didn't.  There is definitely a "Discontent Spectrum" regarding spinning wheel purchases ranging from the total meltdown type ("I can't believe I spent so much money on that wheel that so many people love, but I don't…what is wrong with ME?") to a sort of mild malaise ("I bought that wheel last year and I don't know what it is but I just can't make friends with it").  Whether you studied a purchase carefully or bought on impulse only to find yourself unhappy, I would encourage you not to give up easily if it is a wheel that a lot of people like and it's right for your purposes. 
I speak from experience on this one.  My first wheel basically worked for what I wanted to do, but it was not very attractive and I decided I wanted something that was more elegant looking.  I sold the first wheel to a friend and ordered a high end wheel.  It came and for the first six months, we sat glaring at one another from across the living room.  I disciplined myself to spin at it for a small amount of time per day that did not leave me too frustrated and in time, we became great friends. 
Then, as I started to get around as a spinner, I became more exposed to the many choices there where in terms of wheels.  Naturally, I was curious and as finances allowed, I started "collecting" wheels.  At one point between working wheels and antiques, there were nine wheels in my small living room to which all I can say is my husband is really understanding.  This part of my spinning history touches on another one of my points about the difficulties of buying your first wheel:  there aren't many places a beginner can go to try a lot of wheels.  Therefore, it takes time to really see and have the opportunity to experience wheels in person.  Many people do not live anywhere near a place where they can try out a wheel or two.  Through taking classes and going to festivals, I got the opportunity to further develop my preferences.  The consequence of lack of access to trying a number of wheels in the beginning results in the situation of buying something only to find out later about other more desirable options. 
But, there is good news here:  if you have bought something of quality and taken care of it, spinning wheels are not hard to sell.  I am not a dealer, but I have sold a baker's dozen of wheels in the last few years.  This is one of the reasons that I take very good care of what I have.  Not only do I like using things that are in nice condition, I like to be able to sell things easily if I want to get out from under them.  So, if you feel you have made a mistake, there is a lot of opportunity to get most, if not all, of your money out of the wheel and move on.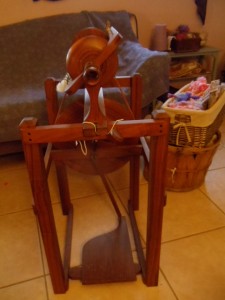 I have used a wide variety of avenues in terms of selling wheels and am going to share my annotated list of approaches with you:
1.  "Free" places to advertise that you have a wheel for sale:  Craigslist, Facebook groups (All Fiber Equipment for Sale and Fiber Equipment for Sale — you have join first), Ravelry groups (Spinners Marketplace and Knit and Spin Equipment Classifieds – you also have to join these first).  In all cases, it is really important to have images available with the post.  Personally, I have had the most success with Facebook groups.  The last two wheels I sold were listed for only about 15 minutes before I had a viable offer that I accepted.
2.  Guilds and Groups:  If you belong to a guild or a group, there are often newsletter advertising opportunities.  Alternatively, if you have a way to put the word out amongst your guild or group, then do so.  The last wheel I sold occurred because I was sitting next to someone at my Knit Night that was looking for a wheel and I had one that fit her needs. 
3.  Festivals:  If you are going to attend a festival and have a wheel to sell, there are ways to sell at the festival even if you are not personally vending.  The most effective way I have found for the large festivals is to join the Ravelry or Facebook group for the festival and post there that you have a wheel to sell.  This has worked for me on a couple of occasions where I made the arrangement with the buyer before the festival and then met up in the parking lot to make the deal.  For small festivals where I was part of a class or spinning circle, I have taken a wheel with me with a for sale sign and set it in a spot permitted by the host or teacher.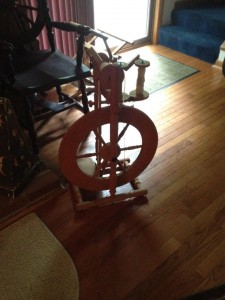 4.  Ebay:  I have sold wheels this way.  It is almost my least favorite way for two reasons:  first, there are fees involved and second I don't like setting up the sale in their system.   
5.  Yard Sale:  This is my absolute least favorite way to sell a wheel.  If the wheel is junk, ok.  But, good quality wheels will not sell for the market price at a yard sale.  In all the other ways I have listed above, you will do better financially than going this route. 
For pricing strategy, I basically search back through the Ravelry and Facebooks groups to see what a similar item has sold for.  Pricing anything is never an exact science because you have to factor in the condition and there are trends in the marketplace but at least this type of research gives you a starting place. 
I will ship wheels depending upon how well I think it can be packed.  I want the wheel to arrive in the same condition it left my hands.  Also, it is important to come to a CLEAR agreement with your buyer regarding the cost of shipping.  If the wheel is to heavy or fragile, I don't ship them. 
When all is said and done, I do find the process of letting go of wheels to be satisfying.  Of the wheels I have bought and sold, I have only a pang of regret over one wheel that is gone.  That is more than cancelled out by the good feeling of making people happy by giving them the opportunity to own a wheel that they have been desiring!
If you have any other tips you'd like to add about buying and selling wheels, please feel free to comment on this post.  I'd love to hear about your experiences as well!