OMG…I feel like I've been harboring a dirty secret for awhile now…Today it is time for "Blog Confessions"!
I am a spinner and a weaver…some even say "artist"…but I started as a knitter and really, really, really, I've got more hours logged knitting socks than anything else, I think (I have a suitcase full of hand knit socks and I recently gave away ten pairs and the suitcase is still full to the brim).  Many moons ago, when all I did was knit socks, while only knitting during my down time, I could easily produce at least one new pair a month.  I had a big stash of sock yarn and didn't worry about it because I was fairly prolific.
Then, as I started to branch out with other types of knitting, then spinning, then blogging, and then weaving, of course, my sock production slowed down.  But, still, there was always a pair of socks in progress.   One of my Knitting Policies was to immediately cast on a new one as soon as I finished up a pair.  And, all the while,  I really didn't suffer much from the Second Sock Syndrome.
Until last fall…I started knitting a pair of socks that were dyed to produce a striped color way suggesting Burberry plaid.  I thought, "Oh, these are going to be great…neutral colors with red…I will find a lot of opportunities to wear these."  And, I knitted the first one and it went just as it usually does:  about ten hours of knitting to create a fully ribbed sleeve over the calf, then the fun of the heel (not joking — this is my favorite part), then knitting from the heel to the toe and finally with twelve stitches left on the needles, a quick dance with the Kitchner stitch.  Sometime around November, I cast on for the second sock.
And, then while life whirled around me at full tilt, whenever I picked up that sock, time just stood still.  It was totally and completely taking FOREVER to get anywhere with it.  Instead of slowly muscling through it, I let it sit for long periods only adding to the problem.
In the meantime, in December I started a weaving on my 12″ Knitters Loom.  The purpose of the weaving was (1) to have something to do while I was a passenger on a long car ride and (2) to practice a number of different free form techniques.  And, I imposed a couple of restrictions on myself from a materials perspective.  The warp was a single skein of Wild Hare Fiber's Neon Lights sock yarn which I had decided I did not want to knit into socks but I felt would be interesting as a warp.  From my stash, I selected a solid DK weight black alpaca yarn and another hand painted, neon color way sock yarn because I wanted to experiment with different ways of show casing the colors in both of the sock yarns.
Off we went in the car for the two day drive.  I wove for a good bit of the drive but did not even come close to finishing the piece.  Upon my return home, the weaving put me in the same place as the sock.  Life seemed like it was racing along, but when I sat down at that weaving, it was very, very slow going.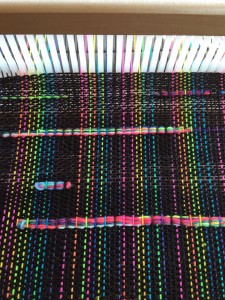 I'm almost positive that anyone who is still reading this far has been THERE.  Of course, it was tempting to start something else that did spark joy.  But, I knew that was a slippery slope.  If I get too many projects going, nothing really gets done and eventually, I may just decide to clear the decks and get rid of the half finished stuff.
And, all the while to make matters worse, I'm keeping going with my fiber-related writing…but at home, nothing is getting finished!  This makes me feel even weirder because I know that, at least from time to time, people are curious about the stuff that I produce.  So, there is this vague sense of not keeping up my end of things, too.
Yup, I can say it now:  I was in a big, fat slump.  I felt like Columbus sitting in the middle of the Atlantic Ocean, trying to get to America and there is absolutely no wind!
Well, last weekend, finally, I BROKE FREE!!!!  We went away for a long weekend and I took the sock and the weaving with me.  I dug my heels in and pushed myself through to completion on both.  At last, here they are: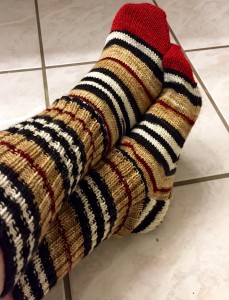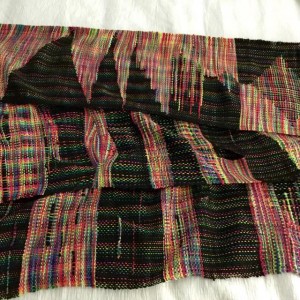 I'm not saying these are the most interesting or best work I've ever done.  But, I didn't quit.  I finished and now, I'm free to move on to other things.  To that end, I can show you some of the stuff that is queued up and waiting for me: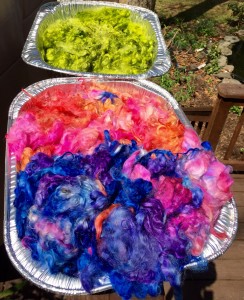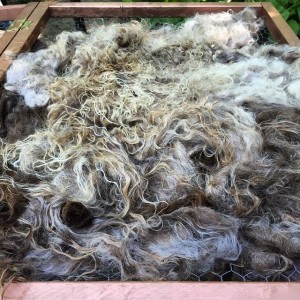 And, now, with this lovely three day weekend in full swing, I believe there will be time to delve into all this fibery beauty!