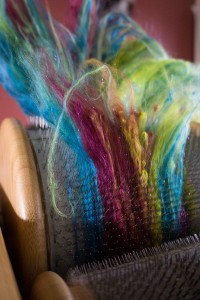 Imagine this; big luscious handfuls of your favourite fibers, silks and sparkles, spreading them out with your fingertips to loft them up.. the little pops as the fibers let go of each other and the locks spread into crimpy cotton candy puffs.. And then.. then! Feeling them bounce up gently against your palm as you lay them onto the beautiful wood-grained feed tray of this brand new carder, and next… silence and surprise, and here I can't say 'as you crank the handle', because with this piece of carding glory there is no need to 'crank'.. its more like gently turning a piece of precision equipment that works effortlessly under your fingertips. This is it, finally, the new Majacraft Drum Carder, the Fusion Engine, at last, handcrafted and built after a long process of research and development to get everything just right. And I reckon they really did! I've had the pleasure of using one of the final prototype models since I arrived back in New Zealand, and now that the launch is imminent I thought it would be a great time to share my experience of it with you. There are a few key things that I think you should know about the Majacraft carder.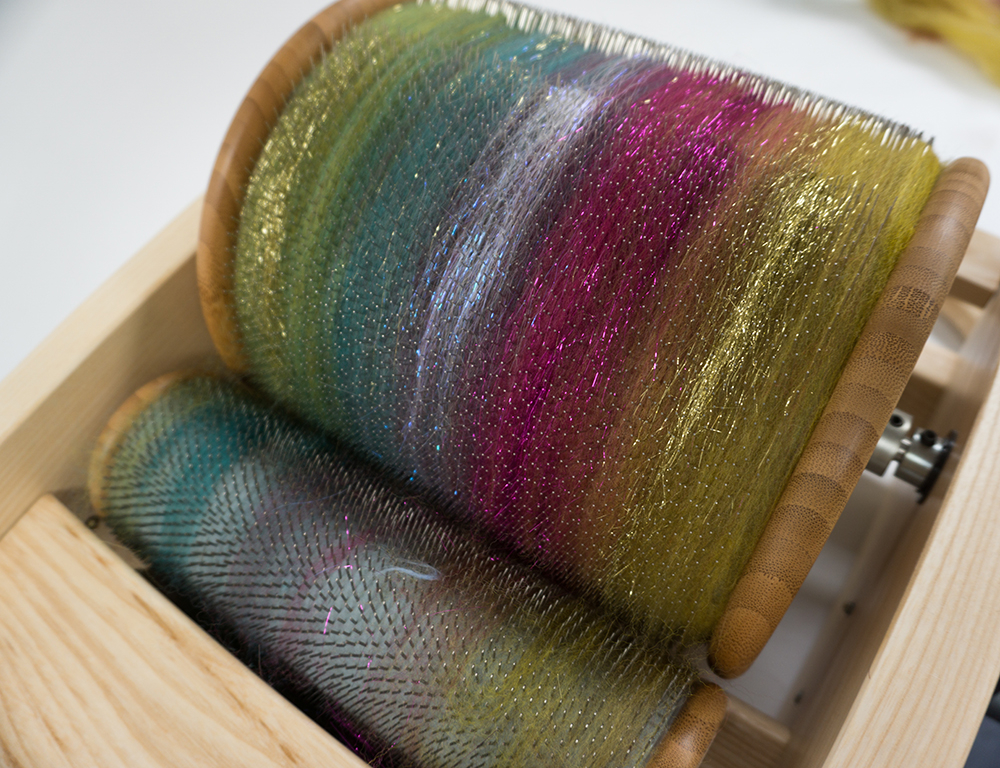 The first thing is that once you start turning the handle (effortlessly remember!) you will be able to watch that fabulous fiber you just fed into it being almost magically opened up and spread across the large drum as it comes off the licker in. Here is the first thing that makes this carder stand out, it has a wonderful ratio between the licker in and the large drum, 8:1, instead of the more usual 5:1 or 4:1 of other carders. This means that the large drum rotates 8 times to every one time the licker-in rotates, and this is why it looks almost magical when your fiber starts to transfer to the large drum, it is being opened up and spread out as it is transferred between the differently rotating drums.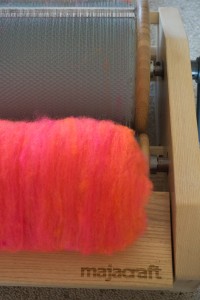 How is this possible? Here's where Majacraft have been tricky and clever, they use gears! Hidden away inside this sleek, modern looking carder, are a bunch of rather steam punk looking cogs and gears that allow this great ratio to happen, powered by your effortless turning of the handle. There is no driveband to stretch or slip, and the gears are not the direct large to small of other carders, there are a whole series of them that are designed to take the effort out of turning these drums at this ratio. It is light and responsive to turn, the only downside being that you will have to remind yourself sometimes to actually slow down, you don't need to crank fast to get a speedy result on this carder, and it is going to be important for your fibers to keep this in mind, relax, sip your chilled beverage of choice, take your time and let the carder do the hard work, because it will.  Combine this ease of use with the opportunity to change drums very quickly and simply, swapping between a fine cloth or a coarse cloth drum, and you have a really versatile and efficient carder that is suitable for lots of different fibre preps.
Another thing you're going to notice thats a little different on this carder is the feed tray itself. Its pretty, its wood, its adjustable, and it sits higher up than you are used to. Just a little different right?! It sits higher up over the licker in and it has a neat kind of scoopy scoop under it that guides the fiber, since it is effectively being fed from the top of the licker-in all the way around to other side where it meets the large drum, there is plenty of time to open it up and get the carding process started. The tray is adjustable so it can help you control the amount of fibre reaching the licker.
Yet another point of difference is the packer brush. Firstly it sits on a ratchet system that holds it in place with no fiddling or tightening up, and it stays where you put it for a very even amount of packing. It also sits at the back of the large drum, leaving all that room above it open and accessible for 'painting' fibre onto the drum. Its also easy to release when its time to take off the batt.
There is another aspect to this carder that you don't 'see' but you do feel. To some this could be a downside while to others a blessing. It weighs about 8.5 kilos, its a solid beastie, and this weight is a sign of the quality of it, the best of the best in materials used and the parts hidden away inside, it means it can be used easily even without clamping (I love that I can sit on the floor with it and card away!), so even though they provide some clever little clamps, you can get away with leaving it free of shackles and it will work perfectly just the same. This means you can, like me, move it around quickly and easily to follow the sun around the house! You're not even restricted to the edge of a tabletop because the handle length allows it to be placed in the middle of the table and used at any angle you find comfortable. It does mean however that for those who want a lightweight carder, this will not be for you and you could find it awkward to carry very far. A potential solution to that could be the most excellent bag that Majacraft has had made for this carder, I havent tried it myself but I have seen it arrive at the workshop and investigated it!  The sturdy handles and padding make it ideal for travelling with your carder. 
Overall this is a very different carder than the ones we have been used to so far. It looks amazing, all solid and wooden and streamlined. It feels amazing with its solid construction and effortless turning, and it sounds amazing as you hear only the gentle opening of the fibers as they transfer from licker to drum. To me, this is like the Rolls Royce of hand cranked carders.
So there you go, it works at least as well as you imagine it would if not better, it has lots of innovative features, and I still haven't even told you about the doffer and the super cool little cleaning brush (that makes a fabulous flick carder as well), and I haven't told you about the special tines on the licker in OR the "Direct Injection' feed tray accessory that we devised for it on my last trip to New Zealand. You can discover all these wonderful features that Majacraft have dreamed up and packed into it for yourself. I know it has taken AGES for us to get to see the final product, but having used this carder, I can promise that its been worth the wait, each month thats gone by in the development phase has meant more for us fibre people in the carder, and I have the idea that I am even more excited than Majacraft is about the imminent release!