Fun With Spikes!
Here we go! We are all, in one way or another, finding our way through the global pandemic known as Covid-19. It has been an emotional roller coaster for many of us, and I feel this is a great time to bring you something to distract you from the stresses of lockdown and social distancing.
This is something I began mid 2019 after being asked to teach at Majacraft Camp 2020. The theme was 'Naturals'. Over the years I have taught plenty of fiber prep classes, in which the humble hackle was often the last part or the 'extra if we have time' tool, and yet, I felt there was so much more to explore there. And boy, was I right!
Given the opportunity to dedicate an entire 3 hour workshop, I began experimenting with colours on the hackle, and wanting to make something repeatable for larger projects, and beyond my usual 'stripes and blocks', I was hit by a lightening bolt of an idea – HACKLE PATTERNS!
Yes – drawing a template of the hackle and designing my colour placement! Much experimentation ensued, I made and spun samples, knitted them up into swatches to see how they would transfer from design to fabric, and discovered that YES! These patterns can be 'READ' easily and directly translate into the knitted swatch! And not only that, there is apparently no end to the designs that can be created this way!
This is a simple system in which the pattern is drawn into the template as a guide for how to load the hackle – a bit like lines that then get coloured in with fiber. I then gave each colour a number and decided on a placement in the design (yes colour with numbers!).
The pattern is easily read from end to end of the hackle, the width of the hackle becomes the length of the combed top dizzed off it.
The yarn spun from it can be done as a two ply, by creating two matching hackle loads and spinning them together, or as a three ply chain, spun from end to end of the top. I sampled both two and three ply yarns from each of my patterns, and you will see the result in the Workbook!
What I have on offer here is my entire 3 hour workshop, condensed into a half hour video, which includes:
an overview of the system,
a hackle loading demonstration showing how to use the pattern, a diz demonstration,
a mini tutorial on how to create your own patterns,
and a short spin demo with a couple of useful tips for spinning this kind of fiber colour prep.
Please go ahead and DOWNLOAD THE PDF of your free 50 page Workbook, which contains the overview of the system, the 'rules' and principles it contains, and all the patterns, samples, Notes and variations I have made so far.
Click the cover below for the .PDF (for all devices) or follow THIS LINK for the .EPUB for Apple Books app.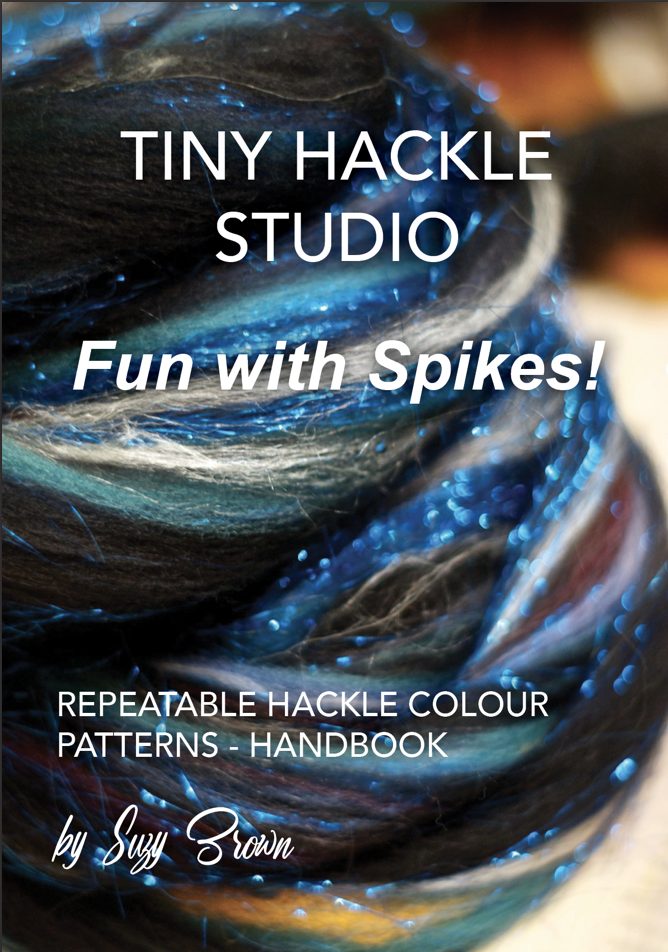 Please also settle in and watch the Video in which I explain the content of the Workbook and demonstrate all the techniques you need to successfully create you own, unique and repeatable colour designs to get exactly the yarn you want!
You can watch the video right here, or travel on to YOUTUBE and watch from there, I would like to strongly encourage you to SHARE this blogpost, the Workbook, and the video from Youtube with your groups and spin families! This is one of those ideas that I strongly feel should be shared and available to everyone, not kept behind a paywall for just a few, I would LOVE to revolutionise the use of hackles, a much undervalued tool, and to bring people new ideas for taking control of their colours and yarns in this way!
I would also love it if you enjoy this so much that you do wish to share it, if you would give me a wee credit and/or a link back to tinyStudio (www.fiberygoodness.com) so I can continue to share the love for all things fiber by reaching new audiences through tinyStudio Creative Life magazine!
If you enjoyed this workshop, you may also like some of the other workshops we have available to purchase on www.fiberygoodness.com/courses – we also have Carding and combing courses, and more hackles too! Or if you would love more free content you might consider buying Suzy a coffee for sustenance on our Ko-fi page! https://ko-fi.com/fiberygoodness