Firstly, I would like to thank you from the bottom of my heart, from the deepest fiber of my stash, and with a big virtual hug, for your amazing support of Fiberygoodness over the course of 2017! In many ways it has been a tumultuous year, but it has also been an exciting one, with what feels like a consolidation of Fiberygoodness itself and where we are going with it. I will write more about this in the New Year 😉
Now I know we are all busy at the moment, I wont make this a long post, as my 9 year old is loitering for entertainment while waiting to go out for the last of our Christmas shopping, and the puppy (lets be honest.. roving mouth) is waiting to chew my shoes if I dont get them on and mobile.. Mostly I just wanted to share something with you – a thank you gift for being here, for being patient with my inconsistencies as my year got nuts and then settled, and I feel this is a barely adequate thank you for that!
Our webstore is currently completely sold out of Yarn Recipe cards. I keep promising myself that I will get reprints made as soon as I have the next new set ready to go as well! And I haven't yet achieved that goal 🙂 So in the meantime, and until the end of this month, I would like to offer you the digital version of our Micro Art Yarn set completely free, as my gift to you.There are a bunch of fun recipes, including my very favourite and unique design yarn 'Misty Lace' and also an info sheet with tips on how to spin fine art yarns.
I hope you will enjoy the cards, because there is nothing better at this time of year than settling in for a long leisurely spin, and these all call for fine yarns to start them off! Take your time, binge your best series, listen to an awesome audio book, let your yarn be fine and your fiber be soft, and have a very very merry and joyous Christmas.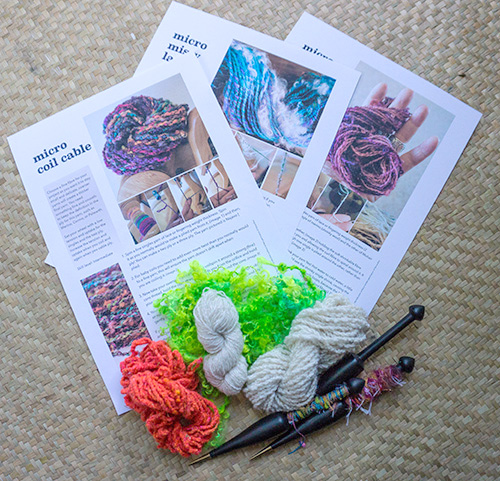 Click the image above to get your Micro Art Yarn Recipe Card download!
with much love from  Fiberygoodness <3