Hello Fiber Friends!!!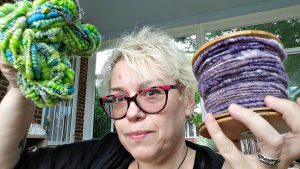 I am thrilled beyond words to be writing this post!  Over the next several months, the blog is going to feature the wisdom and artistry of Christiane Knight of Three Ravens Fiber Studio.  Many of you are already familiar with Christiane so you know we are in for an exceptional treat as she takes on with her on her creative journey.  Her approach is going to be very different than what we've done before as you will see.  Compliments of the generous folks at Majacraft, we have loaded up  Christiane with some fabulous equipment including an Aura spinning wheel, a hackle and combs to assist her with her work.
As for me, well, selfishly, I'm also super excited to be working with Christiane again.  We've known each other for quite a few years now and have the good fortune of living close enough to each other to be able to get together from time to time.  We've partnered on a few things in the past — one of my all time favorites was the time she took over my website, Spin Artiste, and I let her loose her there (click here to see that post).  So, I love her, what else can I say?   Christiane, we're ready for you!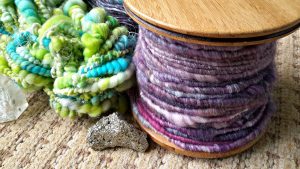 Christiane:   Recently, I started a group that I call Bound By A Thread (BBAT). It is for other artistic types who are, in some way, on a path like my own: abundantly creative, often upbeat, but still struggling with the darker places in life via anxiety, depression, stress management. Folks like us often turn to our creative outlets in order to keep those things at bay, because using our hands is a good way to take that negative energy and turn it into something beautiful.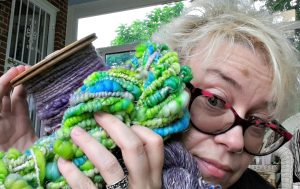 The point of BBAT is to use art as therapy, in conjunction with a variety of wholistic techniques that connect the artist more fully with herself and her art. The point of therapy is to bring all aspects of oneself into balance, to the best of our abilities.
As an artist, I channel my creativity into creating beautiful, meaningful works. As someone who lives with anxiety and depression, I find that working with my hands in this creative process is a form of effective therapy.  I channel my energies into the work and direct them into making things that please me [and others] – a true transmogrification.
Transmogrify: transform, especially in a surprising or magical way.
Magic: "the science and art of causing change to occur in conformity with will." – A. Crowley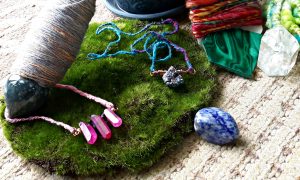 I decided that for my time as an Artist in Residence, I will create five works, one to represent each aspect of the elements: Earth, Air, Fire, Water, Spirit.  Each element will correspond to an aspect of life – I will dig deep to explain and explore all correspondences and incorporate them into each project in a unique way that reflects my understanding of the element and how I visualize it. When I am finished, I will have a body of work that represents a magical journey through the elements and how they manifest in my life and art.  The end goal is to show that when we focus on all elements, in balance, we create art and beauty in both our works and ourselves.
I would like this body of work to eventually be part of an art show, with other works that convey the same sorts of journeys. By sharing this journey with all of you, I hope to bring some of you along with me. Perhaps we can all put our magical fiber journey together in a show for others to follow and be inspired by, as well!