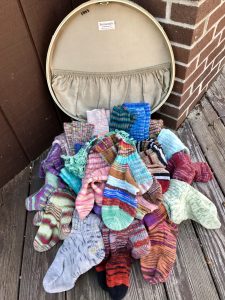 Time flies…I look up and it's been a month already since we rolled out Sock School.  It has been a complete thrill to see people making their first socks!  I love to see the yarn combinations people put together and help them work through the techniques.
Meanwhile, we are just about coming to the end with Bren Boone, our first Artist in Residence.  We have one final post coming up with Bren and then we will be announcing our next Artist in Residence.  We have loved working with Bren!  We are sure you will enjoy following our next artist just as much!!
I do have to come clean about something though.  For the first time, I did not do a Spring Color Report post.  The truth is that when the color report came out in the fall, it did not hit my inbox.  I eventually went looking for it and started a post a few weeks ago.  But, then, I got caught up in launching Sock School.  Still, I felt like I dropped the ball.  So, very quickly, here are the colors: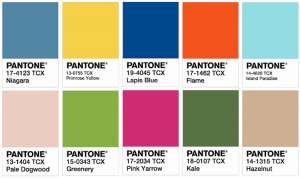 And, also very quickly, I will say, they are great colors!  I love this palette…Great job, Pantone!!!!
Last week, Majacraft rolled out another one of their limited edition special bobbins — this time in a beautiful pink: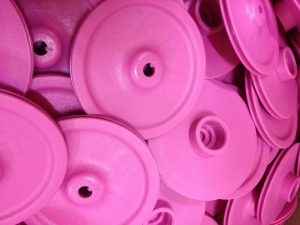 They have been flying out of the estore!
Meanwhile, Suzy has been busy…She posted this gorgeous shot of a weaving she is working on using her No Rules Weaving approach…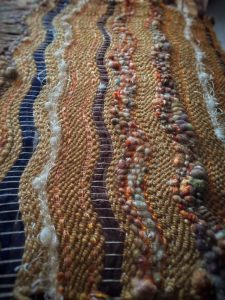 Gorgeous, isn't it?!?!  She is such a genius.  She recently wrote an important blog post also about some of her experiences and how it has shaped and impacted her creativity.  You can read that here.
Meanwhile, I'm still knitting socks…I've been laying off the spinning due to some problems with my shoulder, but I can still manage those knitting needles!!!
We have not done a giveaway in awhile so, of course, it has to be a GOOD ONE.  The giveway is the winner's choice of enrollment in either Sock School, Beautiful Bulkies or No Rules Weaving course.  To enter, simply leave a comment on this post before next Sunday, 5/28, 5 PM EST letting us know what has your interest these days in the fiber arts.  Extra entries for sharing the post!  Just leave a comment letting us know that you did.  Best of luck to all!!!
Until next time, all my fibery best, Arlene