Editor's Notes:  This is a fantastic topic!  One of the standout qualities that Bren possesses is fortitude which I truly admire.  We are super excited to share Bren's take on how to keep putting one foot in front of the other.  Take it away, Bren!
Spinning for a large project can seem a little daunting at first, especially if you are processing the fleece from the very beginning.  It can become boring and maybe a little tedious.   Then there's still the task of actually making the project after spinning the yarn!  I'm still working towards my big sweater project and I imagine it will take me a few more weeks before I'm finished spinning all the yarn.  Then I still have to dye the yarn and knit the sweater.  It's a lot of work.  For me, the key to keeping myself motivated is to work on other things between working on my sweater project.  It's a large project and I have to break it up and do other things then come back to spinning for my sweater. I've been working on my sweater spin for months now, but I've also knit 5 hats, a shawl, finished up a sweater, a crochet blanket and starting working on another sweater spin!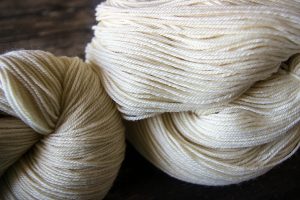 Since the wool has not been dyed (yet) and am spinning natural ecru cormo, I like working on projects that involve lots of fun color.  This wool is also so soft and smooth that I found myself craving wool with different textures.  I make it a point to create things that made me happy and kept me motivated and goal oriented.  Then when I finish with another project, I go back to my cormo spin.  If you don't have multiple wheels or bobbins, storage bobbins are a good solution to keep your project safe and stored properly while working on something else.  But I do suggest getting to a good stopping point before transferring to storage bobbins so as not to break up any color.
Another suggestion would be to also work on something that has nothing to do with yarn or spinning.  I love to draw and paint and I like to hand quilt.  Many times working on something unrelated, gives me inspiration and ideas for future projects.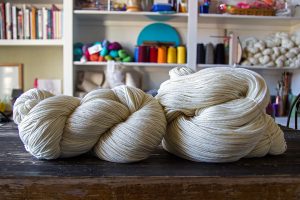 It is important to not let too much time go before getting your project done.  The more you allow time to by, the less interested in finishing it you may become.  If you find that happening to you, maybe setting some concrete goal would be a good idea.  Or possibly rewarding yourself with a little gift after you've completed a step will you focused.  Keep yourself moving towards your goals.  Imagine how you will feel when that big project is done!  Imagine that since of pride and accomplishment that comes with completing something big and daunting.  That's what I do.  I can just see myself wearing my wonderful sweater this fall and winter!  So soft and cozy.  I can hear people asking me where I bought it and being excited to tell them, "I made it from scratch!"  I can imagine being able to share my hard work with all of my friends on social media.  Remember why you decided to start the project in the first place and hold that feeling in your heart.  It's worth the feeling of satisfaction you will have once you're done.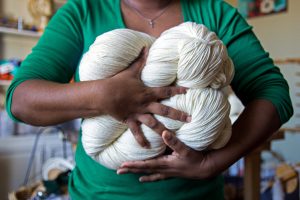 Just remember to keep your eyes on the prize!  My goal is 2000 yds of yarn to safely make my sweater and I hopefully will have enough left over for a hat.  I have 1456 yds done!  So close!  I catch myself singing, "Just keep spinning," under my breath like Dory from Finding Nemo!
Just keep spinning!!