If you have been reading this blog for a little bit, you know I love to write about the Pantone Color picks whether it be for the season or the year — especially for the year.  I always get pretty excited to write these posts.  When I wrote about the Spring 2016 Color Report, the Color(s) of the year had not yet been announced although I had my guesses.  I was half right.  Based upon reading the Color Report, I thought it might be Pink Quartz because that color seemed to be heavily covered.  What I did not expect was two colors:  Pink Quartz and Serenity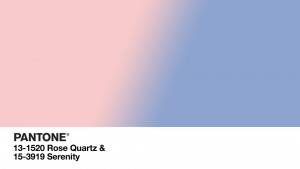 I had a little chitchat on my Facebook page with some folks about these choices.  The consensus was a lack of excitement which I admit that I shared at the time.  Since then, I've purchased a few items of clothing in the pink colorway and it does seem fresh and pretty for the winter.  I bought one sweater in the blue and it's nice too.  But, what I'm not doing is committing any time to exploring these colors in fiber.  This is probably because I prefer bright and/or rich colors and these gentle shades (while they do look pretty with black or white) don't excite me enough to focus on in my artistic life.
My lack of enthusiasm for these colors is always why I had not rushed to get a blog post out as I normally would.  BUT, last week there was an interesting turn of events…Pantone released their Fall 2016 Color Report!  And, I love it.  So, I will be working on a blog post about that for you with excitement. 
A huge thank you to everyone who commented on the blog post that included the giveaway for the Fleece Revealed course that begins in a few days.  I've hit up the random number generator and our winner is Jennifer Eddington!  Congratulations, Jennifer…we will get you set up for the course and we know that you will really enjoy it. 
Signing off for now…Until next time, all my fibery best, Arlene