Dear Fiber Friends,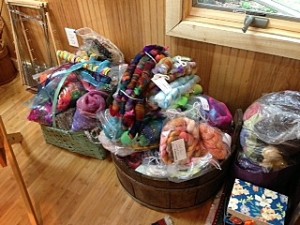 This is the time of year when I start to feel a rebellion against excess!  I'm sure it's a reaction to the holidays and anticipating being cooped up during the winter months.  In past years, I've been myself through all types of self-designed programs to reduce some of my hoards. 
One of my favorite endeavors was the year when I decided each week that I had to get rid of some ingredient in my pantry that was either unusual or had been hanging around for too long.  Some really interesting stuff came out of that enterprise (and I think I will do that again this year).  I'm going to share my approach with you and it could totally be applied to anything area of your life where there is just too much whether it be something like Jalapeno Lime White Balsamic Vinegar or, more importantly, that dye stash of colors that I bought to match the Spring 2015 Pantone palette.
It's always handy to have a name for something, so I'm going to call it "Eat the Elephant".  One of the big challenges with reducing any area in our lives is the feeling of overwhelm when tackling a big job.  One of my elephants really is a stash of dyes I bought on sale, last winter in anticipation of spring.  Now a year has flown by and almost nothing has been done with them.  Another big pile in my studio space is being taken up tubs of undyed fiber….so, what am I waiting for?
OK, yes, it was a busy year and I don't mean to sound like I'm being hard on myself…but I truly do not want to be the winner of "She Who Dies with the Most Fiber!".  And, yet, I confess, I am a little overwhelmed by what feels like a lot to me and the array of choices.  And, this is where I have to employ the Eat the Elephant principle…because, afterall, how do you eat an elephant?
One. Bite. At. A. Time.
Yup, that is the secret.  It can't be done all at once.  So, settle for taking one little bite after the next.  With my dye stash, instead of putting pressure on myself to dye up all the colors, I going to pick just one color for each month and focus on that.  So, January will Lucite Green and I will plan out a variety of experiments involving Lucite Green.  Yes!  I will tone down the noise in my head about all the other colors and study the heck out of Lucite Green.  And, then, in February, I will move onto the next color.

My progress won't be speedy, but it will be progress.  Of course, the dyeing of the fiber is just the beginning, right?  We all know what needs to happen with all that dyed fiber…why, yes, it needs to be spun…and that is where the next log jam can occur, of course.  The pretty fluff sits and waits for its new life as yarn.  Perfectionism can really set in here and for a variety of reasons — you are afraid to ruin the fiber, you have fallen into a rut and can't think of a new and interesting way to spin the fiber, or maybe you are a new spinner and don't feel you have enough tricks up your sleeve yet.
For all of these reasons, we have put together a new ebook for your fibery goodness pleasure in conjunction with some of the most talented spinners we know.  We are so excited to get this out to you now in time for your early 2016 spinning endeavors!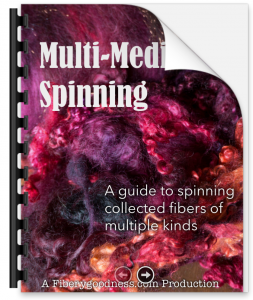 In this new offering, you will find chapters by myself, Suzy, Laura Spinner, Jan Massie and Melissa Yoder Ricks with our secrets on how to get the most out of spinning up fiber collections.  So, whether you are holding off on spinning up a beautiful fiber kit you've purchased or you are simply looking at the odds and ends you have laying around and want some fresh ideas, we've got you covered in this lovely volume featuring the lovely fiber of Natalie Redding of Namaste Farms.
Honestly, what I like about the book the best is not only was I able to put down on paper a lot of the thoughts I've had about how to approach bobbin challenges and such, but I can't think of another book out there tackling this subject from such a variety of perspectives.  It's always more fun to be part of a team!
There are two ways to get your copy — one is by visiting our estore or the other is you can get a FREE copy with the purchase of any Namaste Farms Scrap Box.  We hope you enjoy the new book and look forward to seeing some of your stash busting!