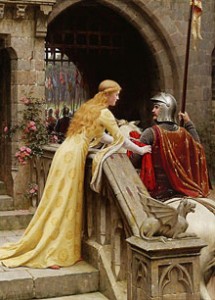 A few weeks ago in a weekly email that we sent to our first group of participants in the Journey to the Golden Fleece, we included an image of a painting of a knight and a lady.  At that time, they were working on Module 4 of the course which is the "Love" module.  We asked people to send us their interpretations of what they saw as the story the painting was conveying.  We did not say at the time what we were going to do with the stories, only that it would be a surprise.  
We received quite a few emails and a couple of days ago, we held a broadcast to share the stories and also to spin some yarns inspired by the stories.  It was also a great chance for us to share some of the new things coming out here at fiberygoodness.com.  Suzy also demonstrated some requested techniques such as lock spinning and tail spinning.
Here are the yarns we spun as inspired by the stories,  the image, and viewer requests: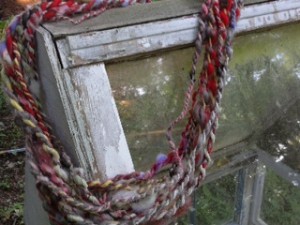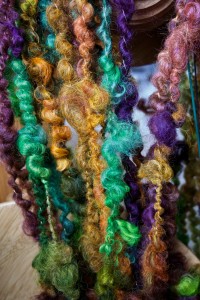 One of the most exciting things we shared was about the new online spinning groups we are offering to course participants!  We have three sessions scheduled already.  If you are in the course and would like more information,  please log into the members' forum and go to the thread regarding the Online Spinning Sessions.  Sessions are limited to ten participants at a time and you can sign up right there for the session you want.  We look forward to seeing you!  We are also developing non-course participant options, so just keep watching here for news about that as it develops.
For those of you that missed the broadcast, you can watch the recorded version via Youtube:
We hope these broadcasts are fun for you to watch.  Even though we are still learning how to make them, we have a good time putting them together for you!