One of the challenges for Arlene and I when designing our online courses, it taking into account the different ways we all learn. Most of us learn in lots of different ways, we take in what we hear and see, we like to get some hands on practice, we get a book and read everything about a subject… However for most of us, we will find there is always one way that works better..
If you are a visual learner, like me, you just want to SEE it and then you will know how it works! No amount of talking about the theory behind something can replace seeing that actual thing in action. Other people like to really get their hands on something and try it out before they totally feel confident of having understood. Some of us like to learn in groups and others prefer their solitude. Many of us have grown up with words, text books, teachers explaining things, and have become accustomed to finding stuff out that way (and even expect it!).
These are some of the challenges when writing an online course curriculum, how do we cover all the bases? How do we develop something that will support all our different learning styles and give a rich experience that will suit all and any learning style?
Here is an overview of the many ways we learn:
Visual: You prefer using pictures, colours, and  images.
Aural (auditor): You prefer using sound and music.
Verbal (linguistic): You prefer using words, both in speech and writing.
Physical (kinesthetic): You prefer using your body, hands and sense of touch.
Logical (mathematical): You prefer using logic, reasoning and systems.
Social (interpersonal): You prefer to learn in groups or with other people.
Solitary (intrapersonal): You prefer to work alone and use self-study.
And for those more visual people: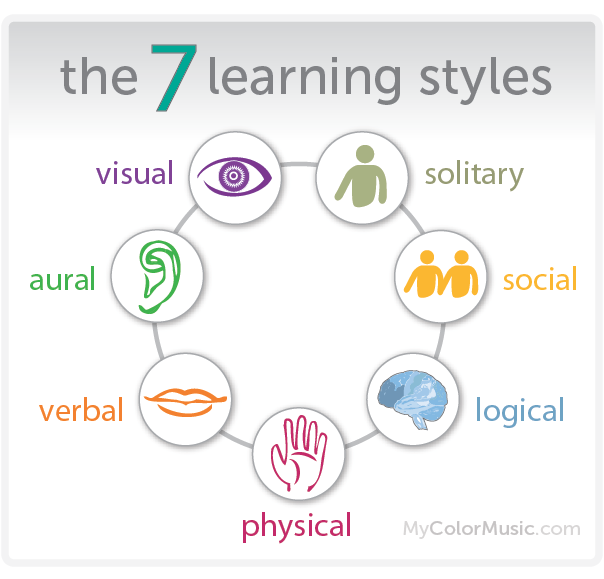 So assuming most of us have a mix of these traits, with maybe one or two dominant ones, Arlene and I have tried to develop our courses to support as many of these different styles as we can. One of the things I am most proud of is the 'Mind Mapping' technique I have developed to boost creativity, and to build a solid design formula. Mind mapping is a very visual activity, also quite hands on, it uses words, colours, AND images, and hopefully encourages thinking outside of the box and looking for ways to expand on our first ideas. Golden Fleece Certificate course participants have all had written information on this activity, and we have created a (private) video showing the entire process.  This is one of the ways we hope to share ideas and information in a way that will work for any individual learning styles.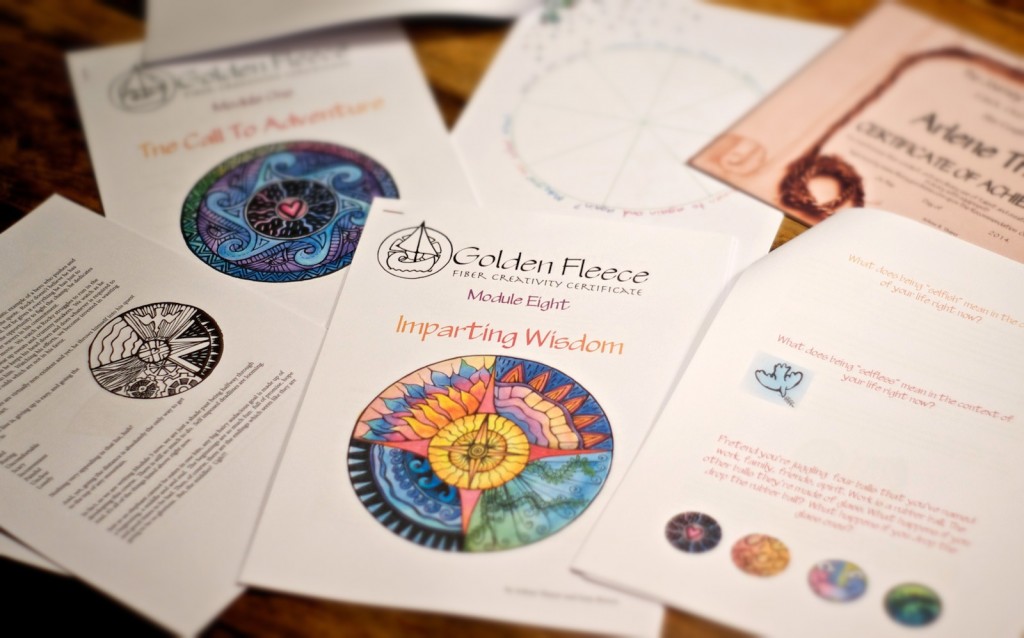 We have also done things like, added lots of colour and images to the module workbooks, created the forums, made a progressive structure to the coursework, and of course, we have started our Live Broadcasts. There is still much more we have in our future plans to enhance and enrich the experience of doing one of our courses.
So now that I have mentioned the Live Broadcast, as another way of sharing coursework, and creative ideas, that is particularly useful for those of us who are visual learners, as well as aural, and this time we also want to add some HANDS ON stuff! For our next broadcast,  on FRIDAY the 13TH of JUNE at 4PM Eastern Central time (thats 10pm European Central time) Arlene and I will be spinning some yarns.. LIVE! A while ago we asked participants to send us their love stories, prompted by an image that we sent with an email. We are going to make our 'Love Story' yarns during the broadcast, inspired by those stories..we will also share some exerpts from the stories, as well as take this as an opportunity to demonstrate some techniques.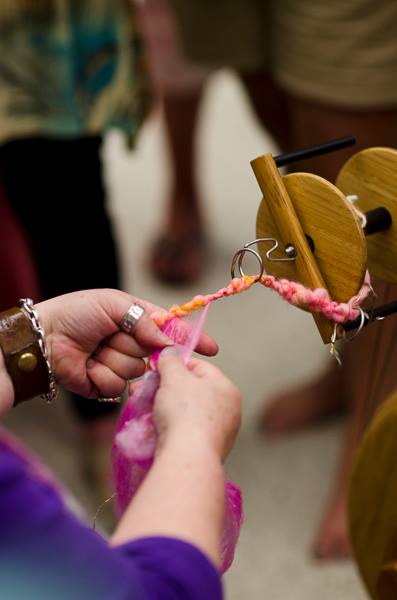 (Suzy Demo-ing Shelob Silk Hankie wrapping at SWAY Fest – Photo, courtesy of Sara Norine James)
So bring your wheels and your fiber and spin along with us! Get your hands on the fluff! And we will also take requests! If you have any special spin technique that you would like either me (Suzy) or Arlene to demonstrate for you, LIVE on air (pressure much?!) then leave a comment with your request on this post and we will make sure to include it in the Broadcast!
Both the following links should give you an option to view in your local time zone:
Heres the date and YouTube address where you can spin along!  http://www.youtube.com/watch?v=Tm6ZquNXLEQ
If you also have a Google+ account you can choose to view the Event information and join in from Google+ at this address (you can also leave a comment on the event page with your spin request too! : https://plus.google.com/events/c6qs2fttib4c4hohjh2200pv67o