It's debate time again!!!!  You know we love a controversial topic here at Fibery Goodness and this topic is a good one that I'm sure will spark some interest…Enjoy!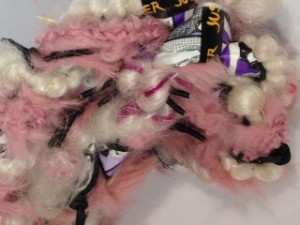 Arlene: So…when I started spinning, all I wanted to spin was "art yarn". I could not have cared less about the technical aspects of what I was doing. In fact, as soon as I heard classic terms like "woolen" and "worsted", my eyes would glaze over and my mind would drift into daydream land. I just wanted to get in there and get my hands on the fiber, throw gobs of it through the orifice and have some chunky, weird hot mess come off the bobbin.
Fast forward to today, I get that it's important, but using that information still doesn't really turn me on.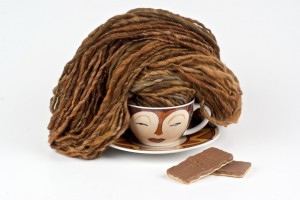 Suzy: Well maybe you have been using that information all along, but you just didnt know it! When you wanted to make a light fluffy yarn, or decided you might need a smooth single to ply with something else.. what did you do about preparing your fibers for those yarns? You were probably making woolen and worsted preparations to create the kind of yarns you had in mind. I know at some point you said you realised that fiber prep is everything, and to make a fluffy yarn you need a fluffy prep. Most likely you then spun that with as little smoothing down of the fibers as possible… and voila! A woolen yarn is born!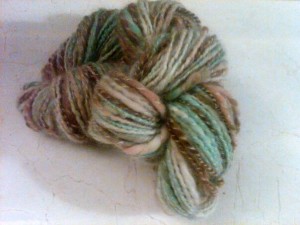 Arlene: Hey, for a long time, I was lucky just to be able to make something that held together!!! Being the least mechanical person possible, getting my hands and feet to do something unique AND cooperatively at the same time seemed like enough. Learning terminology was the last thing on my mind. And, to add to all of this, my knitter's mind wanted "worsted" to be all about "worsted weight yarn". My beginning spinning classes contained the information but it was just too much for me to take in.
But, yes, you are right. I have said that fiber prep is everything (although fiber selection comes first). However, I'm living proof that you can ignore learning the terms and sort of figure your way along in terms of how to prepare your fiber to get the outcome you are seeking, so maybe the question really is how far can you go down the path of learning to spin without really understanding these terms and what they mean? Where are you going to get stuck without comprehending the information?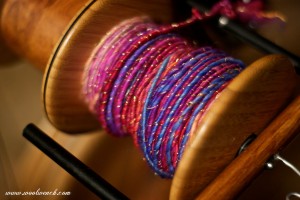 Suzy:   its true, its all arbitrary, naming things. I am pretty sure you could go anywhere with spinning without ever learning the 'known' names for what you are doing, maybe you would end up inventing your own, like 'I want to make a fluffy cosy gersey so I need to prep a fluff batt on the carder' – knowing that the only way to get your yarn fluffy is to card it and make it… fluffy. Then you might think 'oh now I need to spin it the hotchpotch way' which in your own mind is something resembling long draw, only you dont know what longdraw is, just what hotchpotch spinning is, because you made it up. The only hiccup with all this is if you wanted to share what you know, or if you wanted to talk to other spinners about what you do. Or if you picked up a book and saw 'woolen' spinning in it, you're thinking 'of course its woolen, I am spinning wool, right?'. Eventually it gets confusing. I think in almost any area of specialisation there comes a new variety of language, like legal language is known as 'legalese'. I guess what we have is 'spinese'. A vocabulary specific to spinning. I think a lot of these 'eses' are simply confusing when you first discover them, I mean, it IS learning a new language.. but in the long term I think its handy to be able to use it to communicate and understand. I remember learning stuff in Anthropology class about culture and how its made of 'shared meanings'. I think we have a spinning culture that has them too, and understanding that when someone says 'worsted yarn' in relation to spinning, means a smooth yarn made with combed fiber, is one of those shared meanings.
The downside is it can seem a bit elitist, snobby even, when you first find this stuff out, like a language only for 'those on the inside'. Do you think there is a way we can use these terms and avoid the initial confusion and elitism that can be associated with it?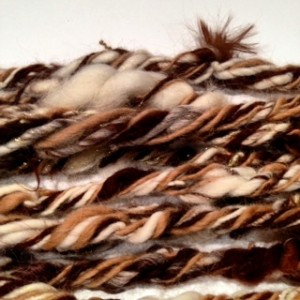 Arlene: You read my mind. It can be very elitist…"Oh, she's been spinning for two years and she still doesn't know the difference between this and that…she doesn't know how to long draw…oh, she doesn't even know what long draw is…poor thing, bless her heart." I think spinners that come into the discipline wanting to spin non-traditional yarns face this a lot. There's a prejudice about not being a real spinner unless you have mastered the traditions — including the terminology and being able to demonstrate that you can prepare fiber and spin it according to these modalities. And, I guess, you know, deep down, at the outset that kind of rankled my hippy-dippy, anti-authoritarian soul. I don't like class systems, prejudice, narrowness in any form so…
In answer to your question, can we separate out the negative aspects of using these terms?
Um, we have to.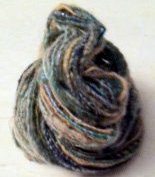 When I was learning to sail a boat, I was told by my salty-dog of a sailing teacher, "Look, sailing involves a lot of terminology that is going to be unfamiliar to you at first. But, it is required that you study it and know it because I'm going to bark out orders to you on the boat using those terms and if you don't understand what I'm saying, we could all be killed." And, sure enough, during one lesson, one of the guys hadn't bothered to learn the terms after about six weeks of sailing and we ran into some weather and the salty dog teacher was yelling at him to do something very important and he couldn't follow the commands. Let's say he learned his lesson. Now, I'm not comparing spinning to a life and death situation on the water, but I'm illustrating that I agree with you — like it or lump it! These terms have been around for a long time and they are here to stay. Having a common language is just necessary.
We can spin however, we like and should not feel embarrassed about how we practice fiber or what we know or don't know. But, it's going to be hard to relate to others without learning what these terms mean. In some sense, it's like going on a trip without your luggage — at some point, you will have to go back after your suitcase.
Well, there you have it.  What do you think?  How important is it to be "traditionally technical"?  Are you a spinner who doesn't care about these terms and blissfully spins what you like without worrying about this?