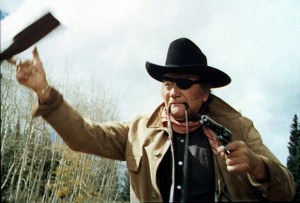 In some regards, I am a classicist.  Maybe not so much with hand spun yarn, but definitely with movies.  St. Patrick's Day came and went this week, but not without me watching "The Quiet Man" starring John Wayne aka The Duke.  It's hard to pick a favorite John Wayne movie; however, "True Grit" is perhaps his most iconic.  The Duke was his "dukie-est" in that one.   For those of you who have not seen either the original or the remake, there are two central characters:  the 14 year old Mattie Ross and the aging bounty hunter, Rooster Cogburn.  Mattie and Rooster team up to avenge her father's death.  She selects Rooster to help her because she has been told he has "true grit".  Great movie and all that, but this is a blog about Fibery Goodness, right?  Where is the connection?
The connection is about those of us who persist and don't give up — whether it's in learning new techniques, practicing ones that don't come easily, or starting over…and then, there's a special type of fiber-oriented "true grit" that I want to talk about in this post.  And, that is the spinner who with purpose spins a conceptual yarn, finishes it and then decided to try it again…a different way.  We love multiple interpretations!!!  I'm going to show you some really fantastic work in this post.  These are yarns that students in the Journey to the Golden Fleece Course have made.

Module 1:  The Call to Adventure
Leslie Alexander: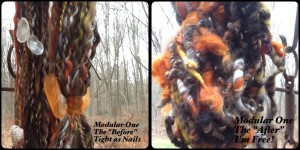 Kim Carey: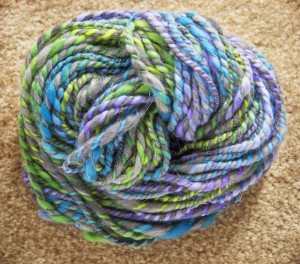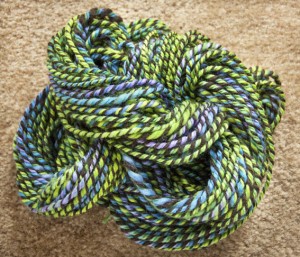 Yuka Suzuki: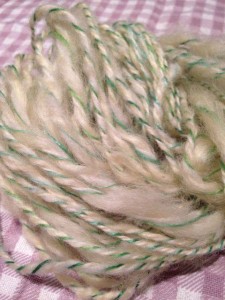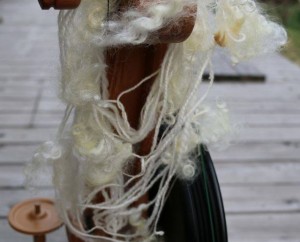 Module 2:  The Road of Trials
Bobbi Hayward: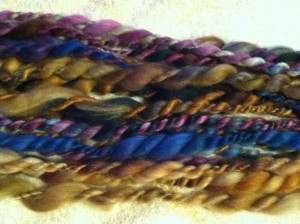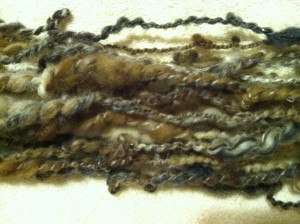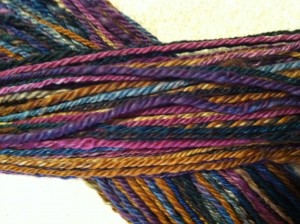 Cathy Brooks: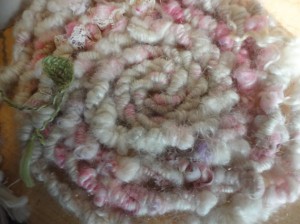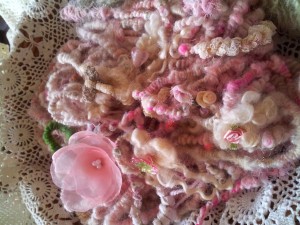 Cathy's Notes: First attempt was corespun, coiled and plyed back on itself.  The final yarn was corespun, plyed with a gold thread, then coiled.   
Sylvi Kristoffersen: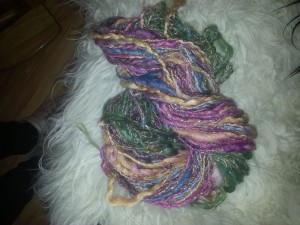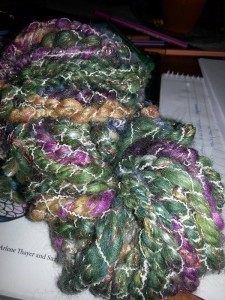 Module Three:  The Vision Quest
Silja Devine: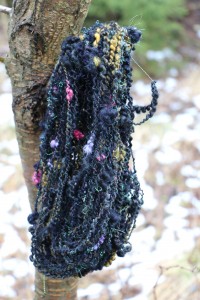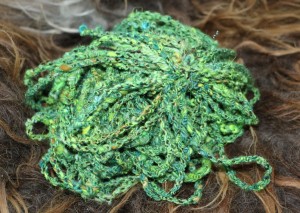 Silja's Notes:  The black yarn was spun from rolags made from black and orange merino, a black merino/triloban mix, silk waste ans some novelty electric green plastic glitter.
Spun into  thick and thin single and plied as a loose coil around a black core. The black city picture with the electric green cables on the bridge spoke to me right away and was a no brainer for me.
The green was all kinds of green fibers I had carded into a batt and spun into a sport weight single. Half the single was made into a loosely coiled yarn and the other was navajo plied. Both were then plied together to make an interesting cabled yarn. This yarn proved to be a challenge, I got stuck and was not sure how I should continue, but I followed the tips from the unstuck page to just do it. And I am very happy that I did! The result looks like vines, the kind of vines I imagine is in between the trees in the forest path picture.
Kara Perpelitz: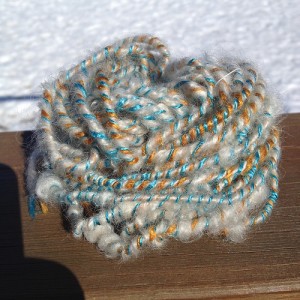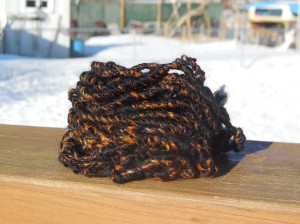 Kara's Notes:  I sat and mind mapped both, for colour and textures, and This is where they ended up. The white based one represents the feelings of peace and solitude and the magic of the world when you are alone in that type of place. The black based one represents longing, perseverance, fear, and endlessness.
Amazing, all of them!!!  And, we haven't even gotten to my favorite modules yet!  For those of you wanting to join us, we will be opening up enrollment in the fall again — please make sure to sign up for the newsletter and get on the Facebook Group to keep up with what is going on.  See you next week — until then, all our fibery goodness to you, Arlene