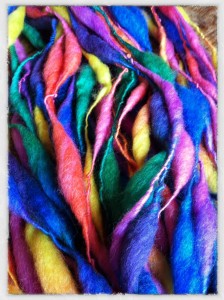 Arlene:  I thought I knew Wool Wench pretty well.  Afterall, week in and week out, hours of Skype sessions, uncountable emails…and then, accidently, I found out that while I love Thick &  Thin yarns, Wool Wench isn't a fan.  What?!?!?  I have to say, it shook me to the core.  We debated the merits of this classic technique and decided to bring our debate to the world at large.  So, in this post, we bring you "The Great Thick & Thin Debate" — feel free to chime in with your points in the comments, of course…
Me, first, cause it was my idea.  I loved the Thick & Thin style of yarns right out of the gate when I came to spinning.  From an aesthetic point of view, I love the contrast of the fluffy puff tapering down to the delicate, slender areas.  And, it's not easy to get that right.  It actually takes a lot of skill to be able to get that look.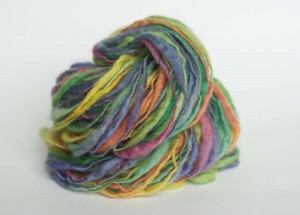 Suzy: Thick & Thin yarns? Arlene! Let me see, how often do you spin a Thick & Thin? How often do 'I' spin a Thick and Thin? Well… for a while I was spinning a LOT of Thick & Thin, because people wanted to buy them! But you know what? It wasn't fun, I dont mind that it took ages to teach my hands how to make nice ones, you know, avoiding the whole 'Ima gonna curl up in hard little over twisted bunches of gnarly THIN bits and RUIN the whole idea of soft and fluffy for you'. Because really, I don't mind perservering till I get something right. What I do mind is that once I had it right, I just knew that it was never going to stay that beautiful smooth soft ginormous skein of puff and fluff. Nope. Knit this baby up and you get something pretty alright, but don't touch it again! It has the staying power of a leaf in the wind, one gust and its going to pill right up, fuzz out in unintended ways, and generally lose its beauty long before its time. So I have to wonder.. is it all worth it?
Arlene:  I hear what you are saying…but, does everything have to last forever?  Can't things just be beautiful in the moment like fresh flowers or sunsets?  I have a lot of finished pieces from all the years that I have been making things and frankly, I don't get a chance to wear them out.  So, they tend to stay looking pretty good.  The pieces that I know are a bit more delicate, I take care of them as such.  I don't count on them to be my workhorses.  Beautiful textiles are often fragile.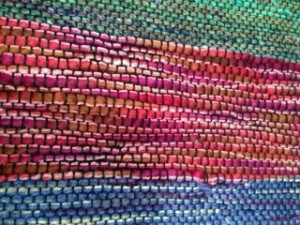 My next point is that without having Thick & Thin in your skill set, there are a lot of wonderfully textured yarns you won't be able to go onto produce such as marvelous coiled yarns with spectacular contrast in the thickness of the coils.   Somehow I don't think you'd willing forego that…it looks pretty smashing in weaving.
Suzy: Well, I do admit to liking the thick and thin in my weaving, makes a lovely texture, however I do feel that having it IN the warp does offer it some protection. Most of the Thick &  Thin I have spun has been for customers, and (ok I admit it) being a bit of a control freak, I worry that I might send someone yarn that might not be suitable for what they want to use it for, that they will use it for something that gets quite a bit of wear, and find that it pills, and be disappointed.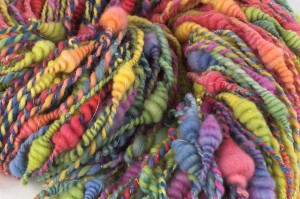 I DO like to use thick and thin yarn for other effects though! Turning it into coily beehives is always pretty, thats one of the reasons I forced myself to keep practicing spinning it! And when its rolled up into those cute little coils, well it does make it a lot more durable, the fibers are tighter, and washing just makes it bloom and the fibers stick together even better.
Arlene:  Ha!  I've got you on the ropes I see!  So, maybe for your customers ordering Thick & Thin, there needs to be a disclaimer or proper usage instructions…:-)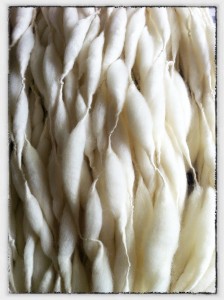 My final point about Thick &Thin is that sometimes it's just plain nice to spin a simple single.  Sure it can be used as the basis for other things, but let's face facts, sometimes it's just nice to have the lovely softness of a single.  And, Thick & Thin is a single with all its own personality…no "special sauce" needed and what other preparation can show off the beauty of a fantastically dyed solid color better?
S: Ah yes, a 'simple' single.. but I am not so sure that thick and thin is at all simple, there is quite a knack required to get it right, to avoid over twisting those thin bits and making sloppy thicks bits, to getting it even and nicely spaced. If I want a relaxing spin, this is not the one I go to, I would choose a smooth single, even a  bulky one is easier to spin!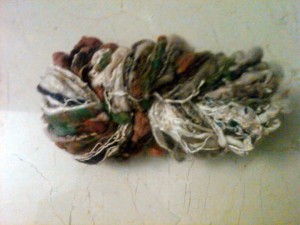 Seems like a lot of trouble to go to, spinning a Thick & Thin yarn. And then there is the extra setting I think it requires, in order to at least stabilize it as much as possible, the best Thick and Thin is ever so slightly felted, or fulled, to give it at least a bit of a chance at durability. I guess to me, thick and thin is a bit like adding salt to a cake, its not so great on its own, but you use it because you know its necessary to the end result after you add in all the other ingredients, and this is the only reason I spin thick and thin yarns these days, to make cake. Um, to ply it into something else.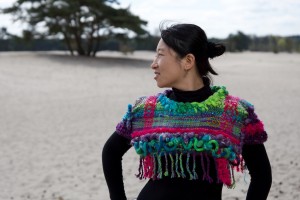 Arlene:  Well, there you go…it seems we do agree on some points when it comes to Thick & Thin…it's a great building block yarn, takes real skill to do it well, it's nicest if it's slightly felted and looks great as a weft yarn.  Common ground has been achieved!