Its Friday, and I hope you are all looking forward to a weekend of much fibery goodness! For myself (Suzy), I would be pretty happy with a day off  and some extra time to spend with my fiber and dye stashes. In the meantime though, there are preparations to make, websites to be updated, information to be sent out and fiber kits to be assembled, because… dahdahdahhhh.. we are nearly ready to reopen enrollments for the next Journey to the Golden Fleece Fiber Creativity Certificate! keep an eye out for our general newsletter update coming  soon with dates, this will probably be the first AND last enrollment round for 2014! We hope to be able to welcome another amazing crew into the Journey!
An extra current activity for me is preparing for a weekend of full-on workshopping, coming up here in the Netherlands in a few weeks time.  I will be teaching, along with Patty Poot, and we will be focussing on Blending and Spinning Luxury Fibers, as well as some Double Heddle weaving, and including an evening of Art Yarn Spinning and Yarn Architecture to wrap up on some Circular looms the next day. So there is a lot in there!
And why am I telling you this? Chances are you are on the other side of the planet and Elspeet the Netherlands is a little far for a weekend getaway. Well I am telling you this because one of the resources I am creating for the workshop will also be available right here in the Fiberygoodness.com shop as a downloadable DIY  for anyone! I have constructed a Guide to Luxury Fiber Blending DIY recipe logbook.  This contains some information on a range of protein based luxury fibers, how to handle and blend them, and ideas for spinning. I have provided some 'basic blend' ideas and then a bunch of 'DIY' pages for you to fill in with your own recipes for your wonderful blends. I'm talking silk, Cashmere, Baby Camel..  face smooshing fibers  with a multitude of ways to blend them to get results you will love.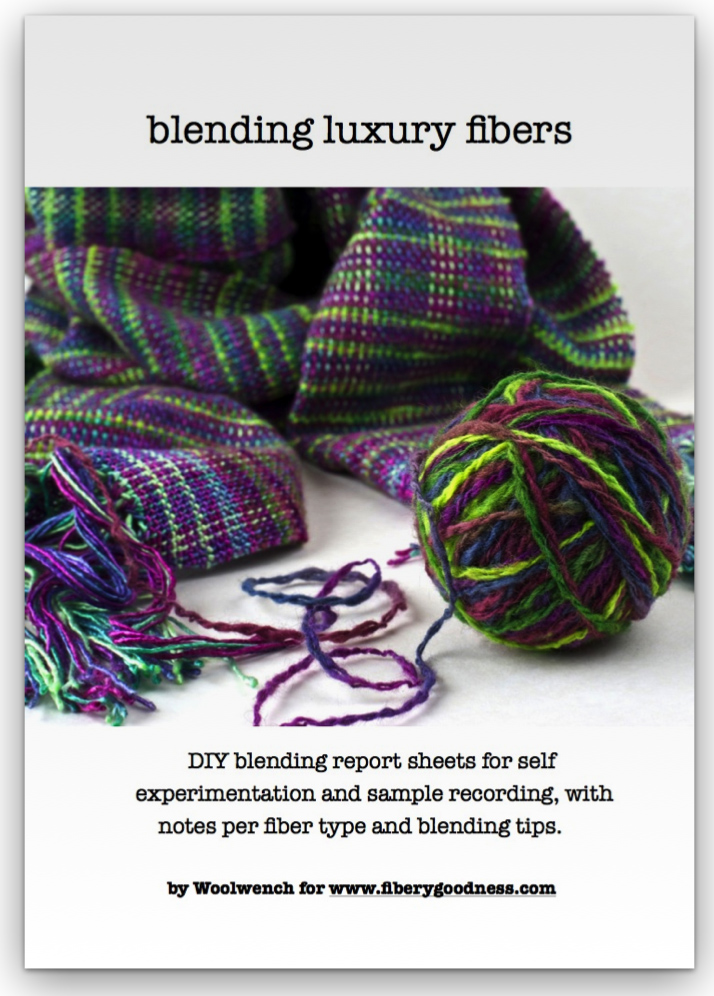 I have made a section on carding tips, some combing instructions, and suggestions for choosing and blending two fibers, and also three or more, to create your own amazing luxury blends AND be able to repeat that later with your own record (read: lab report!) on which fibers you used, what percentages, how you prepared and spun them, and space to staple in your own yarn and fiber samples for later reference.
One of the cool things is that you can create this log any way you like, I made mine with recycled card and craft paper, you could make yours on silver glitter card or tracing paper! Lots of creativity possible even just putting the pages in a binder 🙂
But the important part is, as Arlene already posted in a previous blogpost, that fiber preparation is everything! And having a good starting place for your blending journey is really handy for creating an organised approach to experimenting with different fibers and blends. And at this point  I would also like to thank my teamie Arlene for her awesome editing and additions to the text.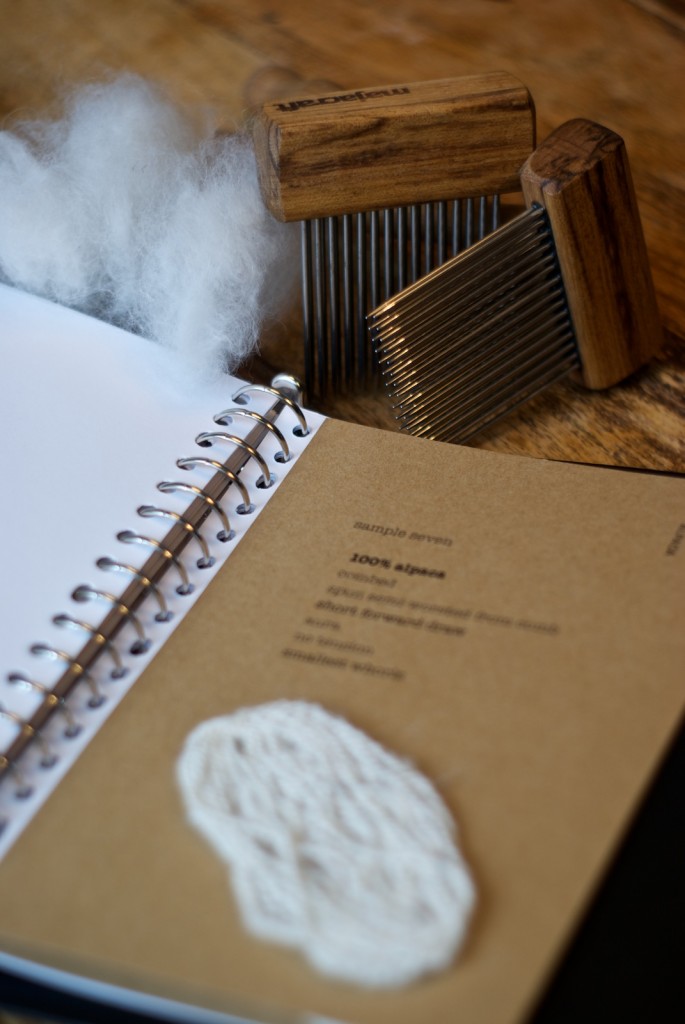 Some places, such as World of Wool (UK), for example, even sell sample kits of luxury fibers, so if you choose to download the Blending Book I would suggest you see if you can get one of those yummy kits to play around with. These fibers are truly scrumptious and I think totally worth spending some time, trying out a whole bunch of new ones, and I am sure you will fall in love with at least one of them! My current infatuation is with Baby Camel, and not just because baby camels are surprisingly cute, also because the fiber is so beautiful, the caramelly colour, the softness and the amazing smoothness of the worsted yarn that can be spun from the combed preparation… its just WOW , and with a bit of soft crimpy Merino, and blended with silk even WOWer 🙂
The shop is now open to all visitors (not just enrolled students) and this offering is soon to be followed by another even more comprehensive one on colour blending, which is (at least to me!) super exciting! These come to you in the form of downloadable PDF's and include construction instructions for printing and making your own fiber folder lab report. We hope you are going to love creating this!
I do believe this is all our major news for the week. We have received some more amazing images of Module One yarns from Golden Fleece participants this week, and the Gallery continues to grow. And we are looking forward to some incredible Module 2 yarns, having reviewed and offered feedback on a number of Module 2 yarn plans already. I think this is a really exciting module, offering the chance to really experiment with techniques, fibers, and step out of the comfort zone.
Until next week – Happy Spinning! Keep warm – or cool – depending on your hemisphere, and share the fibery goodness as often as you can 🙂