Hi, Arlene Thayer here!  I am a sock knitter.  I did not start out knitting simple things like scarves.  I started out my knitting life by knitting something I really wanted to learn.  And, that happened to be socks.  To be able to wear my own hand knit socks was very motivating to me.
As I think about my experiences of knitting a mountain of socks over the past ten years, I've come up with a means of making socks that fit well without using a pattern.   In this course, I'm revealing how I knit my socks including a lot of my design tricks and techniques.  Using the approach taught in this course, you will be able to knit socks that fit as well as have fun while you are doing it.  If you can make a knit stitch and a purl stitch, you are more than qualified to be a student in this course!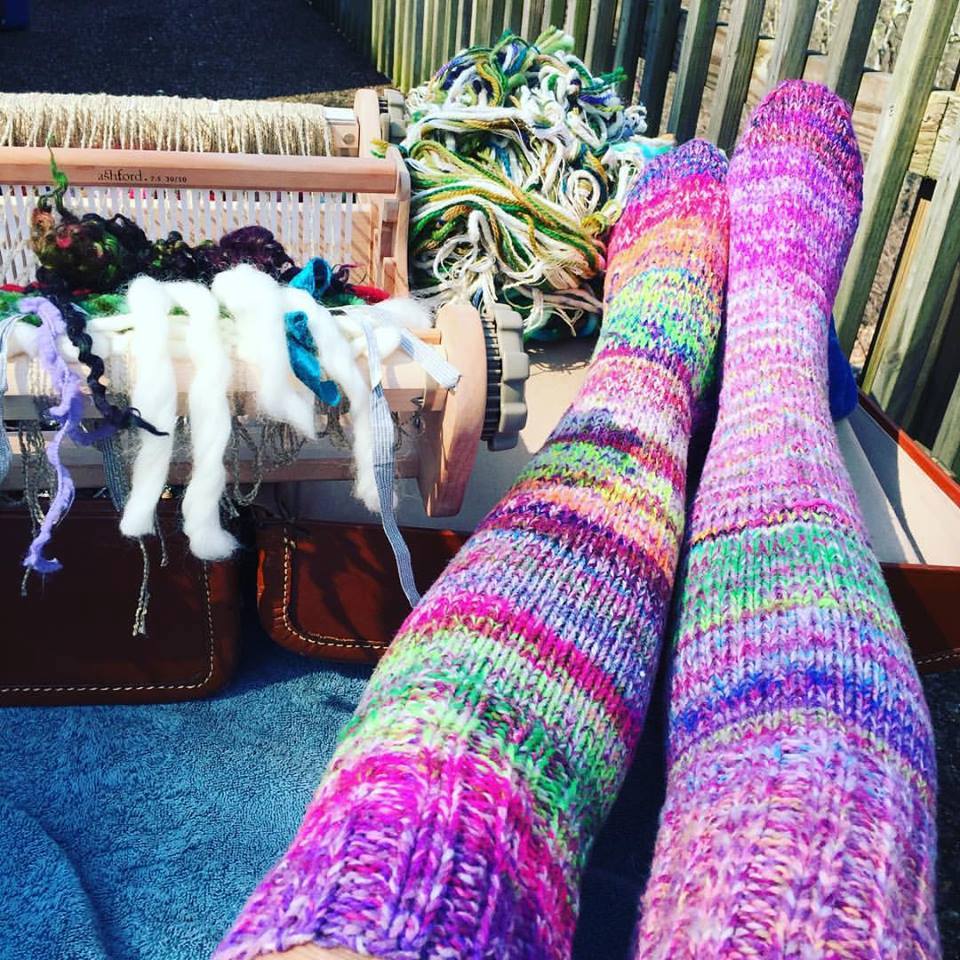 Buy now or read on if you want to see just exactly what fun we are going to get into!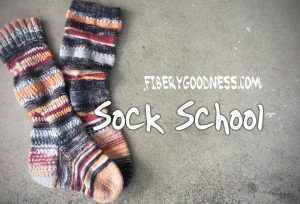 Sock School
Welcome to the world of hand knitted socks! In this course you will receive over 5 hours of video content separated into 5 lessons plus mini tutorials, as well as notes, diagrams and downloads to get your creating your own unique custom fit socks!
Get your coffee and enjoy the five recorded lessons (totalling about five hours) with Suzy Brown and myself.  Before this class, Suzy had never attempted to knit a sock!  We had a great time putting this together and as you will see during the course of the lessons, Suzy turns out to be an excellent sock knitter.  There are handouts, technique videos, and bonus information.  Really, I have put everything into this that I could think of to help you knit great socks!!!  Check out the Lesson by Lesson info below:
Lesson 1:  "Brushes & Paints" aka Needles and Yarns
In this lesson, you will learn to see your needles and yarns as your "brushes" and "paints" but we are going to take a deep dive on these fundamental tools that enable you to create your own unique knitted footwear.  We are going to cover in depth what to look for when select your sticks and strings; what to avoid and why; as well as how to break out of the box when using handpainted and self striping yarns.  The course materials list is included in this Lesson.
Lesson 2:  Anatomy of a Sock
In this lesson, we'll study what makes sock knitting the most special kind of knitting:  Namely, the components of a sock that allow us to properly cover all the curves and angles of the foot and leg.  This understanding of the role of each component and options for how to approach them in our knitting is essential to laying the foundation for creative Sock Knitting.  At the end of this lesson, you will go onto knitting a practice swatch that prepares you for knitting your sock as well as for learning how to fix mistakes!
Lesson 3:  Be the Boss of Your Own Knitting and No-Pattern Sock Design
This lesson will boost your confidence and show you how to be the boss of your own knitting as we learn how to fix our knitting mistakes.  This will be a hands on approach where you will be able to experience making mistakes without fear.  You will gain a much greater sense of control over your knitting, regardless of what you are knitting.
From there, we will move onto learning the creative design techniques that help solve the problem of the Second Sock Syndrome and general knitting boredom while giving you the tools to make socks fit the way you want them to.
Lesson 4:  Tried and True Construction Techniques
In this lesson, I'm going to share my favorite, tried and true construction techniques.  Unlike using a traditional pattern, the information in this module along with the design techniques in Lesson 3, will set you up to make socks that are fun, easy to knit and give you a great fit.  In combination with the No-Pattern Sock Design, these techniques complete the Master Sock Formula!
Lesson 5:  Finishing, Washing, Storing, Wearing, More Sock Yarn Love and Inspirations!
A hand knitted pair of socks deserves only the best care and feeding after you have completed knitting them.  In this lesson, we will cover my best tips handling your handmade beauties so they will continue to spark joy for as long as possible.  From there, we are going to stretch our imaginations by looking at what else we can do with sock yarn beyond making socks.   Finally, we'll talk about how to continue to stay inspired with your sock knitting and discuss my favorite resources.
Bonus:  Pattern Reading and Basic Sock Pattern
I am so sure that you will want to keep knitting socks after you complete this course, that I want to make sure you are prepared to branch out and try other possibilities!  So, we've put together bonus material on how to approach reading a pattern.  Plus, you will get an actual written pattern reflecting what was taught during the lessons.
In addition to all of the above, there will be a private Facebook group to discuss your experiences, share your work and ask questions.  Plus, we have included a series of short videos with close ups of my hands knitting the actual techniques for your study and assistance.  And if you're shy about asking questions, you will be able to email me directly as well.
If you are ready to join us and have some sock knitting fun, below is the sign up information.