I am very proud to bring you our November 2020 Issue of tinyStudio Creative Life Magazine! This has been a crazy month, and I would like to thank Evanita for her support in getting through it, and we did it on time as well! And also a big thank you to Anne for her excellent editing 🙂 I think this is one of our best issues yet! Also a massive thank you to our wonderful Sponsors – Majacraft! We couldn't do it without them!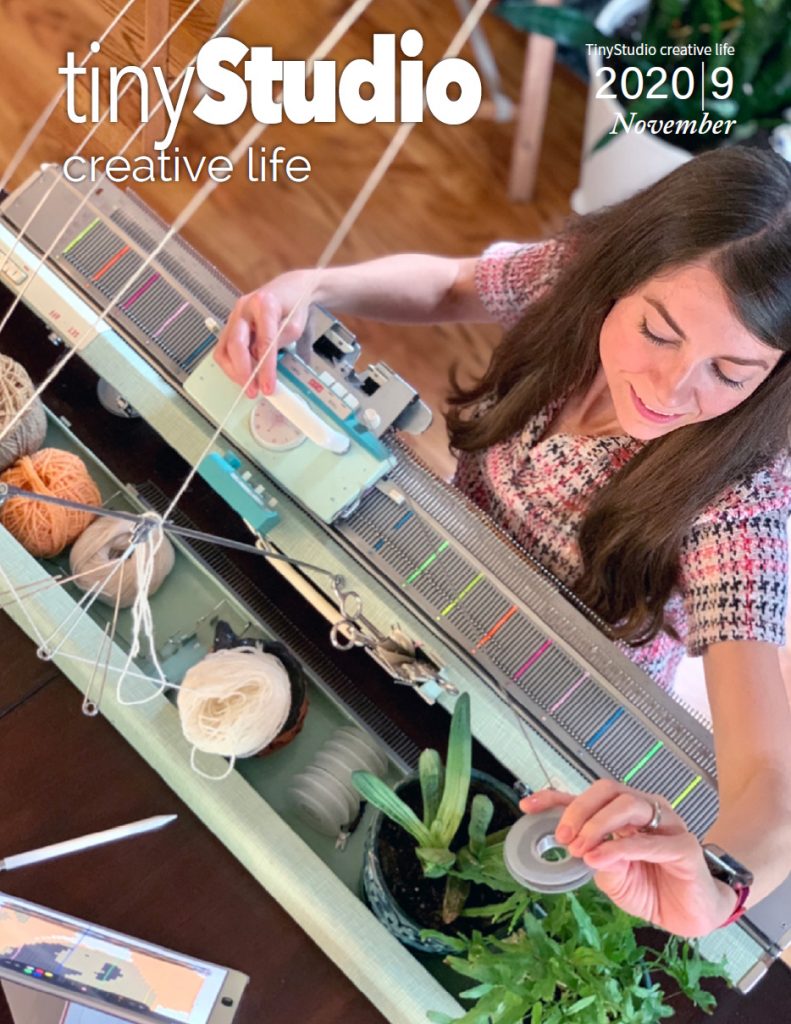 Our wonderful cover image shows the artist Faith Humphrey Hill at work in her studio. Faith creates her work through the use of individually designed and knitted backgrounds over which she adds detail to create wonderfully rich, warm portraits. We are sure you will love her article as much as we do!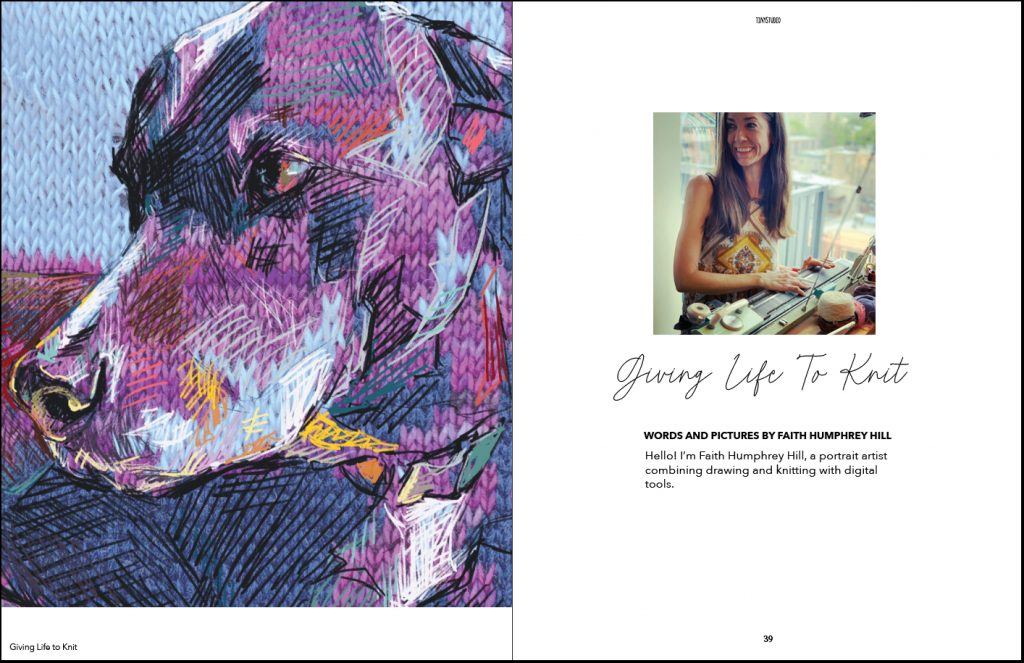 This issue has an underlying theme of "back to basics". I wanted to step away from this concept leading to a 'how to do the basics' thing, there are plenty of those, and rather I wanted to focus on the bigger picture of 'the basics'. I feel we sometimes need to go back to our roots to regroup, to then move forward again. Back to basics, for me, is a way of keeping things simple, organic, fresh, and allowing myself space to breathe and relax, stepping away from the pressures and stresses of everyday life. In this issue, you will find some really wonderful articles that I hope will give you this feeling of being a part of something that has existed through space and time outside of ourselves and yet still encompassing everything we do.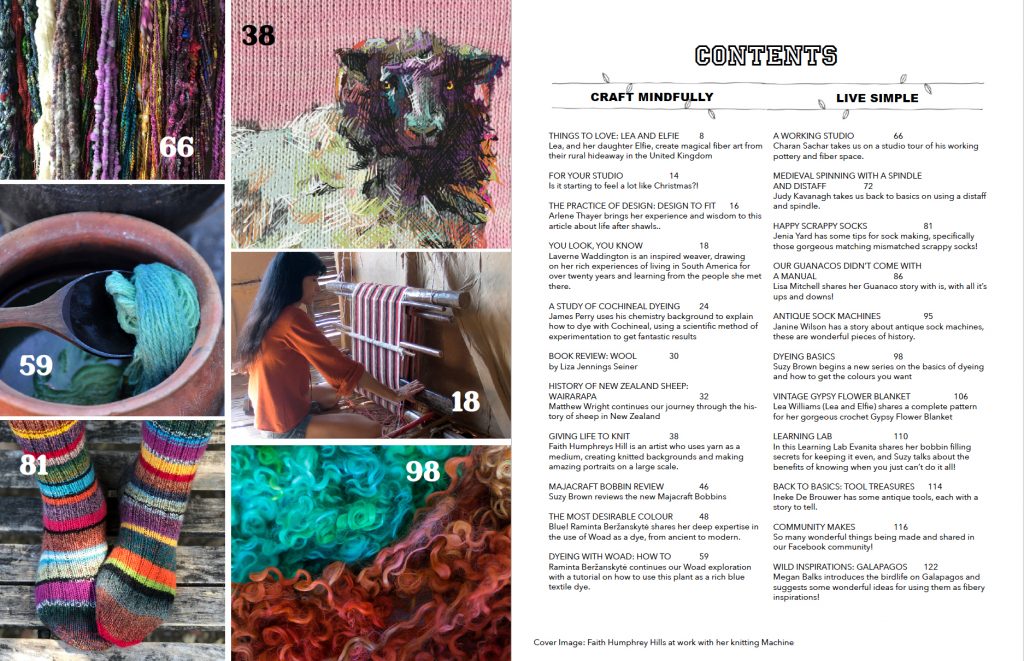 I feel my Celtic roots in the history of Woad as a blue dye, going back to ancient times and the importance of this colour and the knowledge of its production. Raminta has spun us a fabulous story about Woad and then expands that into a tutorial on extracting your own colour from this ancient plant.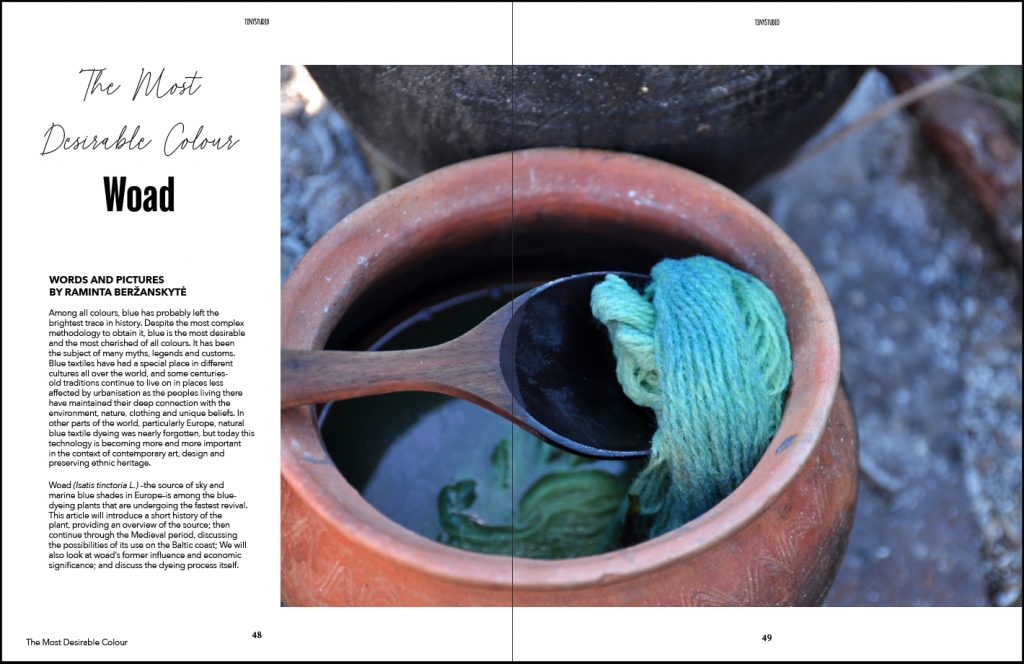 James Perry then brings vibrant red to the dye pots with his experiments in using Cochineal, I love the way he has created a series of samples and incredibly interesting results, it inspires me to approach my own dye experiments in this very thorough and enlightening way!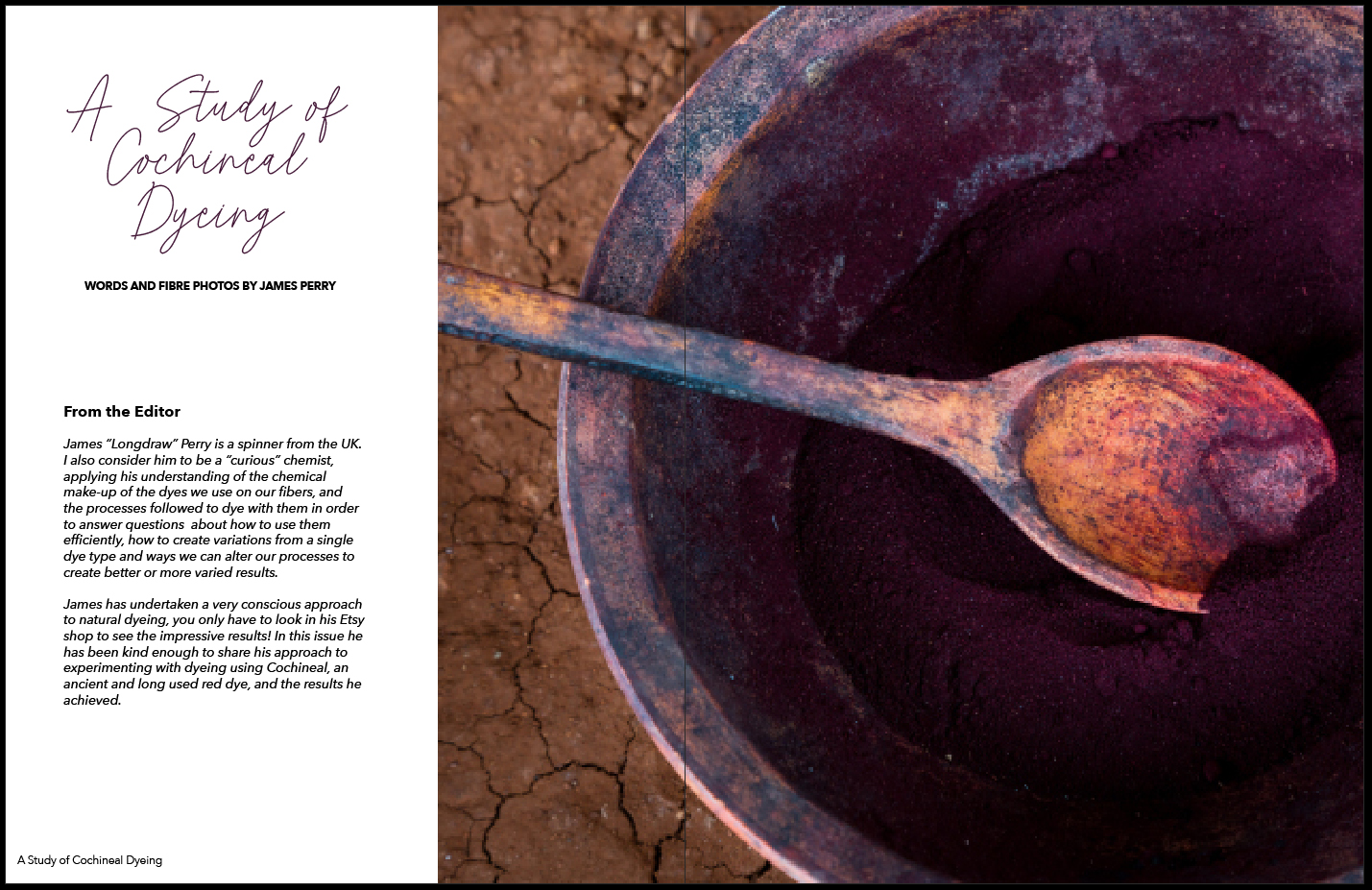 We have some really fun and inspirational articles too, like Jenia Yarns awesome Scrappy Socks article!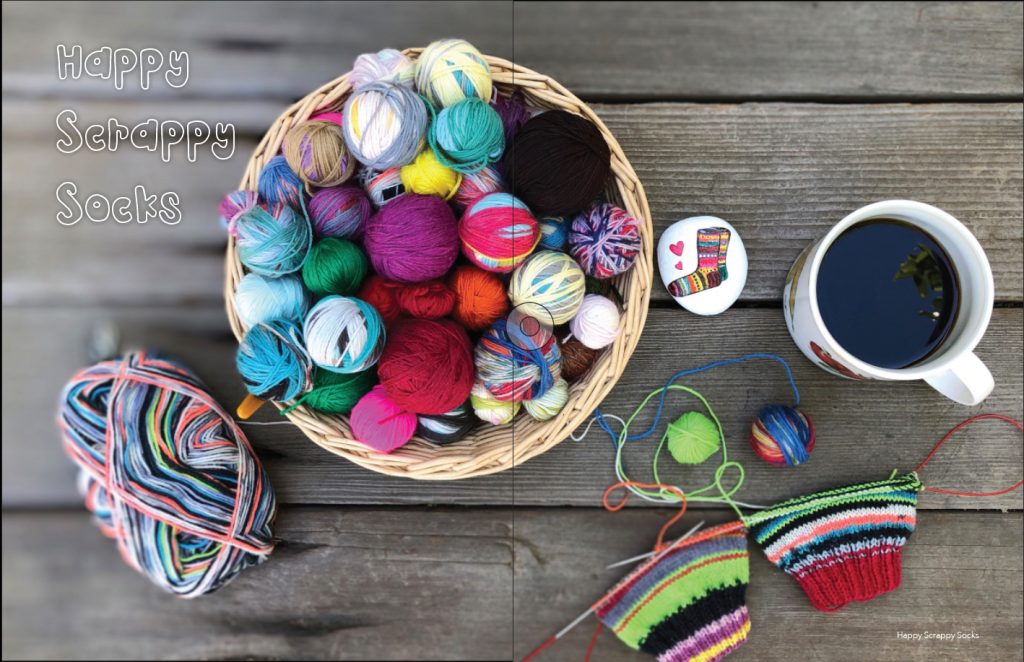 We have a delightful visit with Lea and her daughter Elfie, their rural life in the UK revolves around fiber and you can't help but feel at peace while reading their story. Continue this feeling and enjoy the beautiful Crochet Gypsy Blanket that she has generously shared her pattern for. You might even want to spin the yarn for it in the traditional,  medieval style, with a distaff and spindle! Judy Kavanagh shows us how to do that too!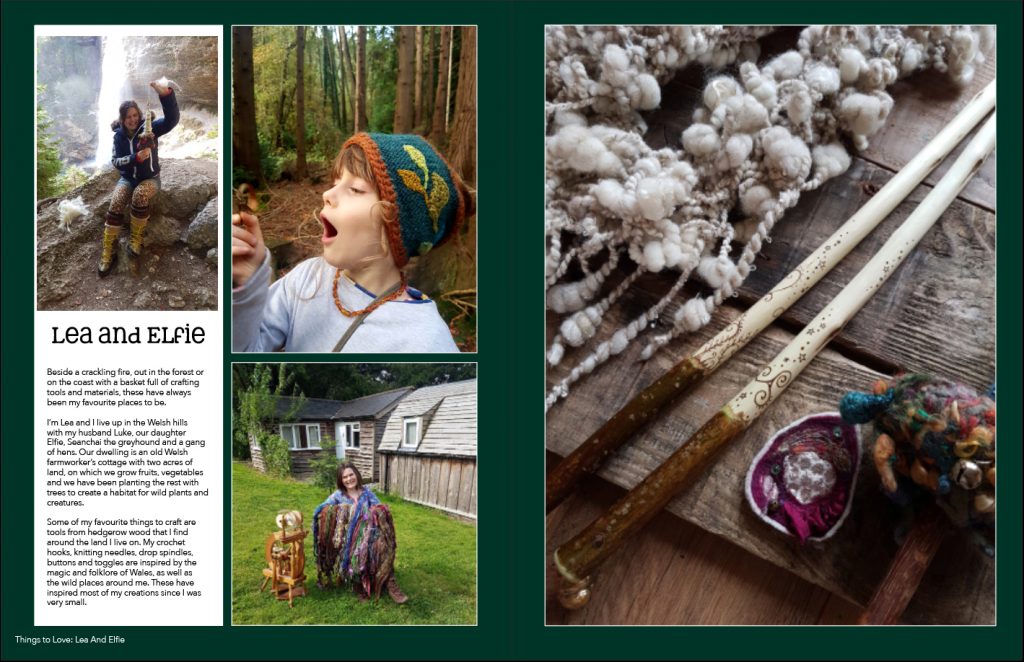 And again, our crowning glory, the Community Makes section! We love compiling the photos submitted by our tinyStudio community, so inspiring and always exciting to see what everyone is working on!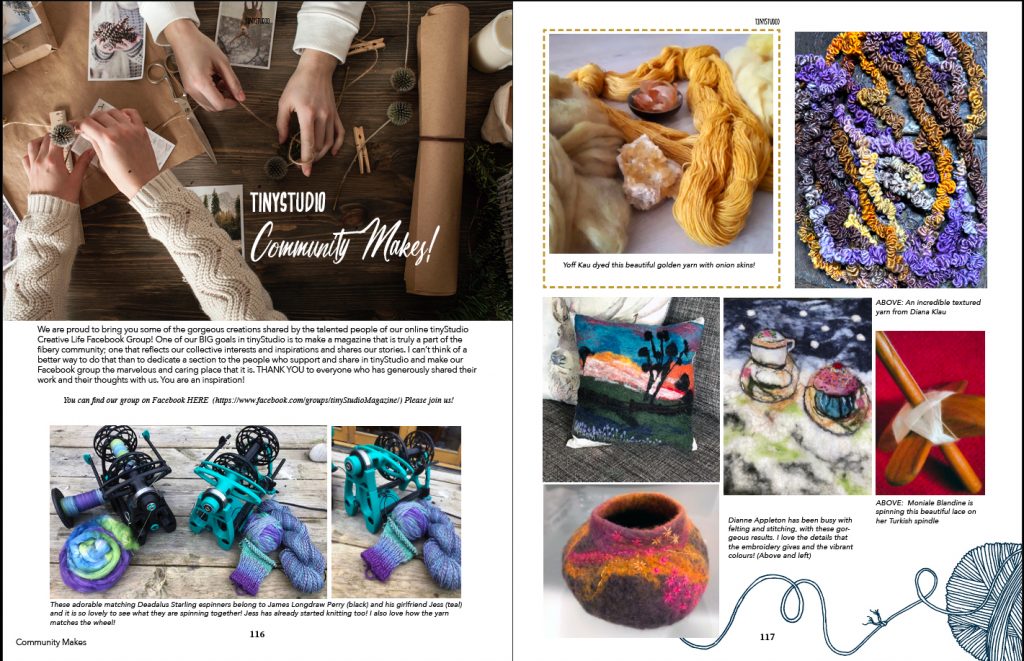 Purchase a single Issue – Current Issue
Do you want to purchase this issue as a one-off ? Click the button to check out and download! (Look for the email from fiberygoodness.com following checkout or contact us at info@fiberygoodness.com if you do not receive it!)
Please note: If you subscribe instead you will be sure to get every upcoming issue delivered to your inbox on release day, plus full access to all archived and ongoing tinyStudio TV video podcasts!
tinyStudio Digital Magazine Issue 9 - Back Issue