Hello Fiber Folks!!!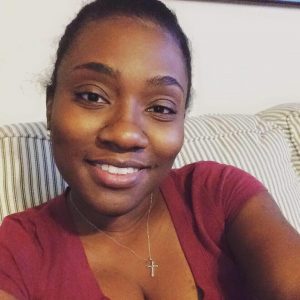 I am so happy to be writing this post to present a fiber arts and hand spinning program that we've been putting together over the course of the past few months.  Bren Boone of Snerb Yarn and Fiber has accepted our invitation to be our first Fiber Artist in Residence and today I get to roll it all out to you!
Our brand new Fiber Artist Residence program is something Suzy and I have been tinkering on in the background since the spring.  We wanted a different way of showcasing a fiber artist's incredible talent.  We wanted to go beyond what we could do in a stand alone Featured Artist post.  We wanted to show more about creative thought and process.  We to go beyond anything we had done before and of course, we wanted to see how we could virtualize the experience so it would be accessible to everyone. 
We had long been admirers of the amazing talent of Bren Boone (see her Featured Artist post here).  We love her aesthetic.  When I look at Bren's work, I see purity, patience, subtle beauty and a strong respect for tradition.  I personally purchased one of Bren's skeins of yarn earlier this year:  a fingering weight yarn made of 100% naturally colored cashmere.  It is absolute perfection.  We could think of no one better to kick off this project with us. 
I have Bren's first post to share with you.  She's going to tell you what she's conceived of as her Fiber Artist in Residence project.  In subsequent posts spread out over the next four to six months, she will share with us on an in-depth level her process as she goes from a farm fresh fleece to a completed sweater.  It is monumental project that many of us aspire to (especially me!).

One of our mottos at Fibery Goodness is "Fiber Prep is Everything" and what better way to go from fleece to sweater than to have some lovely, wonderful tools, including an Aura spinning wheel (!) to ensure the best possible outcome.  Therefore, we are thrilled to announce that Majacraft is sponsoring our Fiber Artist in Residence program by providing their amazing equipment to support Bren in her work.
Without further ado, prepare to begin being inspired with us as we enjoy our first look into the creative process of Bren Boone, the 2016 Fibery Goodness Fiber Artist in Residence.
I love cormo wool.  It's warm and bouncy.  It holds its shape wonderfully.  It absorbs dyes beautifully.  It's next to skin soft.  When deciding on my Fibery Goodness Fiber Artist in Residence project, I immediately knew I wanted to use cormo.  It's a favorite breed of mine.  But what do I make with the wool from this amazing animal?  I mean, I know I'm making yarn, but what item would be worthy of this wonderful pile of wooly bliss? These perfectly crinkled locks of fluff need to be made into something with a "wow" factor for sure.  I have 4 pounds of raw fleece so I definitely have options.  Something big and stunning is in order.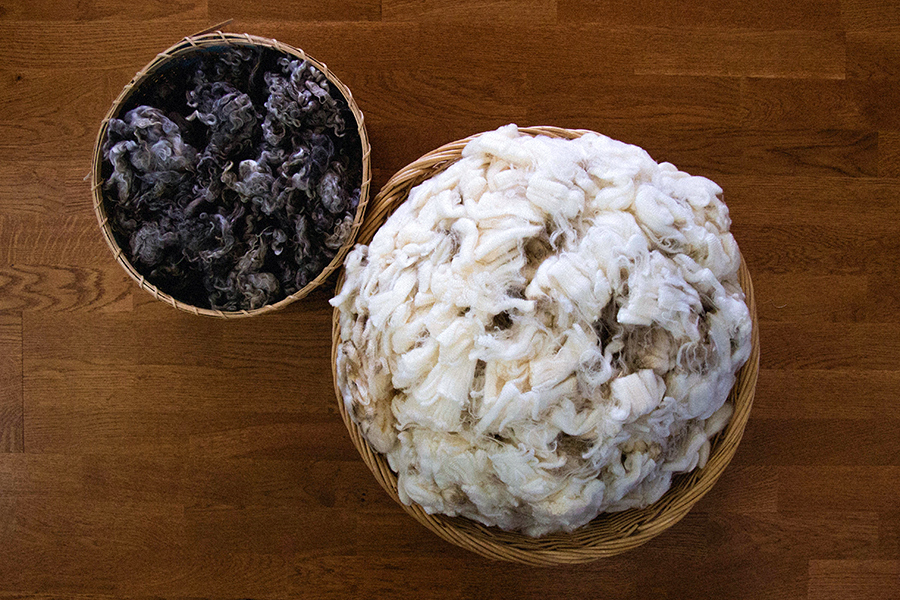 One day while browsing the internet for ideas, I ran across a stunning pullover sweater pattern from Purl Soho:   the Botanical Yoke Sweater.  Just the name immediately invokes images of wild flowers in soft champagne pinks and dark plummy purples.  Or maybe instead I should use cozy colors like rusty golds or warm cinnamon browns inspired by the crunchy leaves on the ground of an autumn floor while walking through a forest.  Or perhaps I might like the colors of moss covered bark in dark moody greens with splashes of warm grayish browns.  I was in serious daydream mode!  The design of the beautiful swirling cables going around the yoke of this sweater are amazing and truly awe inspiring!  This sweater will be perfect!!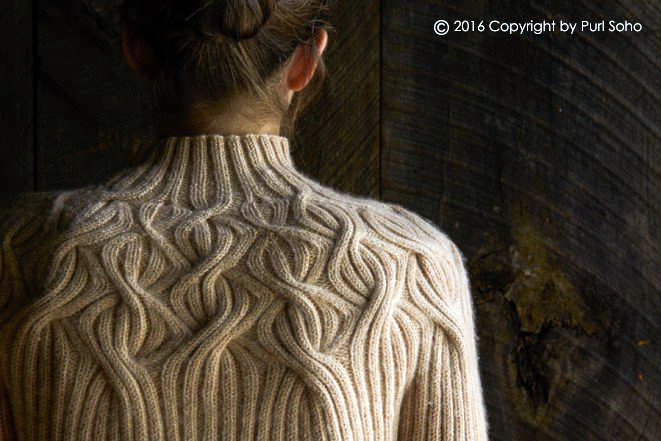 The original pattern calls for a merino/ cashmere blend which is just yummy.  You have the soft, squishy, bounce factor from the merino and the luxury, softness, and fuzzy factor from the cashmere.  I already know I want to use cormo for the soft, squishy, bounce factor, but what can I use for that kiss of luxury, softness and fuzzy?  I think mohair will be perfect.  Cashmere and mohair are both produced from goats and mohair has a luster and sheen that I think will really make this beautiful sweater pattern come to life.  I think a blend of 80% cormo and 20% mohair will be just the perfect blend. I also think using a natural gray colored mohair fleece will add to the depth of color when it's time to dye all of my finished yarn. Since I don't want to waste an inch from leftover singles, and all the yarn will be dyed the same color, I think spinning Navajo ply will be the perfect solution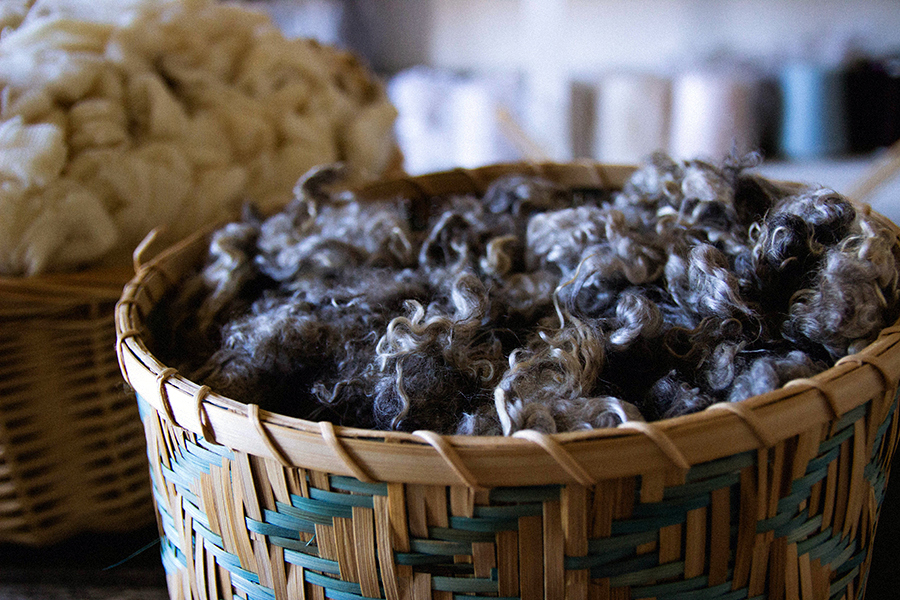 Come with me on this journey from a raw fleece to finished sweater!  I will show you step by step what it takes to plan out a large scale project like a sweater:   How to wash your fleece, how to comb and blend fibers together into a smooth hand combed top preparation, how to spin your yarn the exact weight you need in the amount of plies you desire, and finally how to dye your finished yarn.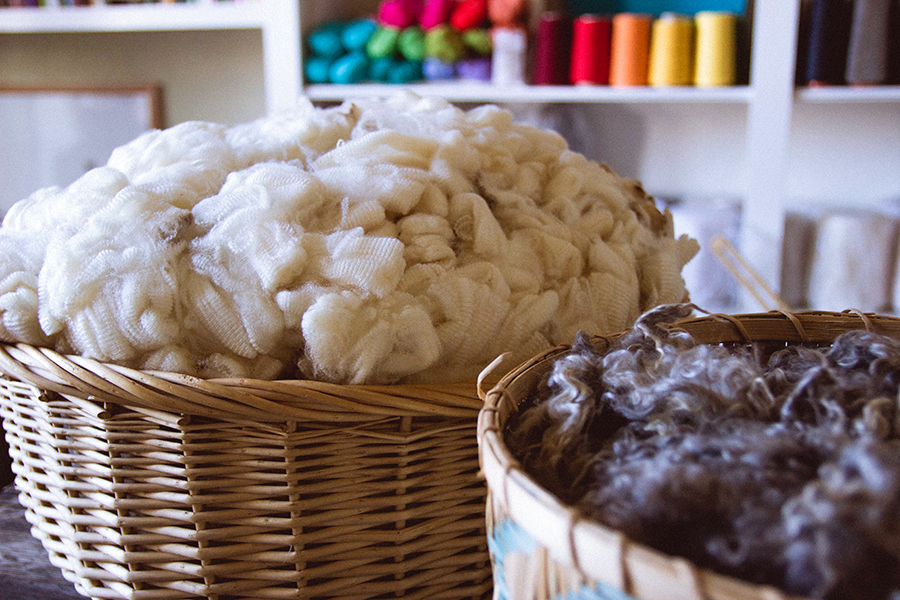 Hope you come and visit me!   
Bren