Just back again with an update and some stuff for you to download too! Last week we ran our first live spin session focussing on a piece of Majacraft equipment, and our subject was the amazing Aura from Majacraft, and we were lucky enough to have both Glynis and Andrew Poad of Majacraft themselves as guests!
This wheel is like the mothership of all the wheels for many art yarn spinners, it has all the features we need to work with highly textured and artistic yarns, easy stop start, consistent tension that can really be cranked up for the big yarns, large and bypassable guides and orifice, and of course, a huge range of adjustability.
It is also a wonderful 'all round' set and forget wheel that can be used for spinning more traditional yarns of any thickness and weight. This incredibly versatile wheel has so much to offer, and we wanted to share some of the little tips and tricks our Fiberygoodness team has found to make the most of that! To enhance the information we now also have a free to download 12 page ebook that summarises all the information in the video, click HERE to download 🙂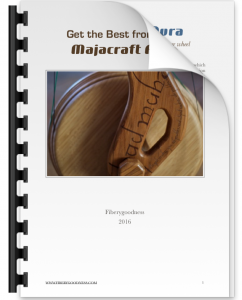 If you didnt catch our live session, you can still view the recorded video, grab a cuppa, your fiber stash and wheel and sit back and let us entertain you with what we have discovered!