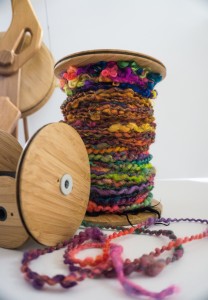 It's time to let a big cat out of the bag…Fibery Goodness is now an official Majacraft dealer!!!  We could not be more pleased nor more proud.  Most of you reading this know that from the outset of Fibery Goodness, we have had a cherished relationship with the fine folks at Majacraft.  It seemed after our long engagement, it was time to get married…:-)  In the next few weeks, we will continue the remodeling of our website to also expand the estore to include all of the lovely Majacraft products. It would have been nice to wait till then, but, we just could not keep the secret any longer! 
This is also a good time to share the link for tomorrow night's broadcast…another first!  Our first Fibery Goodness Fireside Chat, hosted by Jan Massie, is tomorrow night, 7:30 PM EST…here is the link.  Jan will be hosting these monthly and they will be the perfect thing to listen to while you practice your fiber art.   I'm not sure exactly everything Jan has in store for us, but Suzy and I will both be on.  I don't know if Jan is going to allow me to sing or not, but if she does, I'm pretty sure I've got my song lined up.
And…you know, love is in the air this week, too!  Valentine's Day is almost here and we always like to do something fun for the Fibery Goodness community in honor of the holiday.  Since we haven't done a giveaway in ages and ages, it is time.  But, like all good gifts, this is going to be a surprise and I promise, it will be worthy of being in honor of all of our new developments…to enter for the giveaway, simply comment below with your favorite sweet indulgence.  Entries must be made by Sunday, 2/14/16, 5:00 PM EST.  Best of luck to all!!!