As the year is quickly approaching its end, we all reflect upon what the New Year has in store for us. One of the first things I eagerly look forward to is St. Distaff's day(also known as Rock Day), a holiday for all of us spinners! This special day during Medieval times was the first day after the twelve days of Christmas, the 7th day of January. This marked the time when women would return to work, resuming their household duties including spinning. During the day they would keep a drop spindle handy and in the evenings they would spin at their wheels. The name of this day isn't after an actual Saint but rather after the distaff :  a tool used to wrap fiber around to keep it out of the way while spinning. This handy tool became the symbol of the importance of spinning during this period when women of all classes even upper class took part.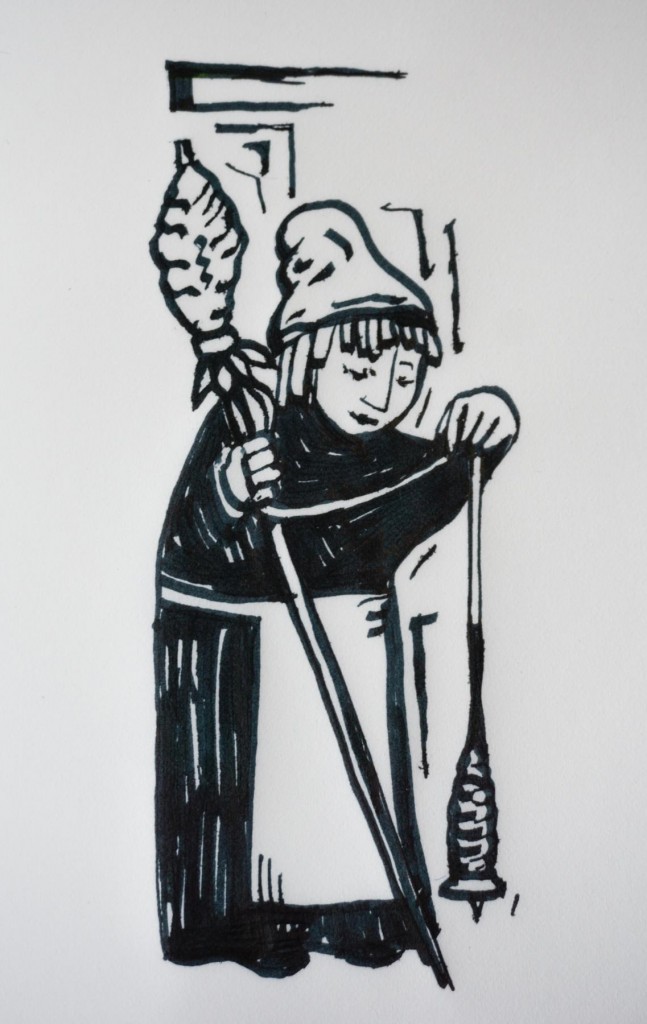 In some years this day would also coincide with the day the men would return to work on the farms called Plough Monday. When this occurred the men and women would often prank each other during this joint celebration. This little bit of horseplay is described below in a poem by Robert Herrick.
St. Distaff's Day; Or, the Morrow after Twelfth-day
Partly work and partly play
You must on St. Distaffs Day:
From the plough soon free your team;
Then cane home and fother them:
If the maids a-spinning go,
Burn the flax and fire the tow.
Bring in pails of water then,
Let the maids bewash the men.
Give St. Distaff' all the right:
Then bid Christmas sport good night,
And next morrow every one
To his own vocation.'
– Robert Herrick
In today's time spinners across the globe celebrate this holiday by organizing spin-ins, large and small, to spin together and enjoy each others' company. Before I moved out west I had no idea this holiday existed and heard about it by word of mouth at the end of 2012. I was still fairly new to the area and had only made a couple of local fibery friends so far. We got a small group together and made our journey up to Lake Stevens, WA on January 5th, 2013 (for our area, we always celebrate the first Saturday of January unless it falls on the New Year's celebration). I had done a little research before I went so I could prepare myself for what to expect and found this video below.
The year before there were 250 in attendance. I couldn't even imagine that many spinners in the same location all spinning at the same time! Little did I know that this side of the country has a lot of spinners(that's an understatement!) and a major guild the Northwest Regional Spinners Association that has sectors in Washington, Idaho, Oregon, and Montana so there were people from all of the various guilds from all four states meeting all in this one location.
Despite knowing in my mind approximately how many would be in attendance, it could not prepare me for what I experienced. I had been to several festivals before but had never been to a spin-in of this magnitude. There was something about it that was different.  Rather than being focused on wandering around shopping like a festival with minimal interaction with strangers, it was focused keenly on socializing and spinning, simply enjoying each others company.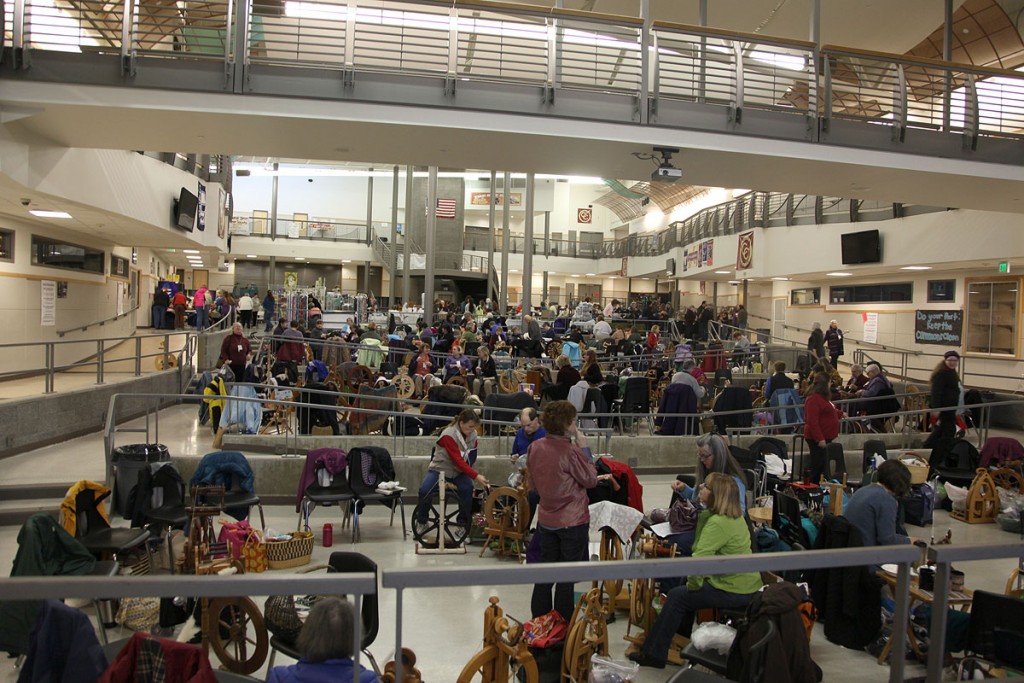 I learned so much that day between talking to various people about what they were working on, their wheels and spindles, things they were wearing, but also finding people that were local to me and making lots of new friends. Through this day I was able to find a guild that was local to me called the Eastside Spinners and joined immediately. It was so amazing how before the event I had a few fibery friends and by the end of the day I had made so many new friends and truly felt like a part of a loving community!
Since then I've made it a must go for each year and always find something new and amazing. Here's a peek at 2014 and 2015. One of my favorite things out of the countless list is to look at all the different wheels. There are definitely a few that are extremely popular due to proximity to local wheel makers and there are a small few of extremely rare wheels like a couple Betty Roberts wheels that are incredible to see!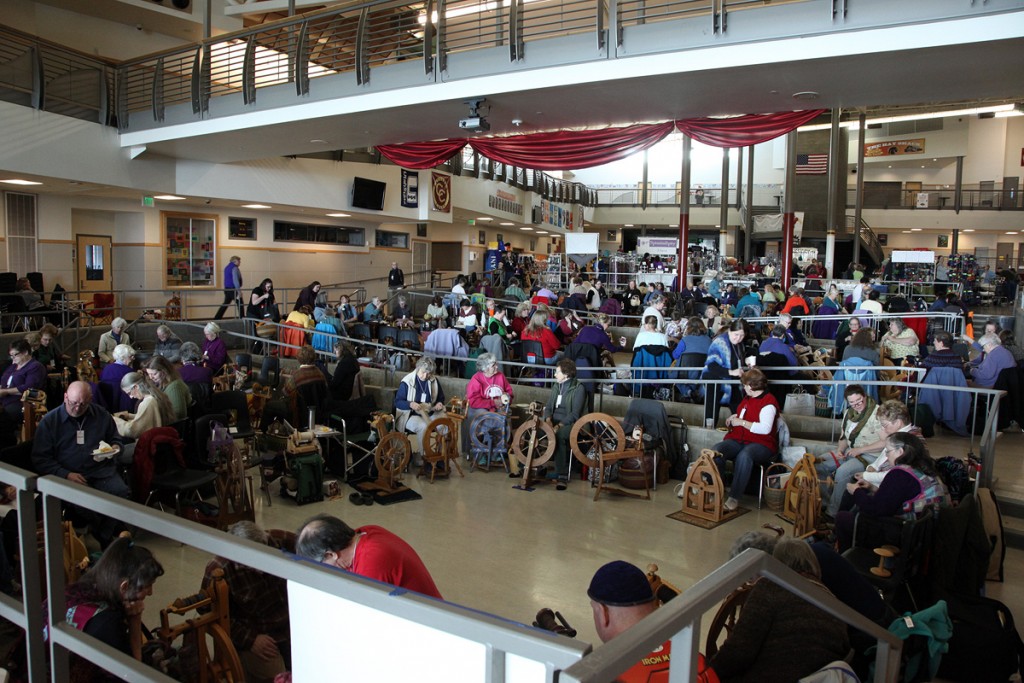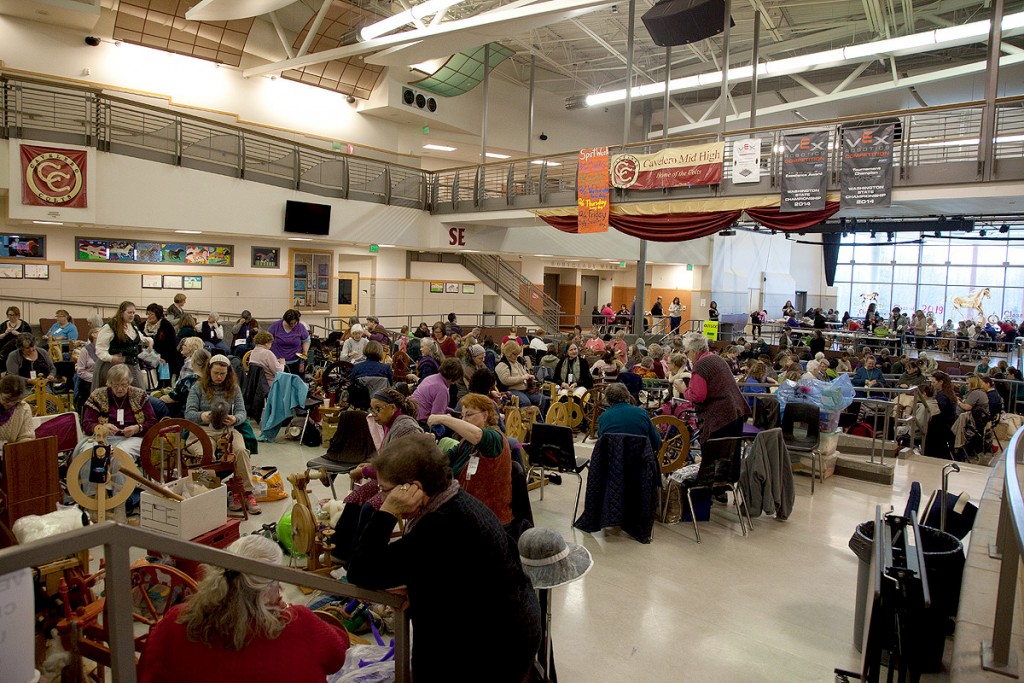 This year the first Saturday lands on New Year's celebrations so my local event will be having it on the 9th instead. For anyone in this neck of the woods who would like to attend, below are the details . And, for all of you across the globe, I'd love to hear about your St. Distaff's Day tales and if you have details about events in your area, please share with us so we can spread the word! If anyone will be attending a St. Distaff's Day event we'd love to hear all about it(email us) and share your stories and photo in a posting to follow next year.
St. Distaff's Day – 32nd Annual Spin-in
Hosted by NwRSA, Area 2010 Fiberholics
January 9th 2016 – 10am-4pm
Cavelero Mid High School
8220 24th Street SE
Lake Stevens, WA 98258
Wishing everyone a wonderful Holiday Season and hope you all have a spectacular St. Distaff's day and Happy New Year!
Evanita