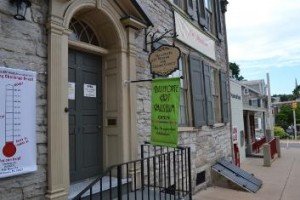 For the past year, we have been working on organizing a showing of a collection of twenty pieces representing the Journey to the Golden Fleece with the Bellefonte Art Museum.  The project of making this happen has been a journey unto itself.  Fortunately, I had a warm up project a couple of years ago when I organized the traveling Leather and Lace Challenge Collection with Deb Lambert of Picasso's Moon.  I thought when I had finished with that project, I was at the end of my road with facilitating that type of thing!  Little did I know that was only practice.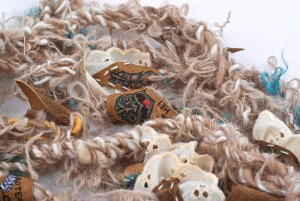 One thing that stands out to me as I sit here reflecting on the past year of getting ready for next weekend (in my nightgown at 5:35 AM, of course), is that there is a lot of rather unexciting work that goes into something like this on my end, but my heart and mind are so filled with the vision of the outcome, that I keep moving forward.  All of the artists involved have been terrific to work with:  all the projects and artist statements arrived in time and everything was packed carefully for shipping. 
Before I made the big hand off to the museum, I opened and unpacked everything and tagged all the projects.  Seeing and touching the projects was really a thrill as you can imagine!  Between Silja Devine's shawl, Virginia Scholomiti's hat, Joelle McCarthy's boots, Suzy Brown's woven collar and my woven bag, there is a whole "outfit" of pieces contained within the collection…:-)  I can't wait to see how everything is displayed.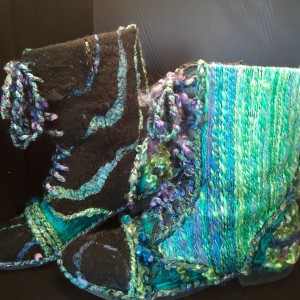 My husband and I personally hand delivered the pieces to the museum and I have seen the space.  Our collection will be in the main gallery which is comprised of two beautiful rooms of a Georgian period residence built in 1810 that serves as the museum's home.  The museum staff are lovely folks and very excited about the show.  One of the curators, Judith Finkelstein, is a fiber arts teacher who is helping to make the show a success, and is  lending her great wheel to be part of the display.  For the opening reception next weekend, she will be demonstrating drop spindling and there will be a fiber arts class for children as well.  I love that the museum is taking the opportunity to tie in some history and education with the show. 
We know I'm not the best behind the camera's lens, and we really wanted fantastic images,  so we are bringing Sara Norine James up from Florida to take professional pictures.  Remember those amazing shots taken at the SWAY Festival this past spring?  Those were taken by Sara! (For more about Sara, please see this interview I did over at Spin Artiste)   And, as it turns out, there will be between 250 to 300 people at the opening next weekend, so with Sara there, I can focus completely on talking to people about the collection.
But, I will have some help with the meet and greet part too!  Melisa Morrison is driving from Michigan to be with us.  It will be wonderful to have her there because her piece is sure to garner a lot of attention.  It is a large piece, the only one that is all natural white and gorgeous.  The visitors are going to be fascinated by her story of the piece and to meet her in person.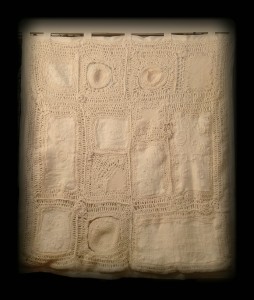 For those of you that live close enough to come, I hope you can make it at some point to see the show which runs from October 2nd through November 29th.  It is going to be a wonderful celebration of our collective hard work and artistry.