Wow, last week's broadcast of the first round of graduation projects from the Journey to the Golden Fleece was so much fun!  I hope you have had a chance to check it out and/or to download the PDF which contains all the projects with the write ups from the artists.
All the projects were fantastic and we decided that we will, from time to time, feature some of these awesome creations.  I'm going to kick this off with the cool telescope cover made by Melissa Yoder Ricks of Wild Hare Fiber Studio.  Melissa provided us with a great write up, pictures, and a really neat video.  The video really fascinated me so I thought all of the content would be cool to share here.  Take it away, Melissa!

"For a journey you need many things, and while this 'Golden Fleece' journey is ending, the real journey continues.  It was suggested that this final project could be a shield, but as I pondered this, I decided that I needed not so much a shield (with its connotation of protection and battle), as a spyglass, to expand my vision and carry me fearlessly onward.  But what kind of spyglass for a creative journey?  Would it not show possibilities and a new perspective rather than just the reality that is?  I thought of how a kaleidoscope reflects and recombines the image in front of it to create new patterns.  But the vision of a kaleidoscope is limited to the objects trapped in its chamber. A teleidoscope, on the other hand, gathers images from the world around it to create new and ever changing patterns without limit.
With a teleidoscope as my spyglass, I gazed upon the yarns created in my journey to discover amazing and unexpected patterns. I've included a few pictures taken through the teleidoscope, as well as a picture of the collection of my yarns that I was looking at. But, I couldn't really consider this a completed final project — I didn't 'make' anything!  So… since my wonderful new spyglass needed a pouch to protect it, I used bits of my journey yarns to weave one.  It is woven circularly, with module 1 yarn as the warp (as I intended from the beginning).  To fit the spyglass, I needed to weave a cylinder with one end closed.  Since my spyglass fit perfectly inside the core from a roll of paper towels, I decided to use this simple cardboard cylinder as my loom.  And so I made this cozy spyglass bag.  I still have plenty of yarn left, and plans for a 'coat of arms' to be viewed though my spyglass."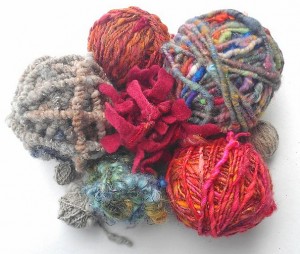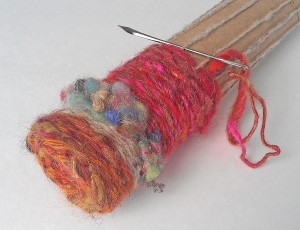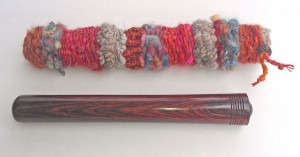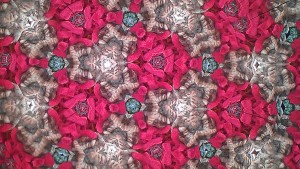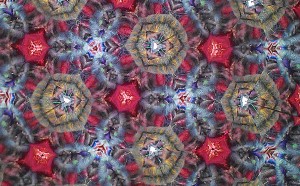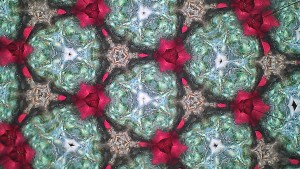 Love the pics!  Now for the mesmerizing video:
Thank you so much, Melissa for such a creative and inspiring project and sharing your process with us!