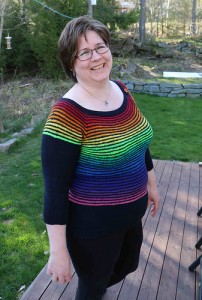 Suzy and myself are incredibly blessed to know quite a few spinners from all over the globe.  Technology has truly changed things immensely!!  It's incredible how online relationships can form over a shared passion such as hand spinning and then continue on into real friendships.  One such person who we are lucky to call a friend is Silja Devine Holhjem of Kreativt Surrehue from Norway.  But, Silja is not just a friend.  Silja is also a colleague who is one heck of an amazing spinner! 
When we were figuring out how to set up the online spinning sessions, one of our most important considerations was making sure we had good time zone coverage because as you've heard us say, we want to make sure that all spinners from everywhere have the opportunity to participate.  I'm on the East coast of the US, as is Esther Rodgers, aka JazzTurtle Creations,  and Suzy is at this time in New Zealand.  We knew we wanted a great spinner from Europe to lead sessions as well and it had to be someone that we knew people would really enjoy getting to know.  Silja was the perfect choice in every respect.  And, to our delight, she agreed to do it!!!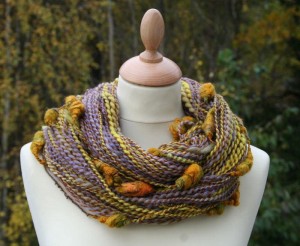 So, this week, in this post, we wanted to share with you why we are so excited to have Silja leading the online spin sessions.  By way of giving you some background, you can read Suzy's post about Silja at Spinartiste.com here.  Silja not only writes at her own blog, Kreativt Surrehue, but she's also been writing a monthly column at Spinartise.com this year where she has contributed a slew of interesting posts.  
What is going to be so fun about Silja's sessions is that she can not only spin anything from lace weight to art yarns but she is a knitter so she has that keen sense for producing unique yarns that are structurally sound and easily useable in projects.  Silja is a master of both spindle spinning and wheel spinning, too!  So, the cool thing about going to one of her online sessions is that Silja will be able to discuss and demonstrate on such a wide variety of topics.
We thought it would be fun for Silja to introduce herself to you in her own words as well and show you something of her beautiful work.  Please enjoy the video below and if you would like to spin with Silja, go to this page to sign up for her sessions.