Suzy warned me about writing this post.  She tells me it is going to stir up controversy!  But, this is what has been on my mind lately…if you read all the way to the end, I will tell you why…hehehe…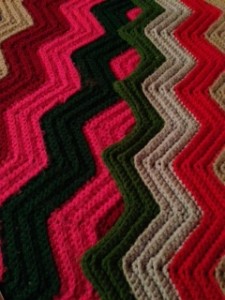 Yard sales, thrift shops, rummages sales…I love to go to them, but I hate to see anything hand knitted, crocheted or woven there, abandoned and unloved.  I know how much went into making those things even when we're talking about what I consider to be hideous colors with cheap materials.  Unfortunately for my dear husband, I often find myself valiantly rescuing these castoffs.  Over the years, I have drug home some real odditites…and yet, I still pine for the unfortunate items I didn't rescue.  They are the "ones that got away" (To the pink and green hand knitted sweater in the ratty Toronto thrift store:  I think of you often) .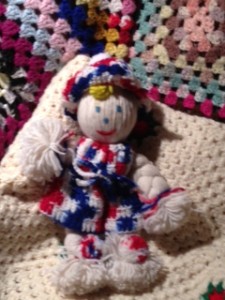 If you are reading this post, the odds are that you have put some hard work into making a hand-crafted item of fibery goodness for someone at least once.  You have certainly experienced the hopeful joy as you labored on the item as to how the recipient would love your treasure.  Upon opening your gift, did you study their face as I do to see the level of excitement they displayed? 
I am sure that some of my offerings have not cut it; yet, I don't want to face it.  I keep swearing off giving knitted/crocheted/woven gifts and then find myself doing it again.  
So, I have developed some policies that I try to abide by.  I can't promise that I follow these to a "T" but these are my guidelines: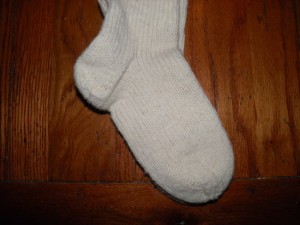 First and most important, you must not give a large handmade item such as a handknit sweater to a romantic partner whom you are not married to unless you want to get rid of them.  This is commonly known as the "Boyfriend Curse".  I was very careful not to make anything big for my now husband until we were married.  Then, finally he got a pair of hand knit socks that were a lot of work and very special.  But, I waited till after the deal was sealed and now he has both a hat and a pair of socks.  Actually, he had two pairs of socks, but  a pair shrunk in the wash.  Perhaps this is the "Boyfriend Curse" in reverse or something.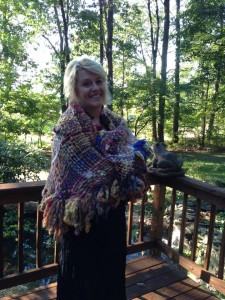 Second, it is best only to give handmade items to folks who also engage in making such things.  These are the people who understand that the hand dyed/hand spun/hand woven triangle shawl is an amazing thing to possess and truly appreciate that you labored over each step in the process starting with washing the fiber.  For people who do not engage in the fiber arts, you are better off just buying a Big Box Store (aka Walmart) gift card. 
Stay away from things where size is a factor.  In other words, no knitting of sweaters for others.  Stick to things that are one size fits all.  Along these lines, pay attention to which colors the person actually wears or which fibers they can or cannot wear.  If this seems like to much to consider, again, just buy a Walmart gift card.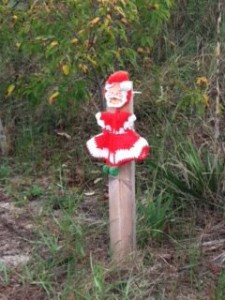 Now let's look at the reverse side of this issue:  receiving handmade items.   As artisans, we surely know how to behave when presented with such a treasure, right?  We know that the oohing and ahhing must be plentiful!  It is best to make sure that when we are with the giver, we make ensure they see their item is being put to frequent and good use.   But, you have to be sort of low key and not showy about it.  
If you have hung in with me this far, you deserve to know the devious reason for this post.  A certain partner of mine is going to be celebrating a rather important birthday this month.  So, of all the people reading this, actually the person who is most likely to be mad at me for writing this is her!!!!  Yup, Wool Wench's birthday is coming up.  And, I have been feverishly working on what I've been calling my Secret Weaving Project aka Suzy's Birthday Present.  Pretty much every time we chat on Skype, I make sure to make reference to it.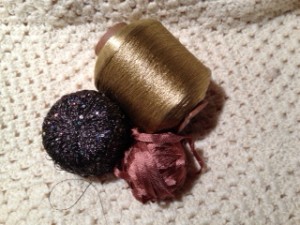 So, it's driving her crazy.  Now, with the publishing this post, I am probably going to push her right over the edge.  I wonder if there is a way I can suspend her admin rights so as to make sure she doesn't delete this?
In any event, there's been a lot involved in the project – I've woven it, embellished the edges, twisted fringe and each night I spend time before I go to bed adding embroidery.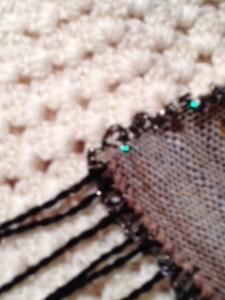 I'm following most of my rules:  she will know how much work it is, I've checked on which colors she does not like to wear and I think I'm safe on the whole sizing issue.  I couldn't think of any better way for her to know how much I treasure our friendship and partnership.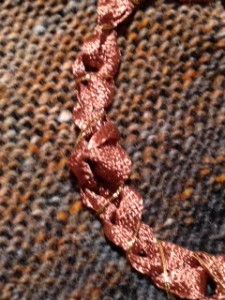 But, me being me, I have to end this by telling you that more than once I have wondered where this piece will end up after we are all long gone.  I'm going to just stick with my favorite fantasy where everything that I make ends up in a museum…:-)
Now, quick!  Someone please leave a comment on this post to prevent Suzy from deleting this post!!