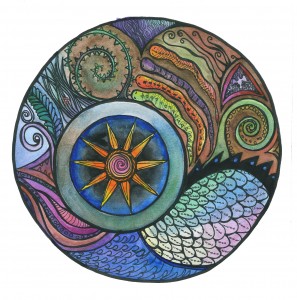 This week we are anticipating the release   of Module 2 in our Golden Fleece Fiber Creativity course (scheduled for 6 January). We have seen some wonderful yarns coming in as a result of Module One, as people have worked through the materials. So I thought this week was a great time to highlight one of the features on our FiberyGoodness.com website – the Gallery! We are thrilled to see it  filling up with some truly amazing, thoughtful, stunning, and creative yarns made by the Course Participants,  prompted by their work with Module One.
At the moment we have a single Gallery available for viewing, and as the course progresses we will split this into Module related galleries. We are very excited about the development of this showcase of work, and are pretty sure that before long (if not already!) we are going to have the largest online gallery of collected art yarns by individual fiber artists –  in the world!
The Gallery items are organised in alphabetical order (by last name) and we hope to also have it searchable in a short time too, but of course it's also simply inspirational to just go there and browse 🙂 I am sure you will think so too, the colours, the textures, the concepts and the stories told in these yarns are really amazing.
Here is a preview of the first page of thumbnails in the gallery!