Do you LOVE the opportunity to play with colours and textures in your fiber art? Do you crave airy lofty yarns with lots of bounce and squish? Then carding is for you! The next course in our Dynamic Colour Blending series (see also
Combs and Hackles
) is our Carding course! During this
two and a half hours of video content
(split over five videos) we will get you blending and managing colour on your carding equipment like a pro! Design and create unique fiber preparations, learn how to get the colours and the shades you want, the blends you want, and how to get the colours and textures where you want them too.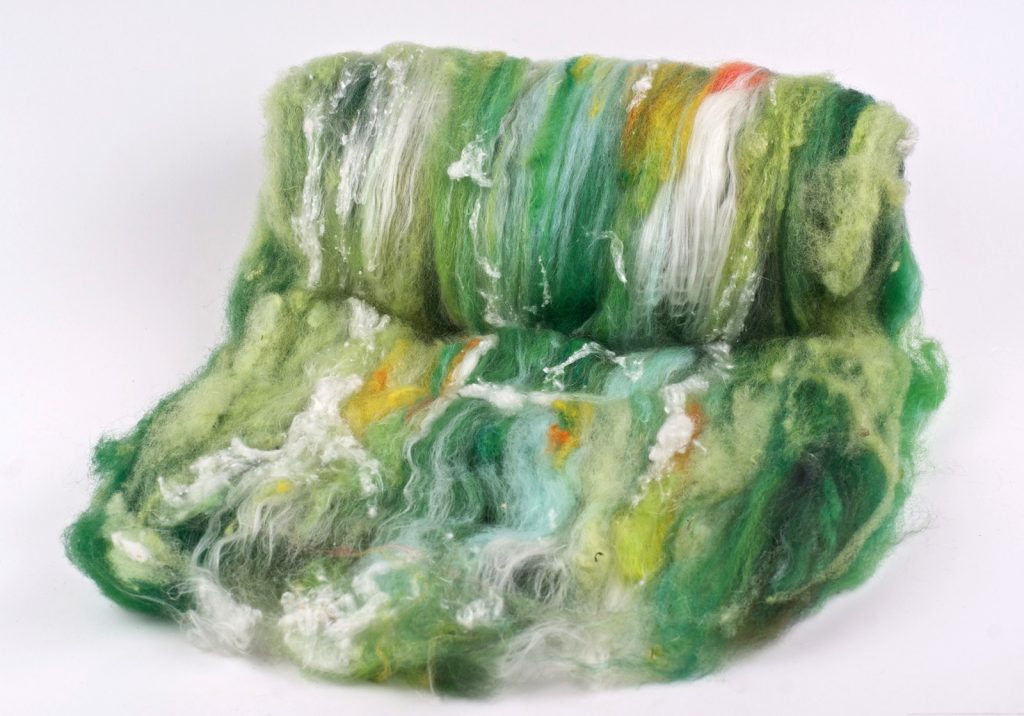 You also get a wonderful 70 page workbook, written specifically to support the video content with review questions, tasks, and recording sheets, as well as inspirational eye candy!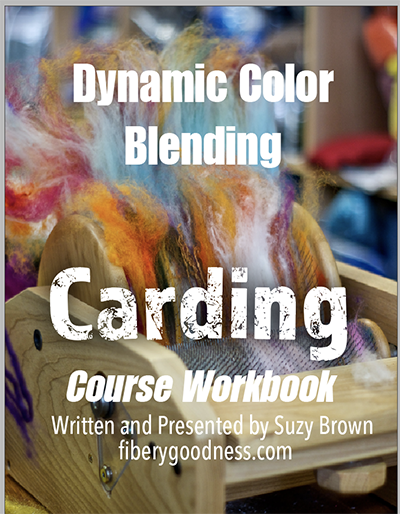 This course is ideal for beginners just getting started with fiber preparation, for anyone wanting to start exploring colour in fiber as well as their carding tools, and for those wanting to hop out of the box and start their own experimentations without fear. Much of the course is focussed on batt making and drum carding, so access to a drum carder is recommended. We also cover the use of Blending Boards and Hand Cards, with each section sharing different ways to put your fibers together and process them into specific blends and forms.
This course builds on the solid information contained in the Big Book of Fibery Rainbows (recommended textbook for the course) In the five videos, Suzy presents demonstrations, tool information, shares her fiber knowledge and gives you practice tasks to work on yourself. On enrolment, your Workbook is available to download,  you also have the option to purchase a 'hard copy' too. You will also get access to downloads for extra worksheets and record sheets when ever you need them!  Your course page holds all the goodies.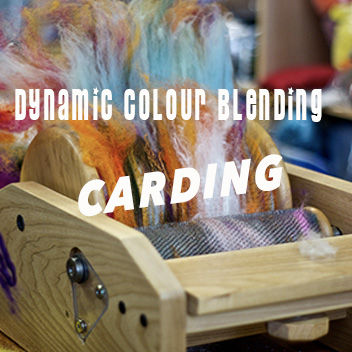 Dynamic Colour Blending: Carding
With this course you will receive permanent access via your Fiberygoodness Members page, to over two and a half hours of video instruction over five videos presented by Suzy. We cover how to blend and manage your fibery colours using a range of carding tools. You also get a downloadable text to support the videos plus an option to purchase a hard copy of the workbook. Also included is the video on dyeing to blend for those who wish to also dye their own fiber ready to blend. This is a self paced course you can work through as any speed you like, and Suzy is always available for help and support when needed!
If you are new to Fiberygoodness, on enrolment you will be sent an email link to register (to the email attached to your Paypal account), follow the instructions then log in to the Members area of the website, click 'Your Course' and then scroll down to your course banner to access the page. If you are already registered on Fiberygoodness then you will automatically gain access too this course from your 'Your Course' page.  Please don't hesitate to contact us on info@fiberygoodness.com if you are having any problems enrolling or logging in.