What does Issue 12 mean? Firstly, it means three years of tinyStudio Creative Life magazine! Woohoo! With four issues per year, this issue marks the third volume of our annual content, and I couldn't be more proud. When I started tinyStudio, I had a vision of what I wanted to create; it was based on my ideas about the kind of magazine I wanted to read myself, as a fiber artist. It included an endless curiosity about all kinds of fiber art and yarn-based pursuits, a passion for beautiful photography, a strong purpose in crafting with an ethical approach to materials and processes, and of course, a deep interest in getting to know other fiber artists through their unique stories. Three years on and I feel like this has come together in tinyStudio, well beyond my initial dreams, and the reason for this is the incredible creativity and inspiration of the people who have contributed to every issue, taking tinyStudio to the next level through sharing their stories and experiences, their unique approaches to their crafts, and the insights and inspirations that drive their processes. I am grateful to be part of this wonderful community, and to me, this is yet another evidence that together we are mighty! So much more amazingness can be achieved when we work together, taking a project so far beyond what just one person can do on their own. I hope you will share my joy in reading Issue 12!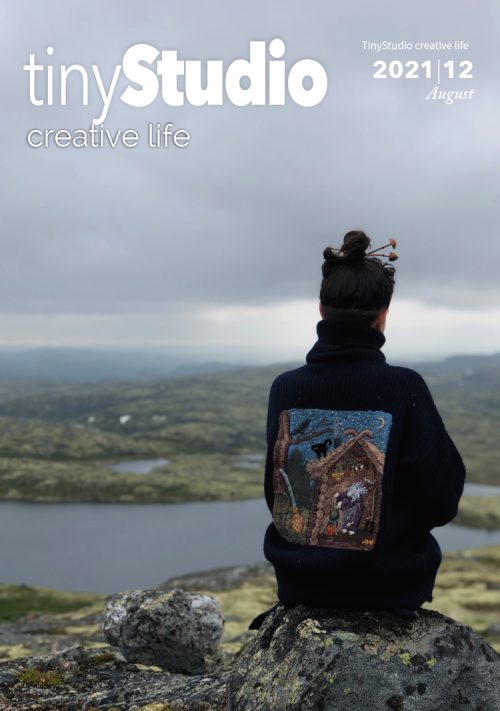 (Many thanks to Julia Tselkova for her stunning cover image!)

In Issue 12 we have a really cool underlying theme, one which I personally enjoyed writing about and on which we have some beautiful and inspirational articles from our contributors. As always, the magazine is 'tinted' by our theme rather than solely driven by it, so we have a wonderful variety of articles, but I think you will find that our 'The Dark Side' theme is well covered!
When I choose a theme, I look for a topic that offers many different interpretations, which will allow us to explore a concept from a variety of angles and will encourage people to be inspired in ways they would not always otherwise be. The Dark Side has certainly done that! One of my favourite articles in this issue is Inspiration in the Dark by Solène Le Roux (France), in which she takes us on a journey with her from the twilight hours to moonlit nights in the French countryside. I love the way she talks about nighttime being a moment of 'dream and magic' and the feeling of being able to 'move more slowly…at the pace of nighttime.'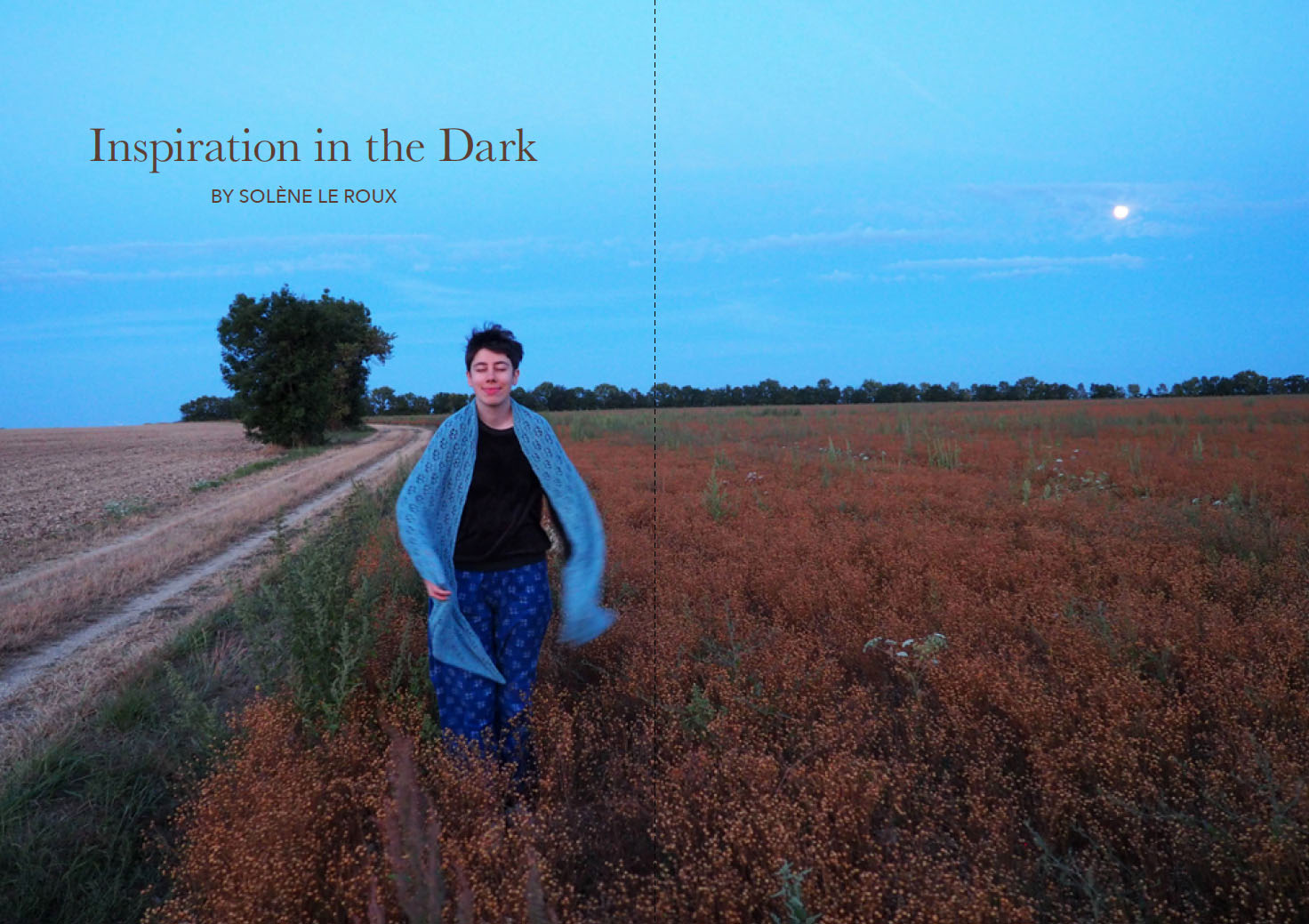 I also discovered a fellow rebel in Debbie Held, who has shared with us an insightful article into her rule-bending with knit projects! Was it always a success? Find out what worked and what didn't as she shares some behind the scenes in her project process!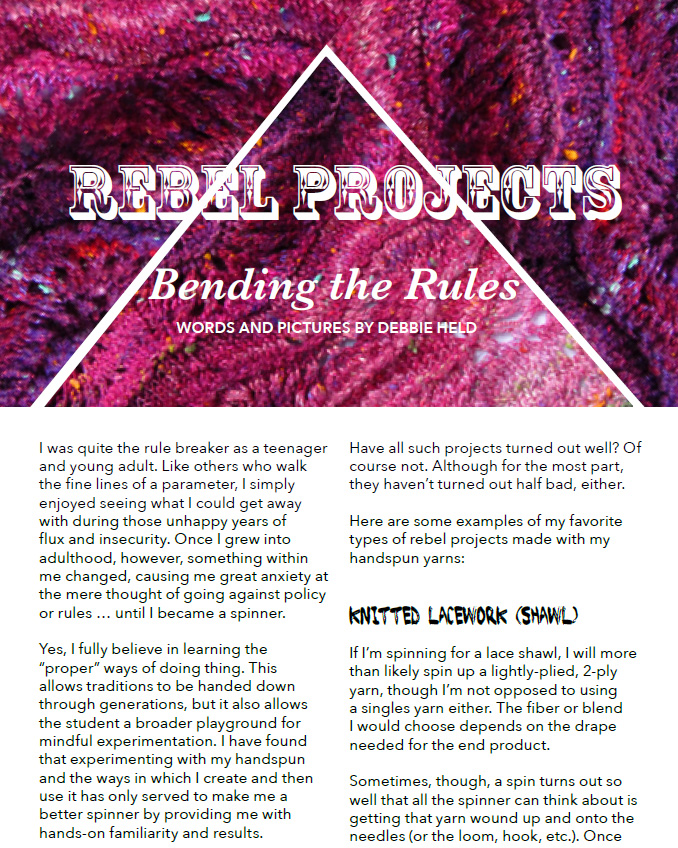 And speaking of projects … do not miss the incredibly informative article from Sue Macniven, as she describes the way she approaches and plans for spinning a large project. Sue offers some fantastic insights and tips as we read about her Shetland fleece spin.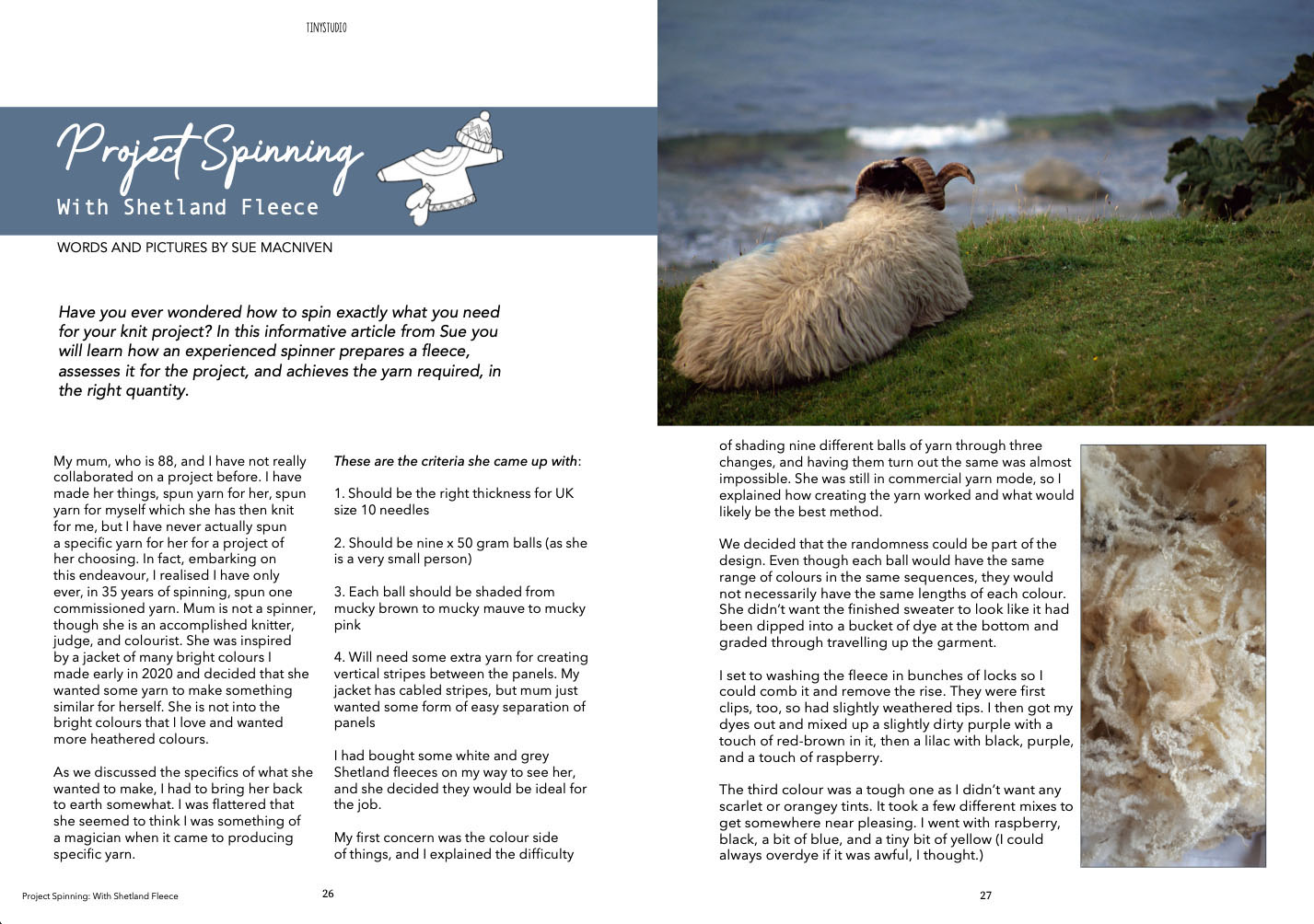 I have also contributed a couple of articles to this issue myself, one being a continuation of my Dye Basics series and the way I create a deep black dyed fiber, which for me has always been problematic, without the use of any black dye! My tutorial shows you step by step how I achieve intense, rich darkness in my fiber. I have also written about my own rebellious youth and how that has helped me in my yarn making and risk taking, and why a bit of bravery can be a useful tool in your spinning toolbox.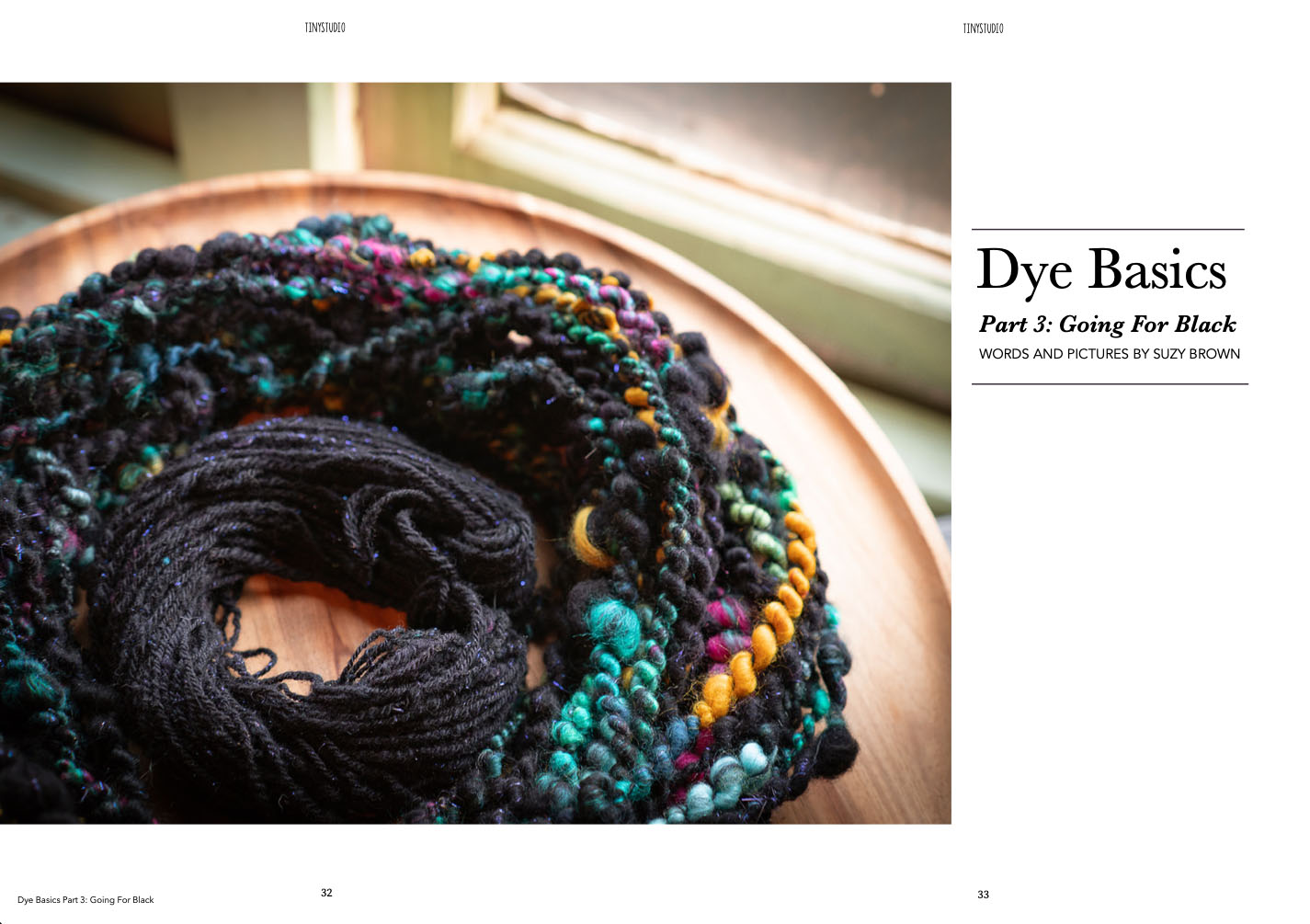 Nicky Winterton shared with us a wonderful article on weaving alchemy, with her use of yarns left over from many knit projects. I am sure many of us also have lots of bits and pieces that could be used up this way! Find out how Nicky worked with potentially random colours to create weaving magic.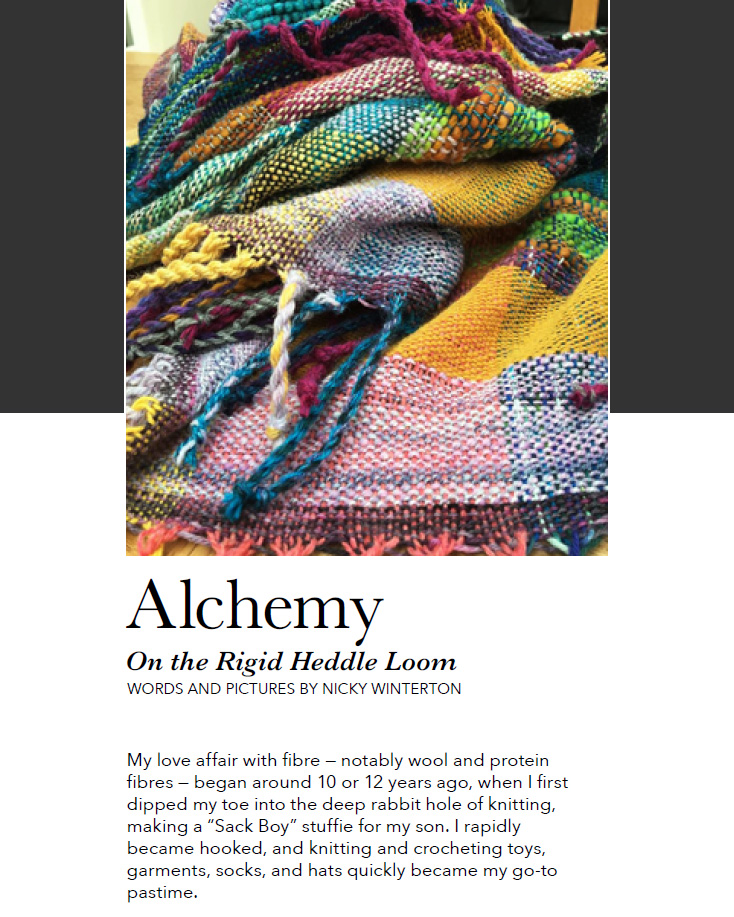 We follow the dark path again with articles from Arlene Thayer (can you guess what her most secret guilty pleasure is?!), Lindsey G. Wong's experiments with sockyarn making, Ineke de Brouwer's creative weaving with another beautiful story inspiration, and of course, our Learning Lab, including some organisation tips and tricks from Evanita.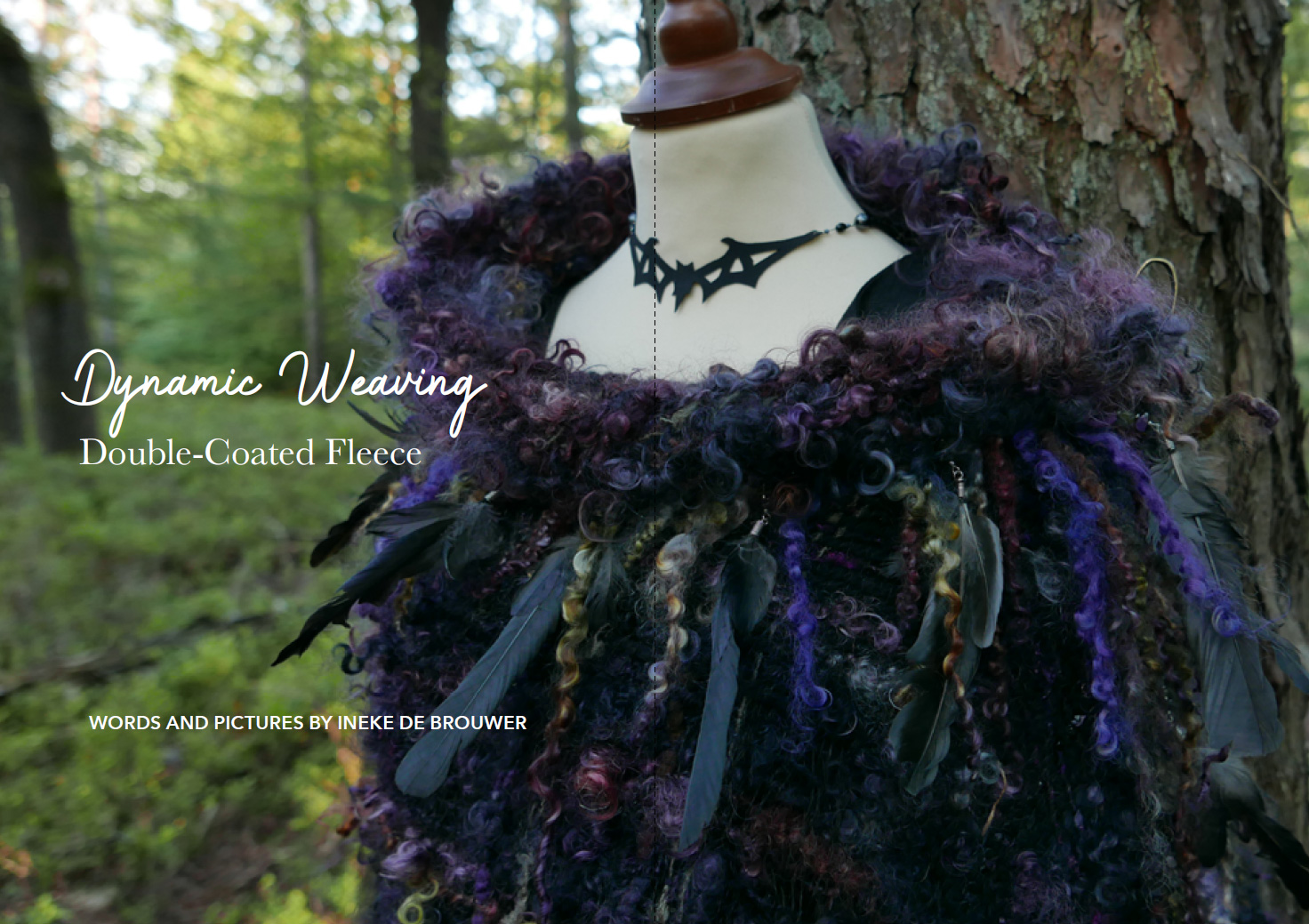 We really have a lot packed into this issue — plenty to entertain, learn from, and be inspired by. I am really proud of how gorgeously this magazine has all come together and I hope you will find much creative pleasure among the 120 pages!
If you aren't a subscriber already head over to the Subscribe page and sign up! Or if you prefer to purchase a single issue please visit our shop for digital or print options 🙂