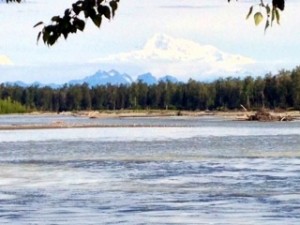 Arlene here!  I went on a BIG trip and it feels like I was gone for just ages.  My husband is heading for a milestone birthday and one of the items on his bucket list was going to Alaska.  So, at the end of July, we left for our tour (one week on land and one week on sea).  What does this have to do with "fibery goodness"?  Well, a lot…cause, naturally, I found some!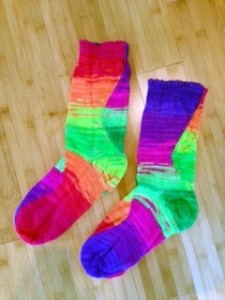 Needless to say, the trip involved planes, trains, automobiles and buses!!!  What does that mean to me?  Knitting, knitting and more knitting.  For ages, I had been admiring the Stitch Surfer sock pattern from Knitty, Deep Fall 2012.  I have seen lots of versions of these and many times, a solid colored yarn is paired with a variegated or self striping yarn.  I went in a different direction and combined two variegated yarns in neon colors with interesting results.  Once I was done with those, I knitted a quick hat by combining the yarns together because it was cold enough for a hat and I hadn't packed one.  Once that was completed, I went back to my regular sock knitting.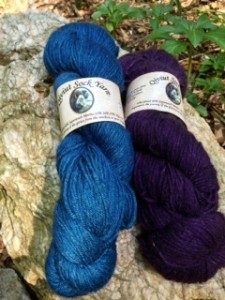 Our first stop after we got going on the cruise part of the trip was a day in Skagway, a town rich in history due to the gold rush in the Klondike region in the late 1890's.  I ended up striking gold of my own type when I ended up in a yarn store on the main street called Changing Threads.  I honestly don't buy very much commercial yarn anymore for a couple of reasons, but of course, always hold the hope of finding something that is unique, unusual or really strikes my fancy.  Lo and behold, they had yarns made from qiviut!  The lace weight yarns were very pretty, but without a specific project in mind, I steered clear.  Instead, I bought some sock yarn.  These will be some really special socks!!!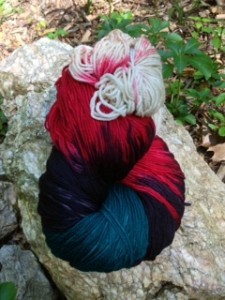 I was also intrigued by this hand dyed superwash merino in worsted weight.  The color way is called "Totem" and it represents some of the colors to paint the totem poles carved by the native Alaskans down along the south coastal region.  I think I am going to knit a shawl with it.
The next day, we woke up to some rainy weather docked in Juneau.  The dock area was pretty touristy (lots and lots of jewelry stores); however, there was…a yarn shop!  Seaside Yarns turned out to be a sweet find because there not only was there hand dyed qiviut from a Tree Hugger's Wife…there was also qiviut fiber both in raw form and in roving form.  The raw fiber needed to be dehaired so I went with the roving.  It is so incredibly soft.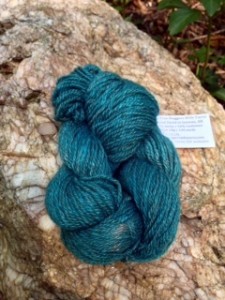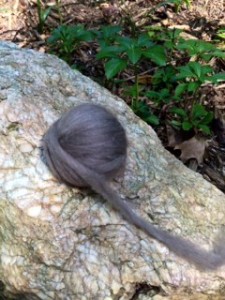 And, lest you think all I had on my mind was buying fiber in Alaska, here's the very quick run down of what we did and saw:  Fairbanks, a gold dredge, panning for gold, paddle boat ride down a river, Denali National Park, Mt. McKinley from the North side, cariboo, moose, bald eagles, Denali State Park, salmon swimming up stream, Class IV and V rapids in a jet boat, a native american fish camp, Mt. McKinley from the south side, train ride from Denali to Talkeetna, train ride from Talkeetna to Whittier, Hubbard Glacier, Glacier Bay National Park, Scagway, the Yukon suspension bridge, a salmon bake at Liarsville, Juneau, Ketchikan, Totem Bight State Park, killer whales, sea lions, ice cream everyday…and seven airports. It was truly the trip of a lifetime…and, yet, of course, after two days of travel at the end, I was ecstatic to be home.   
It was also an interesting trip because most of the time I was out of touch electronically, especially once we were on the ship.  The internet was slow and expensive and we were busy with our excursions a lot of the time.  Geez, it was like the old days when I read and knit a lot more.  I quickly had to let go of worrying about things.  The reality is with a partner like Suzy I had not need to worry about things here!  I wonder if she was hoping I would stay gone so she wouldn't have to deal with my whacky ideas anymore!?!?  Well, I came back anyway and the fall is almost here now and prepare yourself for a lot of new and fun stuff coming from the two of us.