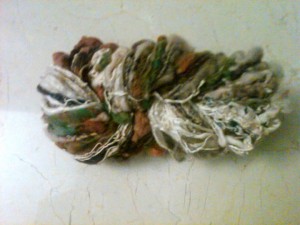 Well, we are back this week with another debate on a controversial topic.  As I'm writing this, I'm smiling because I hear Suzy's voice in my head saying, "We're just making yarn, people!"  She often says this in response to situations where fiber folk are taking things way too seriously.  Despite her words of warning, this post might venture into that territory.  This week, we're taking a look at tension setting, the simple act of setting a hand spun yarn under tension after it's been washed to force temporary balance to a yarn.  I say "temporary" because as many of you know, once the yarn is wet again, the kinkiness will return which could be really unfortunate if the yarn has been used in a project where that quality is not valued!
Somehow, one day, either Suzy or myself referenced the act of tension setting while I'm sure we were talking about something else that was probably much more important and before you know it, we were off debating the merits or pitfalls of this finishing technique.  Since it's my turn to blog this week, I thought I would post our discussion for your reading pleasure.  Of course, we are curious as to your viewpoint as well and welcome your comments and thoughts on the post.
OK, ready?  Here we go!!
Arlene:  Ah, tension setting…a very controversial topic.
Suzy: Tension, just like stress, too much or too little and theres a problem. If you dont have enough things tend to get bunched up, overtwisted, too much and youre stretched out and falling apart!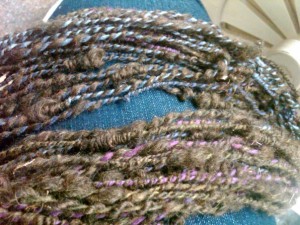 Arlene:  First starters, a big confession from me.  When I first started spinning, I tension set…A lot…I had read a well-known "art yarn" hand spinner's book that advised tension setting.  And, regardless of what type of yarn I was attempting to spin, I had mega twist (remember spinning didn't come easily to me).  But, once the yarn dried under tension, it looked like I had something going on.  Honestly, I was encouraged to continue because of tension setting!
Suzy. Its certainly one way to deal with overtwisted yarn, and if you're planning on using the yarn yourself, it probably doesnt matter too much, because at least you know its going to skew your project as soon as its washed and all that extra energy returns.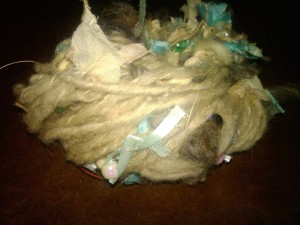 Arlene:  Well, it certainly doesn't matter if all you are ever going to do is look at your yarns!  And, with a lot of those early yarns, that is what I did.  Where I really got the sense a shame going around this procedure was when I went to the class of a very well known hand spinning teacher who teaches a lot of "art yarn" style techniques.  In a very dramatic way she said, "If you are tension setting your yarns and then selling them, you are LYING."  I just wanted to crawl into a hole because I was thinking about selling my yarns and I could have easily committed the unspeakable crime she was carrying on about.  But, there I was stuck with these overtwisted yarns, wanting so much to be able to spin balanced yarns, too new to be able to and on the verge of committing a heinous fiber crime!  So, I stopped tension setting and slowly made my way to the land of balanced yarns
But, I am wondering, from your perspective, is there a place for tension set yarns?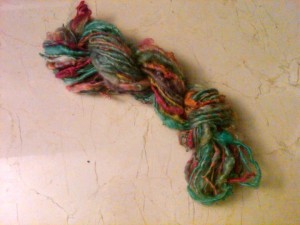 Suzy. I am sure there is. For a start, some things we make need a bit of character.  Isn't a scarf a whole bunch more interesting if it has a movement of its own? Who says it has to be flat and straight anyway?  And there are also those items which we dont really wash a lot, hats, etc.  In fact there are many things we can use over twisted yarns for that don't require balanced yarn. Perhaps the more 'traditional' two ply yarns, that will be used for knitting to a pattern into fitted garments, they might not benefit from being unbalanced yarns, but there is now also a whole bunch of stuff out there 'designed' for what is known as 'Energized yarns' – yarns with extra twist (deliberately done) that can be used for creating amazing effects in both knitting and weaving. I am pretty sure over twisted art yarns can be put to many uses even without tension setting them.
Arlene:  However…I sense that you don't go about making them with purpose.  I don't.  I don't want to contend with it.  I will run the yarn through the wheel and get some of that twist out.  While I admire people who can use over twist to their advantage and I think the yarns look great, even after taking classes on it from the best folks around, when left to my own devices, I don't make those types of yarns.  It just doesn't resonate with me, I guess.   And, I'm afraid I can't go back to the Land of Overtwist and tension setting it out.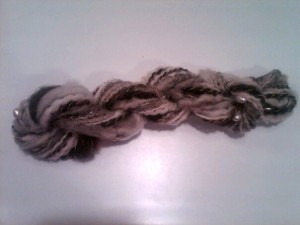 Suzy:  Perhaps the main thing is to see every skein we make as an opportunity to learn something. We all make/have made skeins that we don't like, and often that will be because it is just plain overspun.. too much twist makes hard, wirey, and twisty yarn, properties that no amount of tension setting is really going to get rid of completely. I would hate to think that someone might give up, or get disheartened, because of a bit of over twisting, especially in the early days of spinning.  Its probably THE most common problem for new hand spinners. Suggesting to a new hand spinner that the method they are using to make their early yarns more useable and easier on the eye by tension setting is 'lying' or in some way dishonest, puts a very negative focus on it and may well put people off hand spinning all together. Perhaps if the yarn is going to be sold, that might be when its better not to tension set, so the end user can see how the yarn is going to sit when its knitted and washed up, but selling yarn is very different from making yarn for your own use, or to share with friends, and I daresay most new hand spinners are not going to put their yarns on the market until they feel confident in their quality.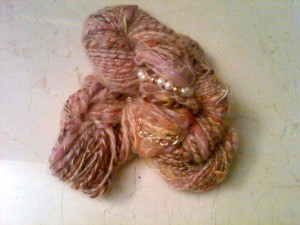 Arlene:  I think you've really summed things up really wonderfully!  So, we agree!!  Tension setting is not all evil, afterall…and to the teacher who told me it was lying, if you are reading this, please remember how impressionable beginners can be…:-)
So, there you go.  What do you think about all of this?  Are you like me and did it in the beginning and then let it go or do you still do it sometimes?  Or are you a beginner and you find it encouraging and helpful to be able to tension set?  
P.S.  All the pictures of the yarns in this post are my "beginner" yarns and were all tension set, of course!