Guest Post by Pat Old
Traditions around the use of kākahu / korowai. 
It was said by Mary Zicafoose in the Spring issue of Fibre Art Now, 2017, "That there are certain substances on this planet that carry, store, and record memory. One is natural fibre. Textiles are like holograms; both are dimensionally coded sources of information. They transmit their mystery and magic, generation after generation."
A kākahu, or Māori cloak, possesses that mystery and the meaningful design components are the "coded source of information". A cloak whose main design component is hukahuka (cord tassels) is known as a korowai and it is that which I describe in issue 13 of Tinystudio Creative Life.  
The weaving of traditional kākahu is done using the fibre from the leaves of New Zealand flax (phormium tenax), a tall lilly which grows readily in our landscape.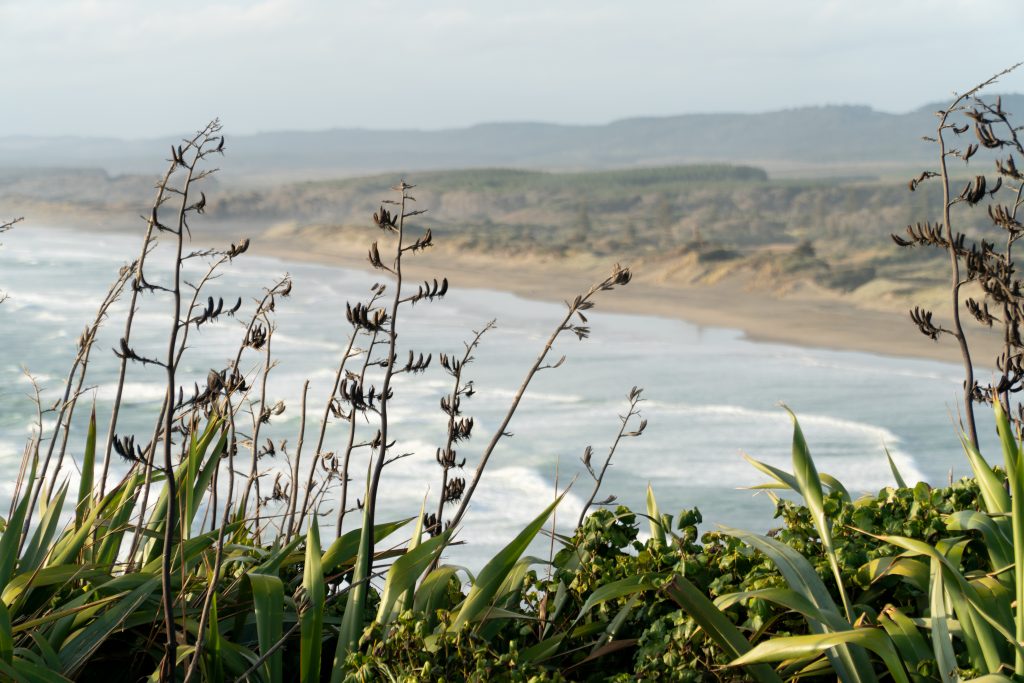 Traditionally both men and women of status wore kākahu of some kind on ceremonial occasions to show status and to signify family support of the occasion. Today they are still used at special times such as graduations, weddings and other formal events. The mana of the cloak is increased with each occasion, so I keep a record of each time the two that I have made are worn.
Many of the design elements used in construction are traditional and meaningful. Kākahu can be covered in feathers (kahu huruhuru), can show off a perfect natural fabric free of all adornment (kaitaka), or have cascading rows of flowing hukahuka woven into the fabric (korowai) . The waving hukahuka (tassles) signify ancestors that have long passed away. As I walked up to the stage to collect my award I had a fleeting thought that they were smiling!
Māwhitiwhiti patterns (designs made up of crossed warp threads) are also  often traditional. They can be quite complex and colourful, with the threads twisting and turning. Patterns usually depict elements in nature: stars, mountains, waves, ferns and leaves. I often use a pattern named "whale's tail" on the edges of my korowai. I live near the coast and have seen families of orca swimming near a local beach. 

Tāniko patterns (The multi-coloured bands of finely twined threads usually seen at the base of a cloak) can be very fine, intricate and colourful. Most are geometric patterns depicting shapes in nature such as waves, mountains, stars, even teeth!  

On ancient cloaks all colours were created using natural barks and assists. We can now use chemical dyes, but the natural dyes have an earthy quality that I prefer. Each row of tāniko may require four threads to be twined with only one colour brought forward at any one time to create the pattern. It is a slow process but rewarding as the pattern slowly develops. Back "in the day" the old weavers had memorised the patterns they used, but I need graph paper to stay on track! Tāniko bands can be wide or narrow. Whilst many designs are traditional, other shapes and designs are innovative in design and materials used. 
The tāniko pattern I used on my korowai represents to me the timeless bonds of kinship and friendship. Of meeting people and forming relationships. Together we can move mountains!  
The choice of feathers on a kākahu can be intensely meaningful. I was fortunate to be able to use toroa (albatross) feathers as a band across the top of my korowai. Toroa are revered and using the pure white feathers gives added mana (prestige) to the cloak.
Kākahu were and still are used to drape coffins during a tangihanga (funeral).  The use of korowai on these occasions depicts honour, both to the living and to the dead. It also conveys an impression of "warmth" to the deceased and shows that the whānau have wrapped the tūpapaku (body) in aroha (love).  
As one generation passes away and the responsibilities are passed on, so the traditions and the meanings of those traditions are passed on. The kawa (traditions) of the korowai remains as one of those tangible links to the past. 
 To read more about the process and Pat's creation of these beautiful korowai you can pick up your copy of tinyStudio Issue 13 in print or digital at www.fiberygoodness.com/shop