This has been a busy but rewarding few weeks at the Woolwench house! (and its wonderful to once again be able to say 'Woolwench House' because we are finally proper settled in our own place).  And now we are comfortable I have been working on some Fiberygoodness STUFF!  The first of which is a re-release of our popular Spinning Course "S3": "Sketch Spin Scribe'. I love this particular course, it has elements of history, story telling, spinning, and book making in it, along with step by step instruction on spinning some specific art yarns!

S3 comes with the wonderful journal covers made for us by Majacraft, into which you can weave, stitch, add a knitted sample, really make your own and turn it into a spinners heirloom! I love the scope of this course, the inspiration from stories, and the historical aspect of exploring a specific era and using that as the yarn concept. Loads more information can be found on our website: HERE
The other thing that has me excited is the release of the Video Course I have been working on for some time, and has been in my head since I was in the middle of writing the Big Book of Fibery Rainbows! This is the first course to use the book as recommended reading, and will be followed by a second. In this course: "Dynamic Colour Blending: Combs and Hackles" we go in depth with the tools, colours, and fibers, to create some magical fairy fiber that is incredible to spin!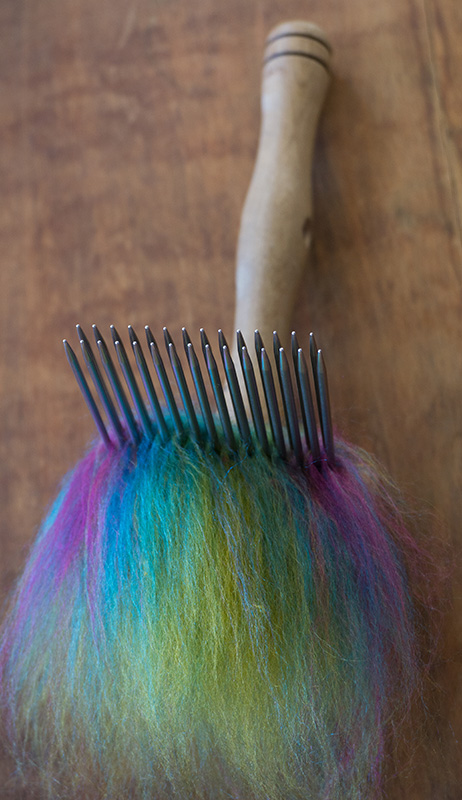 These tools will give you the most beautiful 'combed top' that really does spin like a dream, but even more, its in  your own unique colour blends! We go through the process of making solid colours (that are solid and yet contain each original colour in the most rich and dynamic way), and then we get into colour management with the hackle, making short and long colour changes, stripes, and combinations of these too.  You really get to make the most of your tools during this course! Dynamic Colour Blending also comes with a bonus video on how I dye fiber for blending, super simple and fun 🙂

I really enjoyed making the course videos, there are over 100 minutes of content into which I did my best to pack in everything I know about combs and hackles and colours 🙂 If you are keen to find out more about the course (and enrol!) you can find all that on the course page HERE
And what are we giving away this time?! With EVERY purchase of either Majacraft Handcombs, or Majacraft Hackle from our Fiberygoodness Webstore, you will also get free Enrolment to the "Dynamic Blending: Combs and Hackle" course! You can make your tool choice in our Fiberygoodness Majacraft store right HERE . We totally recommend these tools for their quality, beauty, and ease of use. I have had my Majacraft handcombs and hackle for years now (my combs go with me whenever I travel!) and I love them, they fit my hands, they are light, and they work brilliantly.  🙂 
I hope you will enjoy the courses!
Suzy