Big doings around here this week!  We have a new group setting sail on the Journey to the Golden Fleece and it's always fun to embark and start getting to know everyone.  In the meantime, many folks in our first group are finishing up their final projects (see the Module 8 gallery) and the group that started last February are unbelievably very deep into their journeys as well.
And, as many of you know, Suzy and I are working hard with Natalie Redding of Namaste Farms to roll out a new course focused on her dye techniques.  All the while, there is still blogging to be done, website stuff, online spinning sessions to coordinate, new books and course to write…aiyiyi!!!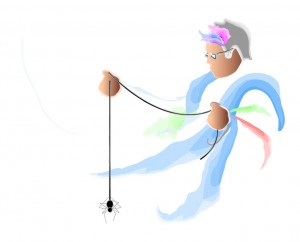 So…recently Suzy and I looked each other in the eye (thanks to Skype) and agreed that in order to keep growing, innovating, creating and having a good time doing it, it was time to enlist some support.  And, it didn't take long for us to come up with the right person.  
Therefore, I'm very pleased to announce that the Divine Miss Jan Massie aka Spiderlady of Just4ewe.com has graciously agreed to be part of the team.  At present, Jan's role will be as a moderator on the forums, with her primary focus being to help newcomers.  Jan's assistance will greatly help folks to get used to the course and the learning environment.  We are enormously grateful that Jan is joining us!
Now, a little bit about Jan and why we are super excited about having Jan with us.  For starters, Jan's personality just sparkles with wit and enthusiasm.  She is an awesome spinner, super creative…and FUNNY!!!!  I adore her sense of humor.  And, as for a art/fiber resume, well, she's rock solid there too.  And, with the nickname of "Spiderlady", she's like a fiber super hero!  Please take time to go to her website and learn more about Jan.  She is a class act and we are honored and blessed to call her friend and colleague.  
Join me in welcoming, Jan!!!!
P.S….and, I've got slated an upcoming Featured Artist post about Jan over at Spin Artiste so stay tuned for that.  I know you will enjoy it!