We really did it! You, Arlene, me, here we all are, several weeks into our journey already! I know that there are people at all stages of progress at the moment (and this is just as it should be), with some just beginning to consider their yarn and the design elements they want to include, and others who have already processed, planned, and created their yarns. It is a wonderful experience for us to see the yarn images being posted as people are completing them, and we are amazed, delighted, and inspired to see what people are creating in this first stage of the journey! We hope you are feeling challenged, motivated, and are enjoying Module One.
In the blog this week, we wanted to share some extra inspiring yarn with you, Arlene and I found this yarn to be not only beautiful and clever, but also a great representation of a story, a special memory of an important time. It was spun by Glynis Poad, and we particularly liked how she used elements of colour, form, and technique to transfer her imagination images into a yarn. We asked Glynis if she would share her experience and creation process with us, and she graciously accepted! I asked Glynis a few questions, and here they are, along with her answers:
We loved your story about remembering your childhood in England, your words really conjured a wonderful image that we think you captured magnificently in your yarn. You shared with me that this was not your first attempt at spinning your Module One yarn, can you describe something about your first attempt and how it led you to this particular version?
I wanted to bring the elements of snow, bluebell woods, primroses, hop gardens and cherries together in an uncomplicated yarn that would portray the simplicity of childhood. So I spun a single of each colour with the intention of Navajo plying using all the colours in a 5 ply to show the sensation of fleeting memories as a whole rather than as individual ones.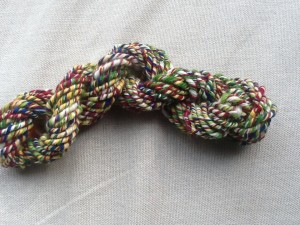 The result was disappointing and did not achieve my goal. The colours just became jumbled, as you can see. Interestingly enough, my grand-daughter liked it the best!
I  like it too! But looking at your final yarn, I can see why you were not satisfied with your first one. It is not only your use of colour that works so well but also your creation of movement and form to express more than just an image, but a feeling. Can you tell us some of your process in planning this particular yarn? (how and why did you choose your colours, fibers, and this particular technique?)
I started again from scratch and thought about my other "comfort yarns" and what was most likely to show the feeling I wanted. Years ago in the 1990s, my friend, Laurie Boyer, (who in my mind pioneered modern "art yarns"),  sent me a skein of a new yarn she had made. I came up with my own version, which I find very relaxing to spin.
I thought that the fact that this yarn was a new beginning for me at the time tied in nicely with the subject of the yarn module.
This yarn involves making a plain single and a thick and thin, then, with sleight of hand, turning the thick parts into puffs when plying. I wanted the puffs to be of the colours that signified the memories of childhood, jumping for joy, unexpectedly and randomly, with the white parts being the calmness of my life, the child's innocence and the snow which surrounded me in winter.
 Its those puffs and the jumping for joy that go together so well! And I like how you have used the simple white to embody several ideas too. This yarn shows the control you have over your fiber, you are such an experienced spinner, did you find any new challenges in this project?
The main challenge for me in this yarn was to ensure that the inserted colours didn't "run" into the white. And it was helpful to try and get the coloured parts roughly the same size.
Thanks Glynis! These insights into your process are really valuable, I think it helps a lot to see that its not necessary to get it right first time, that its worthwhile rethinking techniques or other design elements to get the yarn that you want in the end. Usually online we dont get to see the actual process of creation, just a beautiful final product that appears like magic on someones page 🙂 I think it is also really inspirational to see how you depicted each part of your story and memory in simple but powerful colours, and to learn about your reasoning behind the spinning technique you chose.
We would also like to highlight some of the other yarns produced in the last week that really grabbed our attention!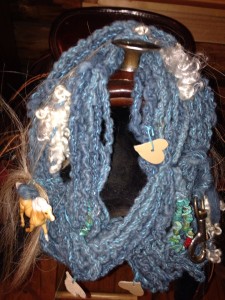 This one from Pam Blasko is tells such a great story! I love the items she has spun into it and the flashes from the beautiful locks!
Marti Kosh has made a gloriously textured yarn!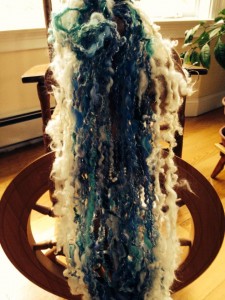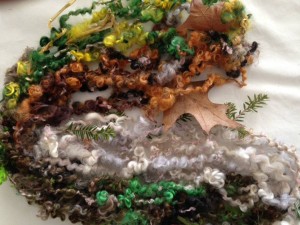 Virginia Scholomiti produced this stunning seasons yarn, loving the colours and textures she found for this!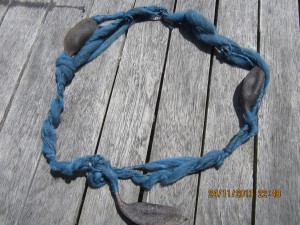 We also loved the bold and strikingly innovative use of these dramatic seed pods in Annette Montgomery's yarn.
Thank you everyone who has posted a yarn image to share, I am slowly working through adding them to the Gallery! What a big variety of colours, textures, and styles we are seeing already. I love it how no two yarns are ever the same, as each one expresses something utterly unique, just like the person who created it 🙂
Have fun with your yarns this week!
Suzy
XOXO