Here we are with a new blog post, an update, a headsup, and a warm up 🙂 What direction are we heading?!
First the update, because this is super cool! We have some progress pics of our Majacraft looms currently being made! We will let you know as soon as they are ready to ship, there are quite a lot to be cut out and engraved with our special course logo, but it will be worth the wait, and, for those who have opted for the loom, we don't need these straight away in the course so theres plenty of time (breathe!).
So we see one being cut out: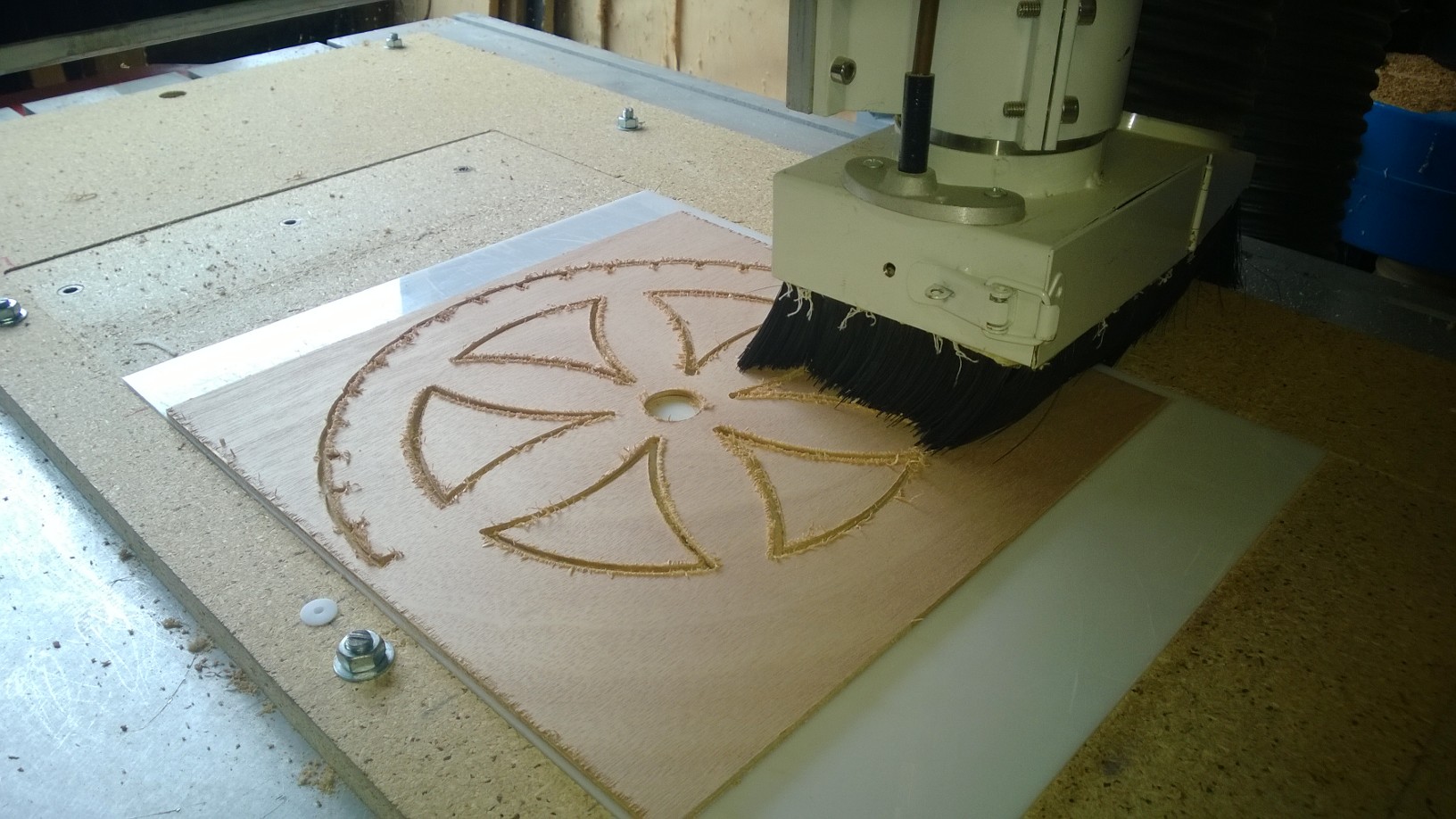 And being engraved with our special Golden Fleece logo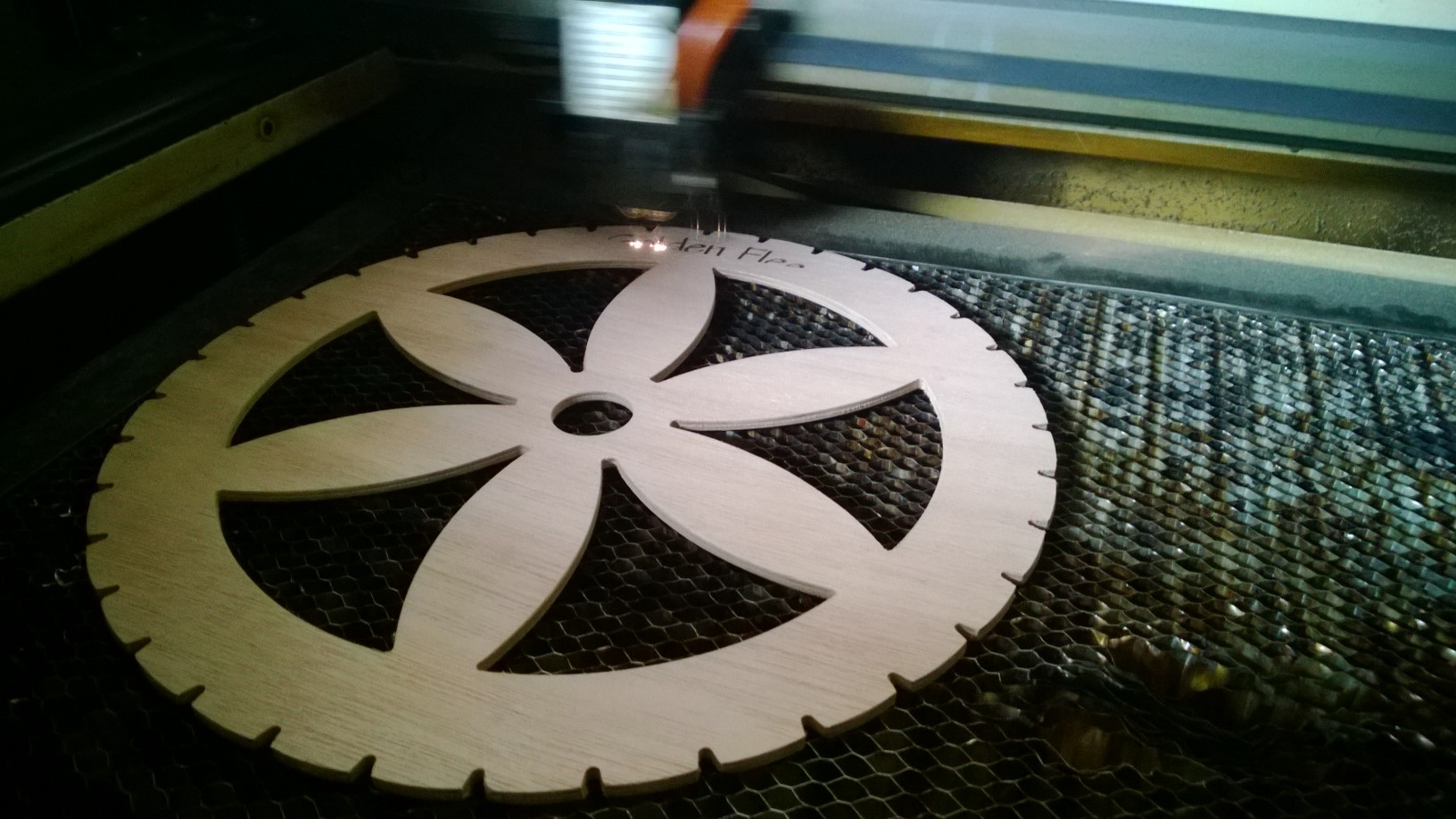 What you don't see, is that each one of these is also hand finished to make it pretty and smooth and ready to warp! So, they are working on them and it won't be long now! And in the meantime, I can share some of the design process with you 🙂 Perhaps you are wondering about the shape of the cutouts.. well we wanted something that had a little bit of a classic and legendary look about it, and did some research on greek decorative patterns and styles. There were some constraints of course, some of my original ideas were just too fiddly, or would be too fragile. In the end, simple is always better! This design speaks to me of wheels, spinning wheels and a ships helm, as well as our overall Course theme – 'sheild'!  Which is what prompted the whole loom and circular weave idea to start with! Heres the history of that one… If you have followed my facebook page over the last year you might have seen a few circular weavings now and then in my photos. We started out with the course planning, and early on wanted to finish the course with a weaving, using the yarns that we are going to create. I started with the idea of a simple frame loom, but it just, didnt feel right no matter how I messed with it. Then my friend Patty told me about an old book she has, 1970s I believe, with these circular weavings in it! She sent me some scans of a few of the pages and I knew instantly that this was IT, this was the shield we needed with us on our journey! And it is ideal for art yarns too. So I started out playing around with the  only circular item I had, an old gear wheel from the very first model Louet drum carder ever made. Didnt work anymore, but it did work really well for weaving on. Later, while enjoying a visit from Glynis and Owen from Majacraft, we talked about how Andy could probably make something like that, and so when I was in New Zealand recently.. guess what 🙂 We made it! Of course there was the usual Majacraft  'we can make this even better' additions to the design, so that what we ended up with was something that far more resembles an heroic piece of essential legend making equipment than a broken old gear wheel with crushed teeth.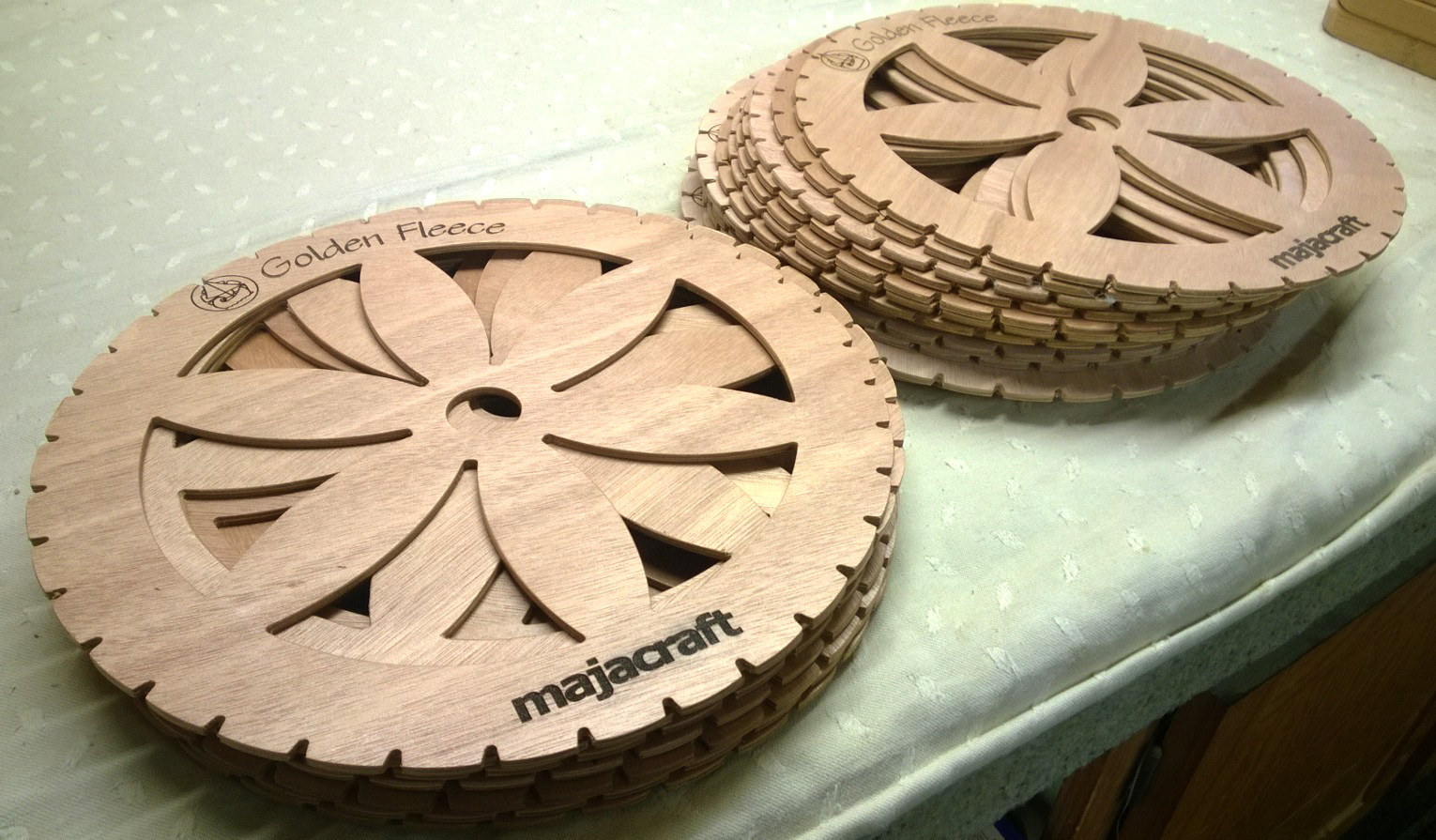 I think these looms are rather decorative , and when not in use (really!) they would look great on the wall. We are extremely lucky to have these, they are optional to the course, but naturally we would like to encourage people to use them. I mean, you can make your own out of sturdy cardboard, but these Circular looms are pretty special with the logo, and you can use them over and over. (thanks to Andy for supplying these progress pics!)
I do believe that in a few more weeks Majacraft will be bringing out their standard version of the Circular loom, so even people not enrolled on the course will be able to start creating cool stuff with them. They would also make a totally awesome Christmas present, along with a nice kit of yarns and sparklies!
Okay that was the update. Now its time for the heads up. This is about the Members only Forum here on FiberyGoodness.com. We would like to ask for your patience and understanding while we sort out a little bug that is somehow preventing the very first post on any new topic from being visible. Arg!! The current workaround is simply to ask you, if you are beginning a new topic, to copy and paste your opening post and repost it as a reply. Everyone can see all replies at least!  I know its a bit of an inconvenience but fear not, we have our resident Master of Modern Machinery  Dr X Van De Vierkantedoos  on the job.
And lastly, where was I up to… oh! The warm up! We sent out a welcome email to all newly enrolled participants! If you are one of those and 'didnt' get your Welcome email, you can find a link to it in the Forum here on Fiberygoodness.com in the 'Emails and Newsletters' Topic. In that mail was a suggestion for a warm up activity, asking you to start collecting some inspirational images with a few themes to focus on. As you do this, we would love it if you take a little time to really think about what it is in these images that speaks to you the most. Are you seeing any patterns in your choices? Colours, content, themes, ideas..? Maybe take one special image and really analyse why you chose it, be specific, be thorough, write down your thoughts, or even draw them, colour them, get creative with how you get your ideas from your head to your hands.
This is one of the big, overall themes in our course – bridging the gap between thoughts, feelings, ideas, and concepts, and getting them into something you can create with your hands. How do you start changing your thought images into fiber?
We will come back to this, and your inspiration images, a couple of weeks into the course! Happy inspiration hunting!