Beautiful bulkies….those mooshy, puffy, squishy, roly poly dumplings…we love them…but many of us have difficulty getting our hands and feet to make them.  Whether we are a beginner or an experienced spinner, spinning smooth, lump-free bulky yarns can be elusive and frustrating.  In this exclusive Fibery Goodness course offering, we are going to show you how to set the stage of bulky spinning success, re-engineer your approach and break yourself free from any default fine spinning habits you may have.
We bring you more than two and a half hours of video content over three videos, packed with demo's, information on fibre choice, fibre, preparation, spinning and drafting techniques, PLUS you get homework! Exercises to help YOU spin big and bulky!
During the videos Suzy will show you how to make chunky yarns, from fibre choice to finishing. Video One helps you choose the best fibers to get the big lush bulky yarns you want, shows you what preparations will work best, and you will spin singles for size and loft and texture. Video Two contains Exercises we have developed to get your hands, feet, and wheel all working together to create large yarns that you will love to smoosh! Video Three shows you how to ply those yarns for different effects, and then how to properly finish them to set twist and stabilise, minimising pilling and maximising yarn life. We then look at some projects and things to make from your finished yarns!
You may start this course at any time and work through at your own pace, your videos are accessible on your Course Page, and Suzy will be available to help and support you if you need it via the Fiberygoodness Facebook group, private messaging, and email.
Arlene and Suzy have designed this unique course to be fun and informative, with practical tasks that will get you spinning yarn thicker and smooshier than ever.
Prices in US$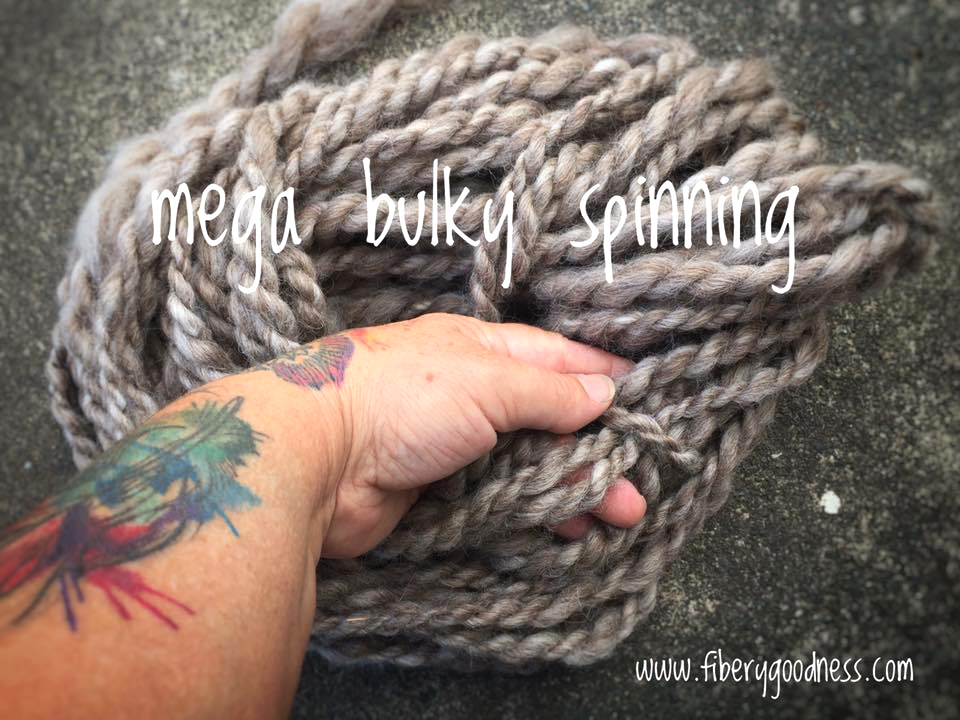 Beautiful Bulkies
Your Fiberygoodness Beautiful Bulkies course will help you spin big smooshy yarns! With your course fee you gain access to your course material in the Members only areas of our website, giving you permanent access to the course videos (over 2.5 hours worth of content!) plus one to one help and support from Suzy throughout your course and your bulky spinning career.