Introduction to No Rules Weaving: the Woolwench Way – a fun and easy project based approach to spinning specifically to weave, and then, weaving your spinning!
Are you interested in combining your spinning and weaving design skills to create a fabulous project? Please join us for this four week project based spin and weave course!
This is a stand alone series of lessons and exercises that you can start at any time.
Inside the 62 page digital booklet that you will receive as your textbook for this course, you will be introduced to Suzy's 'WoolWench' way for turning abstract ideas and themes into concept based yarns created to weave into your work of art. Spin a range of yarns specifically for your weaving project and work pattern-free to create a wall hanging that is more than a collection of yarns, it will tell a story that is cohesive and 'designed' without resorting to pre-made patterns.
Your four week course is split into week by week sections, with information, examples, and tasks. You begin with an overview of Suzy's approach to creating unique yarn designs, along with a task to get you thinking outside of the box and making yarns that tell a story and express your ideas. The second week focuses on exploring Corespinning as a wonderful base technique for spinning and plying a wide range of expressive yarns. Week three is all about designing your weaving, warping your loom, and takes you into multi-media ideas to give you the freedom you need to make woven 'art'. Week four is the weaving week where you get to put it all together!
To participate in this course you will need some kind of spinning tool such as a wheel or a spindle. You may use any kind of loom you can get your hands on, rigid heddle, shafted floor or table loom, tapestry loom, or DIY your own Frame loom! (Even a sturdy piece of cardboard can work!).
Even though this is a stand alone self study course you are encouraged to share you work on our Facebook page and make contact with Suzy at any time for help and support for your coursework.
We hope you will come adventuring with fiber with us!
(Please note – if you are a member of the Online Guild of Spinners and Weavers you will find this short course a small expansion on a workshop I ran there earlier this year, I am running it again as part of Fiberygoodness with support for students on our Facebook group, you are welcome to participate using the files I uploaded during the workshop)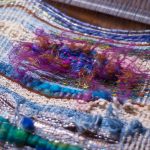 Introduction to No Rules Weaving
On your purchase of this Fiberygoodness short course you will receive a confirmation with a link for you to download your text book and to register on our website for your course!
Please contact us at info@fiberygoodness.com if you do not receive your link (it will go to the email address you use at checkout) within an hour of purchase and we will make sure you get all your materials!