I am so happy to be bringing you this issue of tinyStudio Creative Life magazine! I hope you will love the cheerful and vibrant colours of nature in this issue – the theme of 'florals' has been an exciting one to put together, and there is much inspiration within the pages of Issue 14.
Throughout the 120 pages of this issue, we have plenty of wonderful content to delight and inspire. Of course, this issue would not be complete in its floral theme, without the amazing photos by Evanita Montalvo, who brings us pages of spinning related floral images to inspire with both colour and form.
It is our pleasure to bring you another fantastic article from Trish Kipe, with her article about the 'Superpowers of Flowers' and a journey through her beautiful garden – which inspires her fiber work tremendously.
In this issue we also have a great yarn recipe from the very creative Arlene Thayer (SpinArtiste), follow the step by step instructions and make your own art yarn with fibery flowers in it!
We have plenty to inspire you to weave in this issues too – with gorgeously creative ideas on how you can up-cycle old picture frames for art yarn weaving, but Alison Altafi (also featured on the cover!)
I have included my final article in the 'Dye Basics' series that has run over the last five or so issues, culminating in the current step by step tutorial for hand painting fiber and yarn. I was inspired by the very bright neon colours found in flowers, and show you how to get some great multicolour effects in fiber, I also spun it up and knitted it too so you can see how it works beyond the dyed fiber stage.
And we have a Baltic Weaving tutorial by Judy Kavanagh, which includes everything you need to get started on your own beautiful band.
There is so much more in this issue too, including some beautiful knotwork with a macrame tutorial written for us by Lena Margulis, a stunning shawl pattern with a 'Lavender' design from Aroha Knits, some natural dyeing with Sappanwood, a report on the Spin Together event our Fiberygoodness teams (yes two teams!) participated in, and of course, one of our favourite features, the fantastic things shared by the people in our Fiberygoodness/tinyStudio community – Community Makes!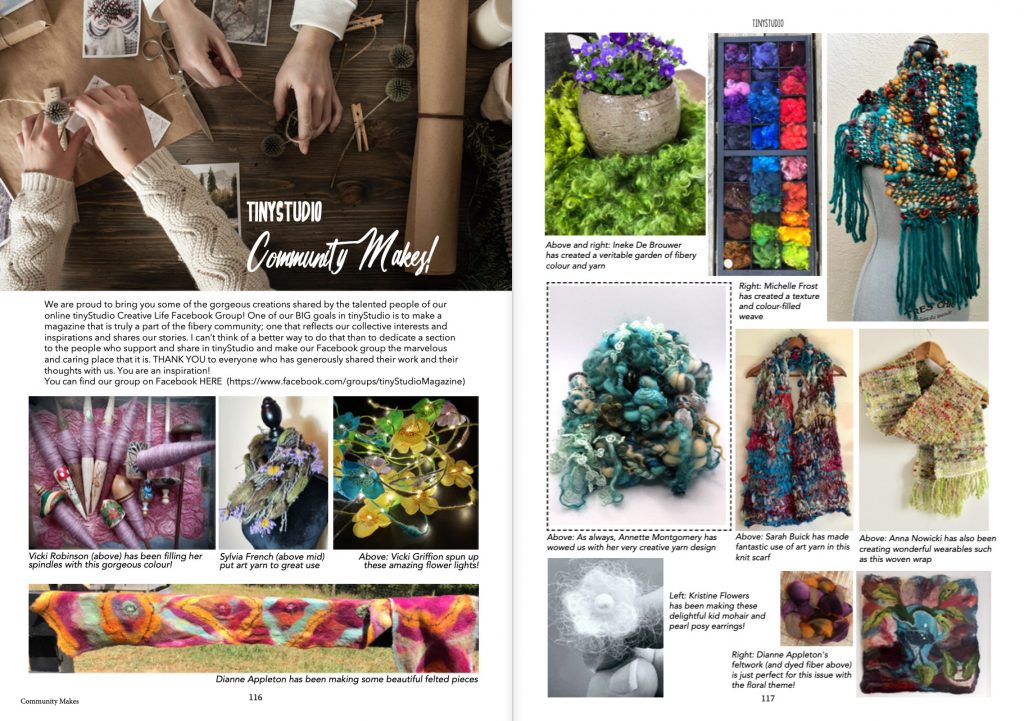 I hope you will really love this issue and feel refreshed and inspired as you read it.
If you are not subscribed to tinystudio you can sign up for the tinyStudio Digital package now and download the Issue, (www.fiberygoodness.com/subscribe) or you can purchase as a single issue in either Print or Digital formats from the web shop today! Global shipping is included in the price.
tinyStudio is proud to be sponsored by our favourite spinning wheel makers!