We have something new to announce, and 'new' is the important word! Fiberygoodness has teamed up with our tinyStudio magazine sponsors Daedalus Spinning Wheels, and come up with a big bodacious plan 🙂 We would like to introduce you to the 'New Spinner Apprenticeship'!
Like many of us in the fiber world, our thoughts often turn to how we can help support our community and keep it active and vibrant, spreading the love for the ancient art of spinning and sharing the collective knowledge of fiber that has been built up over centuries. We think one of the best ways to do this is to encourage new spinners to immerse themselves in the practice of spinning and learning about fiber in all its forms. With this in mind, together with the wonderful support of Rebecca and Dave at Daedalus, we have developed this new program to assist a new spinner into what we hope will be a lifelong passion for making yarn.
This program is specifically aimed at new spinners, keen to get a good start with learning the fundamentals of spinning! The program will run for 3-6 months and is open to one person at a time. tinyStudio is offering one on one tutoring and resources, and Daedalus is providing a top-of-the-line electric spinning wheel for our new spinner to learn on.
Within the tinyStudio team (Evanita Montalvo and Suzy Brown are available to mentor our student) we have a wealth of spinning know-how as well as teaching experience that we would love to share! Through video chats and messaging, we will support our student's development as a competent and inspired spinner! We have lots of resources such as our tinyStudio TV video archive, and we also have some written material to send out too.
Rebecca Giles brings her in-depth knowledge of fibers, blending, dyeing, and spinning, as well as her detailed knowledge of the espinner she and her husband Dave, are sponsoring for the project. Not only this but Rebecca (as Spotted Ewe Fibers) has also supplied our first new spinner with an amazing stash of a wide range of fibers to try out!
Would you like to meet our new spinner?! We think you will already know this person really well as she is on the cover of tinyStudio Creative Life magazine issue 11!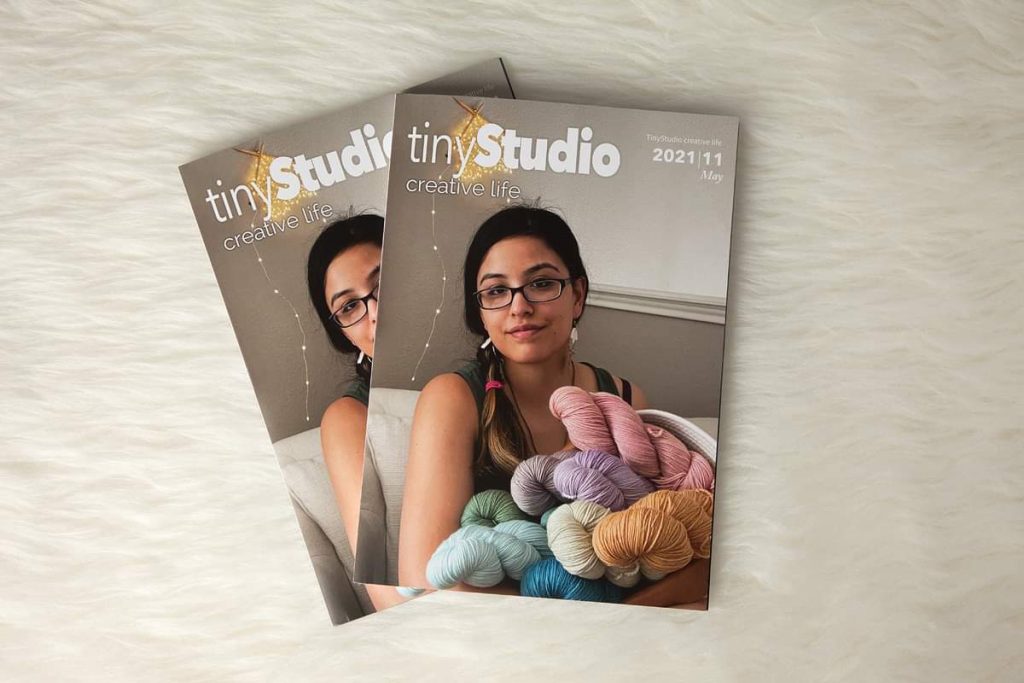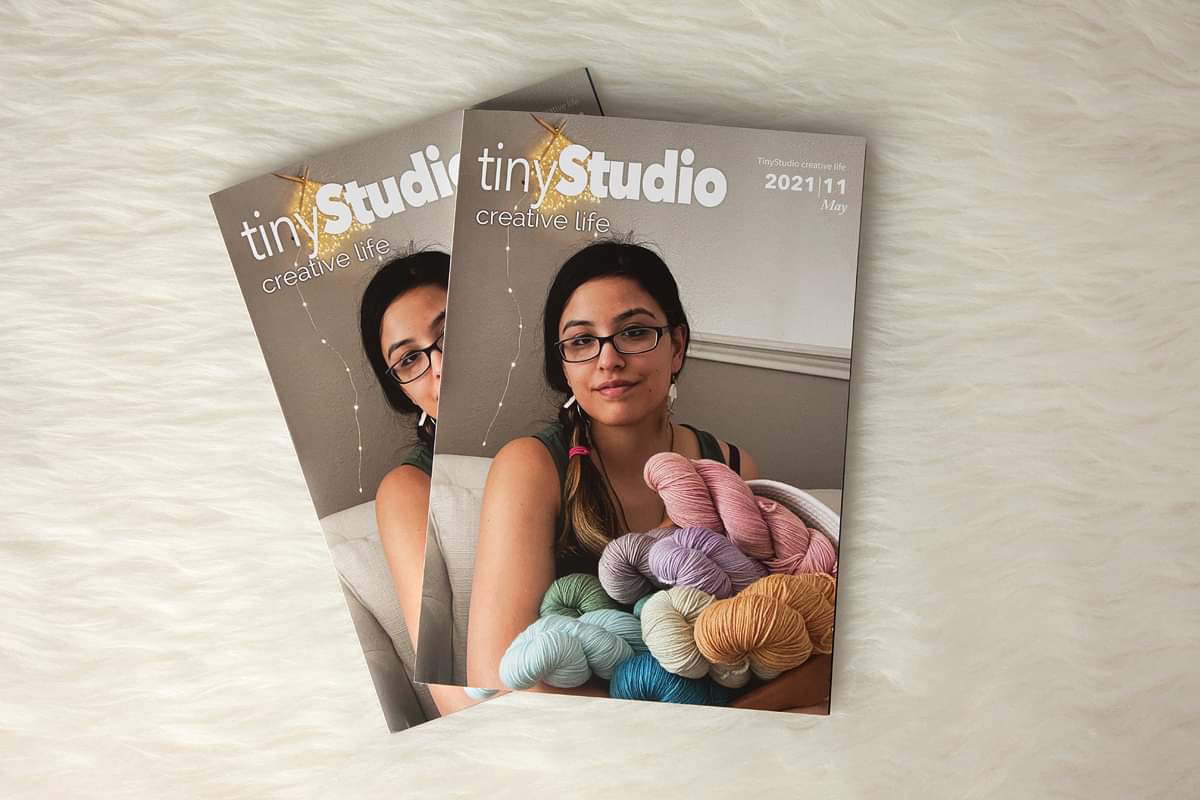 Francoise Danoy of Aroha Knits is a knitwear designer who has taught around the world and has developed a wonderfully supportive knitting community online. (Find the Aroha Knits Patreon here https://www.patreon.com/arohaknits) Francoise has also contributed to quite a number of our magazine issues, with both gorgeous patterns to knit and inspirational articles about knitting and designing. With this wealth of experience, we already know that Francoise knows yarn, and exactly what they want to knit!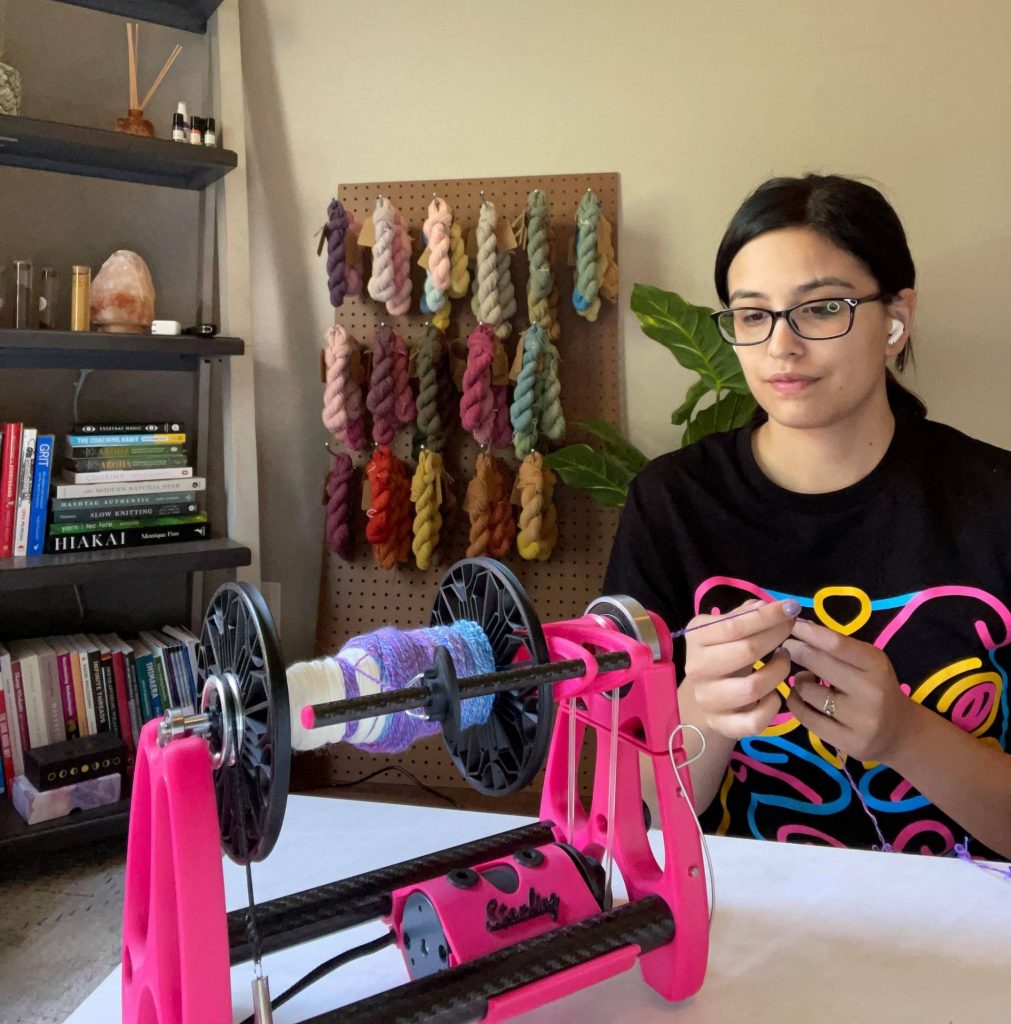 Last week Evanita shipped out the Daedalus Starling (in glorious pink) to Francoise, that she had been photographing for Daedalus, and it arrived there ready to go! Francoise has already begun a new spinning journey over the last months but had gotten super busy with some natural dyeing for an upcoming shop update (don't miss that!), so we were happy to get in our first video chat and all make time for a bit of spinning together. Francoise is off to a fantastic start, making good friends with the Starling super fast and getting some beautiful fiber on the bobbin even in our first session. We shared some tips about spinning on an electric wheel, talking about woollen and worsted yarns, considered different drafting methods, and also admired the gorgeous luxury blend fiber from Rebecca as it appeared on the bobbin looking so lovely 🙂
We hope you will enjoy following along with Francoise's progress, and if you are a newer spinner, or know someone you would love to encourage to start spinning, we hope that this program will be especially interesting for you! Over the next months, you can expect some regular blog posts where Francoise will share some of the most recent discoveries made, and we will also share some of the materials we have available for new spinners too. Our goal is to support Francoise, and any new spinner following along, to make the yarns they want to make, and to share these stories with others to encourage anyone who wants to spin to just give it a go!